Tron-Europe reward distribution upgrade: TERC freeze smart contract is live!
Tron-Europe released a TERC freeze smart contract, to create an even more robust environment for TERC holders. All in preparation for the big Befaster.fit Dapp release and the related visibility of TERC to a much bigger audience.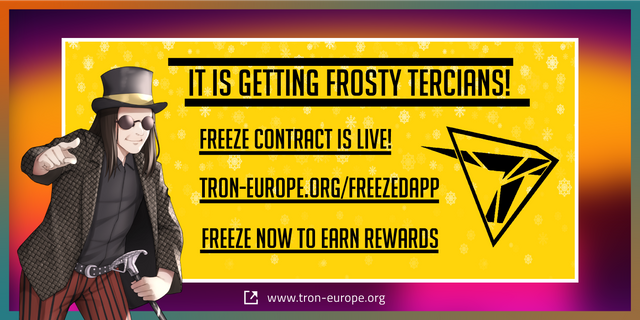 Hello TERCians!
The next step on our way to a running ecosystem is done. With the freeze smart contract live on tron-europe.org/freezedapp, all holders now have to freeze their TERC to get rewards. On 31.01.2021 we will start to only give rewards to frozen TERC. In the transition phase we will distribute rewards to both, frozen and not frozen TERC. So don't miss your rewards and freeze now. Afterwards you can check your freeze details on our new SR-TRON-EUROPE DASHBOARD on Tron-Radar! We are supporting Tronlink and every compatible browser extension and Dapp browser with our freeze smart contract. With Tronlink you can even use your ledger hardware wallet to freeze.
You are only a few steps away from freezing your TERC:
connect your Wallet holding TERC via Tronlink or any compatible interface
choose a duration time regarding to your stack and preferences
by default the connected wallet is added as recipient address, but you can set choose this address as you want, or can activate Autostaking (adds new rewards automatically to your frozen TERC)
click on "Freeze" button
done!
Check your rewards on TERCium DASHBOARD
How does the Tron-Europe ecosystem and every TERC holder benefit from freeze smart contract?
At the start of a project, there are always early stages, where supporters can join cheap and are able to build high stacks of coins. Even Tron-Europe, its ecosystem, smart contracts and its Dapps were only ideas some years ago. So every early adopter deserves his stack of TERC, because they were investing with the highest risk. Without this early adopters, it would have not been possible to come to this point in the project. Thank you all, you made this possible!
A lot of this early coins are already bound to our projects, because they sold their own partial profit sharing tokens for TERC on their ICOs. The projects will choose the longest freeze period to show their support of the ecosystem, their trust in TERC and to benefit from the highest bonus rewards to continue their great development progress! The higher ranks in the bonus system will be open for holders with rising TERC holdings, but they will also have to freeze their TERC for the longest periods. Every TERC holder will have the possibility to adjust his freeze time between high liquidity and higher bonus rewards. We will have a detailed look at the bonus ranks and freeze periods later.
The State of Tron-Europe and TERC in the crypto space
Engines started
For now we are still in the accumulation phase, as advertisements will just start later in Q1 of 2021, in combination with the BeFaster.fit launch. With this main event in front of us, many things will change. After its launch, every Dapp in the Tron-Europe crypto ecosystem will start to buy TERC on the market and will hold it for its periodic payments to its investors. This generates a rising demand and buying pressure, completely detached from crypto market conditions and investors. In addition, TERC will get even more use cases, as it fuels the whole ecosystem. This is very unique, especially because the Tron-Europe ecosystem will not consist of the 100th clone of a DeFi solution. The Dapps are placed in different fields of the global market. When the TERC market starts moving, there will be very dynamic conditions, especially in combination with the current crypto market rise. The combination of our already active bonus ranks and our new freeze contract will make this whole transition much smoother.
Innovative Dapps like our fitness and lifestyle crypto startup BeFaster.fit to be released soon!
For those new to Tron-Europe, here are some example projects and Dapps of our current project cycle:
BeFaster.fit: fitness and lifestyle crypto Dapp with a global community and challenges
Aftermath islands: massive multiplayer online strategic role playing game
DV Marketplace: decentralized marketplace and crypto payment solution
It is planned to start the next startup project cycle already at the end of this year and a little bird told me, there are already awesome new project candidates…
So stay tuned and follow our social media channels (you find them at the end of this article) to don't miss the train. Start a whole new lifestyle and strengthen your fitness while earning crypto with BeFaster.fit soon, get involved and join their social media channels on twitter, telegram and instagram! Check out our new community on steemit and take your chance to win 500 TERC (giveaway ends on 31.01.2021). If you have a unique idea for a crypto based startup and want to build something special, feel free to contact us!
Tron-Europe TERC freeze crypto smart contract in detail
Rewards, freeze times, holder benefits
So let us come back to the freeze smart contract details! Here is our complete system of bonus ranks and freeze periods: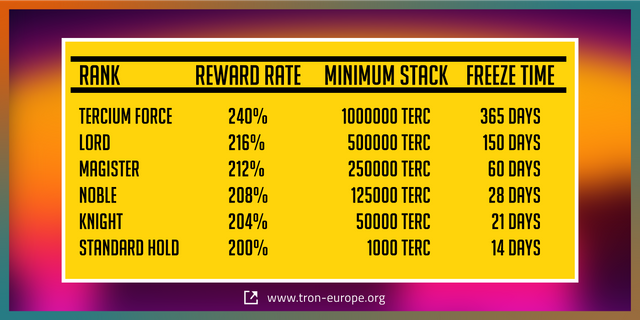 The TERC rewards are calculated based on the TRX rewards you get for voting on Tron blockchain. That's because Tron-Europe is not only building a whole crypto startup ecosystem, but is also a Tron Super Representative. Some Tron Representative distribute the Tron base currency TRX to their voters and some distribute their own token. For example if you vote for SR-TRON-Europe, you will get TERC as reward. Each vote on Tron gets a specific amount of TRX as reward. For TERC we adopted this system, to have the same distribution system for holders and voters. We calculate the number of TRX you would earn per vote and multiply it with our rewards rate, done.
One example… if you would get 1 TRX for each vote, you would get 2 TERC (200%) for each vote to Tron-Europe and also 2 TERC for each TERC you hold and freeze. If you hold and freeze more than 1000000 TERC, you would get 2.4 TERC (240 %) for each of the frozen TERC, because you're a member of the TERCIUM FORCE then. Of course the current reward per vote on Tron is much lower, but with the higher rewards for TERC and the bonus ranks, Tron-Europe is offering a very high APY with TERC. This way TERC and its rewards are competitive to a lot of other crypto projects, even in DeFi.
But only holders can climb up the bonus ranks and a minimum of 1000 votes or a stack of at least 1000 TERC frozen is needed to get rewards. With a rising price for TERC, the voter rewards will be cut step by step to stick to the value of TRX rewards paid by other Tron Super Representative. The Holder rewards will stay at 200% + Bonus, to only give our investors the benefits of a growing Tron-Europe crypto ecosystem.
We will explain the rewards calculation in detail in one of our next articles.
TERC liquidity, options, freedom of choice
After your freeze period is over, you will still get full rewards until you unfreeze. At this point, you are always able to unfreeze your stack. You can always add more TERC to your frozen stack and you are free to choose where your rewards are paid to. You want to add your rewards to your frozen stack to climb the bonus ranks? Okay, do it! You want to send your rewards to your child's wallet, or to your own hot wallet? Okay, do it! You choose the address where your rewards are send to and they are send there every 6 hours, for free. As TERC is issued on the Tron blockchain, every transaction is cheap and fast. No waiting for the one moment a day with the lowest gas fees and still paying 20$ to do a transaction…
There is one last feature of the freeze contract, which is quite unique and was implemented only for emergency situations. If you really need your funds, you can unfreeze immediately no matter how much time is left, burning 40% of your frozen TERC. This burn was implemented to prevent this feature from misuse.
A lot of information so far! Thank you very much for reading TERCians and happy freezing!
Telegram: t.me/tron_europe
Twitter: twitter.com/europe_tron
Medium: medium.com/@Tron_Europe