FIRST DOSE OF VACICINATION| A MUST READ| GET YOUR SELF VACCINATED| by @huzaifanaveed1
This is going to be a long read and I request you all to read it.
I GOT MY FIRST DOSE OF VACCINATION DONE
---
It's been a hard couple of years for all of us here. Sad melodious songs are playing in my head right now as I am writing this. We have lost a lot of lives due to Covid-19 is these 2 years. I can't keep a count of all the family, relatives and friends we all have lost. It is devastating.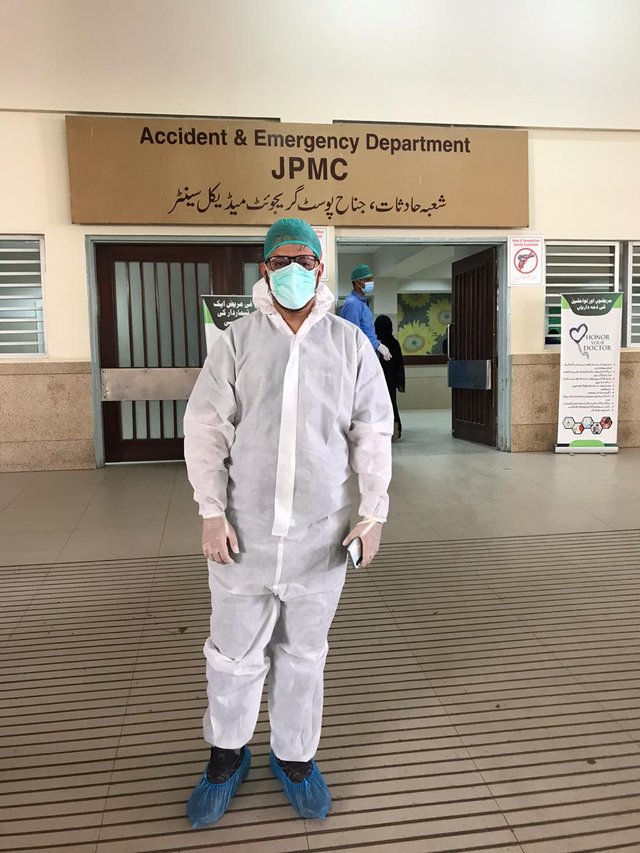 𝘵𝘩𝘪𝘴 𝘪𝘴 𝘮𝘺 𝘱𝘪𝘤𝘵𝘶𝘳𝘦 𝘰𝘶𝘵𝘴𝘪𝘥𝘦 𝘵𝘩𝘦 𝘦𝘮𝘦𝘳𝘨𝘦𝘯𝘤𝘺 𝘥𝘦𝘱𝘢𝘳𝘵𝘮𝘦𝘯𝘵 𝘢𝘧𝘵𝘦𝘳 𝘢 24 𝘩𝘰𝘶𝘳 𝘥𝘶𝘵𝘺
---
Being a doctor myself i have seen patients in the hospital being completely helpless as they gasp for oxygen but in vain. It is truly the most heartbreaking thing to see someone dying but you can't do anything about it.
---
It's hard to see your family member dying but you can't even have a last look of their face. You can't be close to them even when they have died. You can't hug them. You cant cry in their lap, you can't console them. You basically do anything. You're helpless. This virus has made you feel the most helpless person in the world.
---
On the other hand it agonises me to see people drafting conspiracies against doctors. I have heard such ruthless things against doctors who are literally risking their and their family members' lives just to be abused by the people. An example of such slurs are 'you doctors are the biggest frauds. It's you who's killing people, not the Covid-19. You are getting paid for it. And you are not even letting us see our demised ones'
---
It breaks my heart. It breaks my heart to see my father who is also a doctor to risk his life everyday in order to save people. It breaks my heart to see my elder brother spending countless nights in the hospital just to face all this backlash.
---
But I do not get demotivated by all this. No matter how much it breaks my heart. I will not let anyone stop me or other doctors who are helping people.
---
I got vaccinated and it is my advice to all of you reading my post here on steemit to gwt vaccinated. There are different types of vaccines with different efficacy percentage.
| VACCINE | EFFICACY PERCENTAGE |
| --- | --- |
| PFIZER | 95% |
| SINOPHARM | 79% |
| SINOVAC | 78% |
| ASTRAZENECA | 70% |
---
These are the vaccines which have been very efficient. I am getting vaccinated with SINOPHARM as this is available in my country. ASTRAZENECA is also available which can only be injected to people who are 40+
---
Side affects of vaccine
It varies from person to person. But the most common affects of the vaccines are:
fever
fatigue
headache
muscle pain
chills
diarrhoea
---
To the #pakistanis reading this. You can get your vaccination done by any government hospital. You need to text you CNIC number on 1166 and you'll get a date for vaccination. There are also walk in vaccinations available in big places such as expo centre. You'll be allowed to enter and will be told to sit in a waiting area. There are several cubicles in here. Wait till your turn. You'll need to get your entry done and after that you'll be eligible for the vaccine.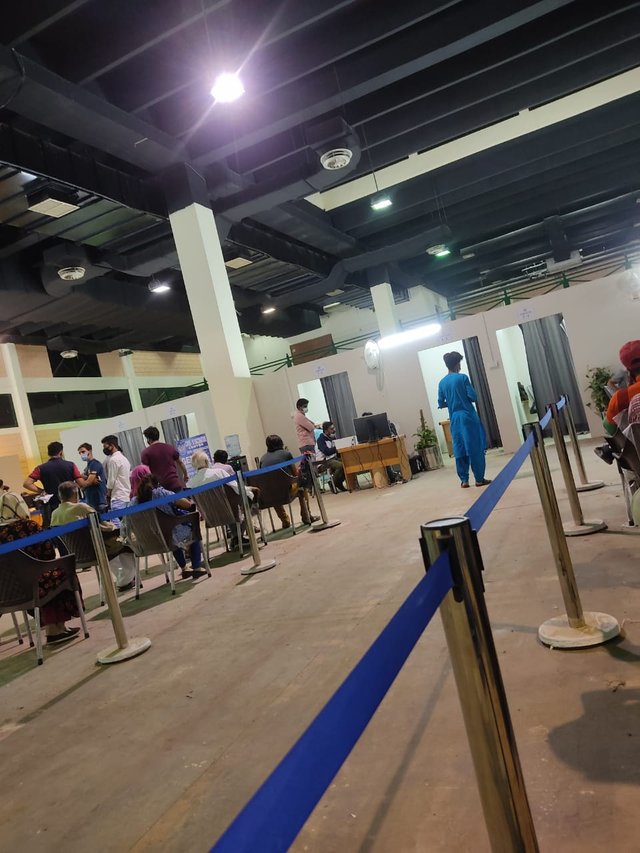 location
𝘵𝘩𝘪𝘴 𝘪𝘴 𝘵𝘩𝘦 𝘸𝘢𝘪𝘵𝘪𝘯𝘨 𝘢𝘳𝘦𝘢 𝘪𝘯𝘴𝘪𝘥𝘦 𝘵𝘩𝘦 𝘩𝘢𝘭𝘭. 𝘠𝘰𝘶 𝘩𝘢𝘷𝘦 𝘵𝘰 𝘸𝘢𝘪𝘵 𝘧𝘰𝘳 𝘺𝘰𝘶𝘳 𝘯𝘶𝘮𝘣𝘦𝘳 𝘵𝘰 𝘣𝘦 𝘤𝘢𝘭𝘭𝘦𝘥 𝘰𝘶𝘵
---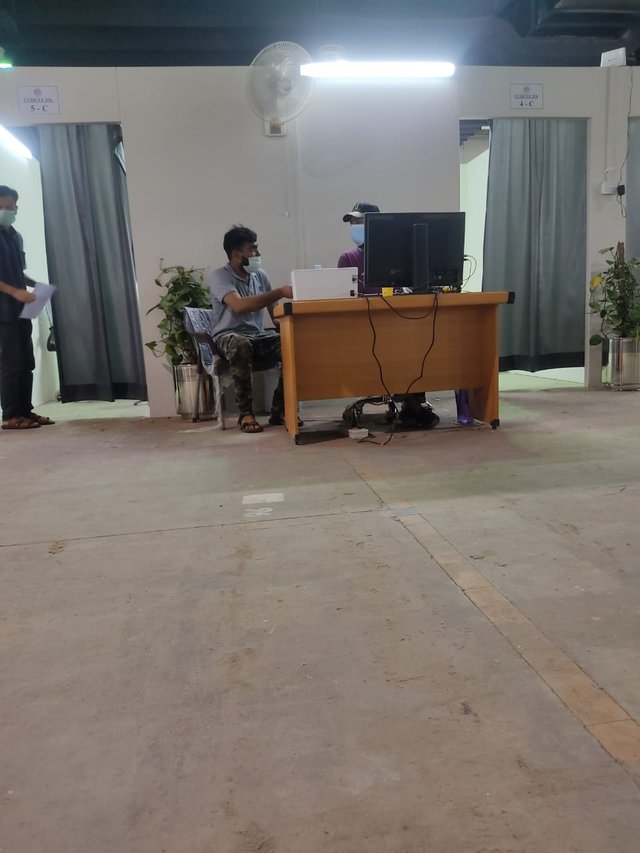 𝘺𝘰𝘶 𝘤𝘢𝘯 𝘴𝘦𝘦 𝘵𝘩𝘦 𝘤𝘶𝘣𝘪𝘤𝘭𝘦𝘴 𝘪𝘯 𝘵𝘩𝘪𝘴 𝘱𝘪𝘤𝘵𝘶𝘳𝘦 𝘸𝘩𝘦𝘳𝘦 𝘺𝘰𝘶'𝘭𝘭 𝘨𝘦𝘵 𝘷𝘢𝘤𝘤𝘪𝘯𝘢𝘵𝘦𝘥 𝘣𝘶𝘵 𝘣𝘦𝘧𝘰𝘳𝘦 𝘵𝘩𝘢𝘵 𝘺𝘰𝘶 𝘩𝘢𝘷𝘦 𝘵𝘰 𝘤𝘰𝘮𝘱𝘭𝘦𝘵𝘦 𝘵𝘩𝘦 𝘳𝘦𝘨𝘪𝘴𝘵𝘳𝘢𝘵𝘪𝘰𝘯 𝘱𝘳𝘰𝘤𝘦𝘴𝘴 𝘢𝘴 𝘴𝘩𝘰𝘸𝘯 𝘪𝘯 𝘵𝘩𝘦 𝘱𝘪𝘤𝘵𝘶𝘳𝘦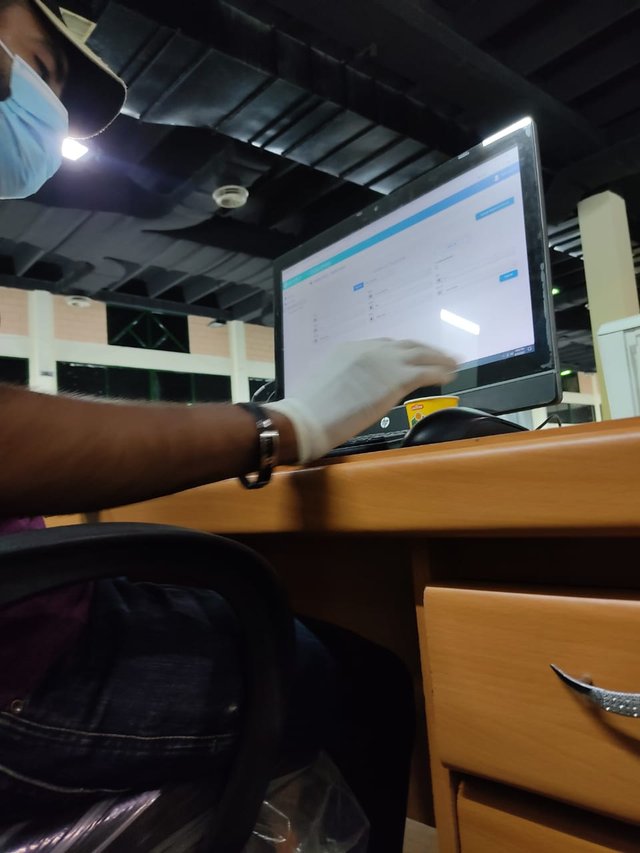 𝘵𝘩𝘦 𝘳𝘦𝘨𝘪𝘴𝘵𝘳𝘢𝘵𝘪𝘰𝘯 𝘱𝘳𝘰𝘤𝘦𝘴𝘴 𝘩𝘢𝘳𝘥𝘭𝘺 𝘵𝘢𝘬𝘦𝘴 5 𝘮𝘪𝘯𝘶𝘵𝘦𝘴.
---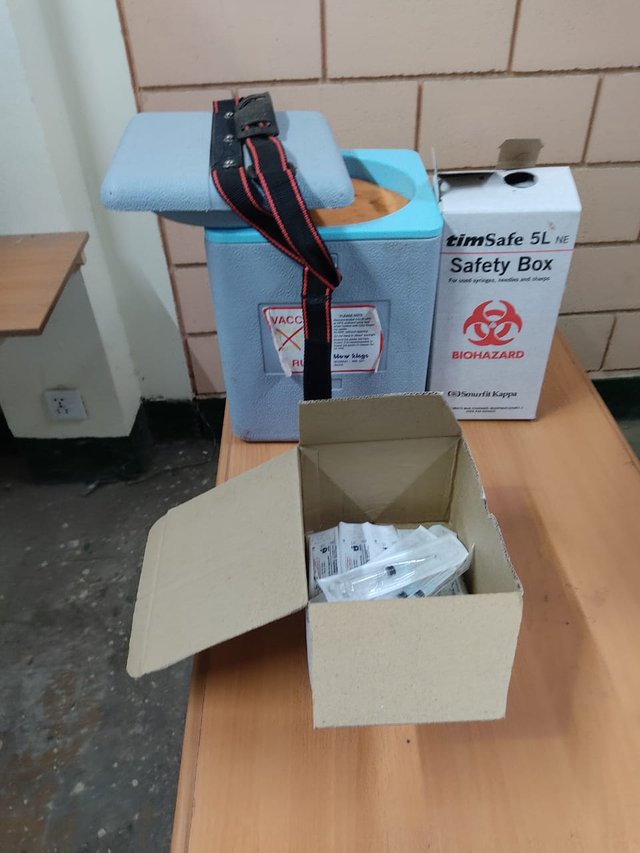 𝘵𝘩𝘪𝘴 𝘪𝘴 𝘵𝘩𝘦 𝘷𝘢𝘤𝘤𝘪𝘯𝘢𝘵𝘪𝘰𝘯 𝘤𝘶𝘣𝘪𝘤𝘭𝘦 𝘸𝘩𝘦𝘳𝘦 𝘺𝘰𝘶 𝘸𝘪𝘭𝘭 𝘨𝘦𝘵 𝘷𝘢𝘤𝘤𝘪𝘯𝘢𝘵𝘦𝘥
---
So this is a friendly as well as a professional advice to get yourself vaccinated as soon as possible for the sake of your family and for your sake.
---
Hope this was beneficial for you.
---
I will be regularly posting on vaccine related and other stuff related to the Covid-19 and how we can protect ourselves as well as the others around us
Some of the FAQs (frequently asked questions) from doctors:
What are the benefits of getting vaccinated?

Is there an age restriction in getting vaccinated?

Can the second dose be of a different vaccine than the first dose?

Can we still contract the virus after being fully vaccinated?
These are some of the most important questions I plan on answering in the upcoming posts.
---
Signing off. Dr Huzaifa naveed.
---
I want to ask steemitblog steemcurator01 and @cryptokannon , are there any pre-requisites for health related posts? Because I think informing the mass about vaccines is the need of the hour.
Regards,
@huzaifanaveed1