NEW CONTEST/ GAME!! How would Steemit be if it were a person? // NUEVO CONCURSO/ JUEGO!! Cómo sería Steemit si fuera una persona?
English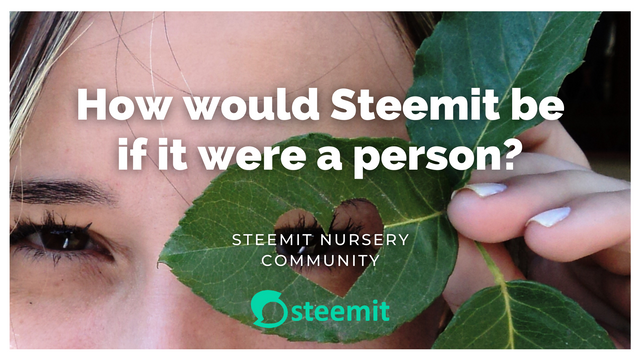 ---
NEW CONTEST/ GAME!! How would Steemit be if it were a person?
This time we are going to play with the imagination a bit! This contest consists of visualizing Steemit as a human being. How would it be? Would it be a man or a woman? Friendly or not? What would you like to do in your spare time? What would it work on?
I think it will be fun to personify this great ecosystem!! Let your imagination flow and add a human personality to #steemit!
I'm very excited about reading those ideas!!
---
---
Rules are the follow:
Any language is welcome.
Your post must be at least 300 words long
Add at least one image (remember to cite the source)
Resteem this post, so that more people find out about this contest.
Tag @belenguerra so I can see your post faster.
Share the link of your post in a comment. We will not consider entries that are not in this post or that are not posted in other communities.
Share your post on Twitter or Facebook, tagging @steemit, and then share the link or an image in the same comment as your post.
---
Prizes:
We apologize from the community team, but we had to make some adjustments. The @steemcurator03 account is also used to vote for the Newcomers Program and 500 SP Minnow Support Program, so we are having problems with the voting percentage, for this reason, we have had to reduce the prizes.
We won't be able to offer 30% votes to all contest participants, but we are committed to adding the best entries to the Steemit Community Support Program with @booming accounts.
---
All entries must be submitted by Thursday 04/03 - 23.59 Hrs UTC
We hope you like the proposal and we are waiting for reading your posts!!
---
---
With love!
Steemit Nursery Community
---

---
---
Español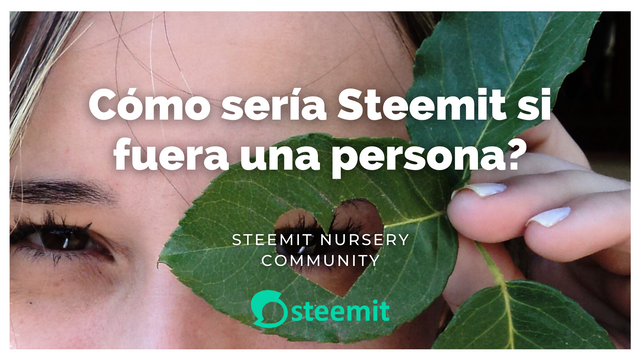 NUEVO CONCURSO/ JUEGO!! Cómo sería Steemit si fuera una persona?
Esta vez vamos a jugar un poco con la imaginación! Este concurso consiste en visualizar a Steemit como un ser humano. ¿Cómo sería? Sería hombre o mujer? Amigable o no? Qué le gustaría hacer en sus tiempos libres? De qué trabajaría?
Creo que será muy divertido personificar a este genial ecosistema!! Dejá que fluya tu imaginación y ponele una personalidad a #steemit!
Estoy muy ansiosa por leer esas ideas!!
---
---
Las reglas son las siguientes:
Cualquier idioma es bienvenido.
Tu publicación tiene que tener 300 palabras como mínimo
Agregá una imagen como mínimo (recordá citar la fuente)
Resteemea esta publicación, para que más personas se enteren de este concurso.
Etiqueta @belenguerra para que pueda ver tu publicación más rápido.
Comparte el enlace de tu publicación en un comentario. No consideraremos las entradas que no estén en esta publicación o que no estén publicadas en otras comunidades.
Comparte tu publicación en Twitter o Facebook, etiquetando @steemit, y luego comparte el enlace o una imagen en el mismo comentario de tu entrada.
---
Premios:
Pedimos disculpas desde el equipo de la comunidad, pero hemos tenido que hacer algunos ajustes. La cuenta @steemcurator03 se usa también para votar el Programa de Recién Llegados y el Programa para quienes tienen menos de 500 SP, por lo que estamos teniendo inconvenientes con el porcentaje de voto, por ello hemos tenido que reducir los premios.
No podremos ofrecerles el 30% de votos a todos los participantes del concurso, pero nos comprometemos a agregar las mejores entradas al Programa de stemit para el Soporte a las Comunidades con las cuentas @booming.
---
Se recibirán entradas hasta el Jueves 04/03 - 23.59 Hs UTC
Esperamos que les guste la propuesta!!
---
---
Con amor!
Steemit Nursery Community
---
Cc-
@steemitblog
@steemcurator01
@steemcurator02
@stephenkendal