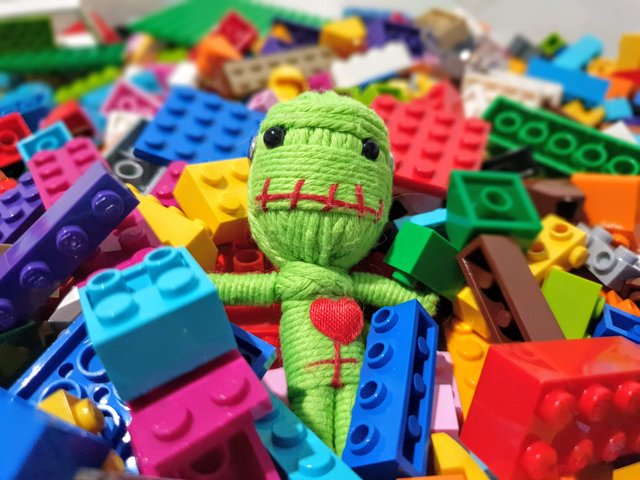 "I don't know what all the fuss is about." Grouchy said, shaking his head in mild disgust as he chomped on a sandwich.
I looked up from the beetroot, cheese and mayo sandwich I was munggin' on [eating] with a raised eyebrow and said, "what's that cobber?"
"Well, it seems apparent to me that people simply need to build Lego if they want to cure corona virus. easy peasy Japaneasy" Grouchy looked directly at me with a straight face, daring me to disagree.
"An interesting concept," I stated dubiously around a mighty mouthful of sandwich, only just managing to prevent most of it from tumbling out of my gob, in a half-masticated mess, like lava from a mighty volcano. "What makes you so sure it will work mate?" I was pretty sure the little green bastard was completely off his rocker.
"Have you got corona virus?
I swallowed the gulp of Corona beer I'd just swigged, shook my head and said, nope."
"Do you play Lego a lot?
"Yep" I replied simply, seeing where he was going with it.
"Do I have corona virus?" Grouchy said pleased to see I had figured out the thrust of his logic.
"Nope, you don't have corona virus Grouchy", I mumbled through another mouthful of sandwich.
"Lego is the cure for corona virus then. It's pretty fucking obvious brah," Grouchy concluded with a dead-pan face.
I stopped to think for a moment, holding the last bit of my sandwich at the edge of my mouth...Thinking and chewing at the same time is difficult at times.
"You know cobber, you might be on to something here. Seems legit." With that I nodded slightly, poked the remainder of my sandwich in my gob and started to chew. Grouchy, who had gobbled his sandwich up in quick order, laid back in his bed of Lego with a self-satisfied look on his face.
"Crack me another brew will ya brah." He drawled.
---
---
This conversation ensued yesterday afternoon. I was home "working" because of social-distancing which suits me fine as I don't really like people much anyway. Not you though, you're aweseome and I like you a lot. [You know who you are.]
I decided that I'd better pick up some Lego just in case the virus thing forced a lengthy lock-down here in Australia, as it has in other countries; It's probably only a matter of time before that happens to be honest.
On the way home from the office, [I had to go there to enable my remote access this morning] I stopped in at Target at the mall and picked up a few boxes of random blocks, wheels, windows, building mats and all sorts of other bits and pieces. I don't know how many I have, but I'd say a few thousand at least.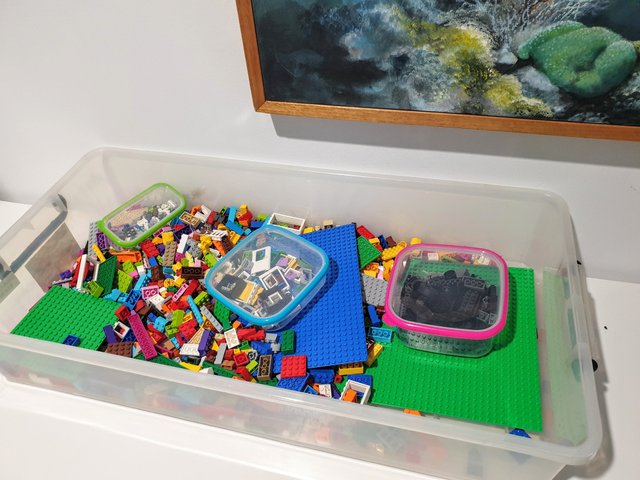 I've only built sets, mainly big Technic sets, to date but have been talking about getting some random blocks for a while so I can do some freestylin' with Faith, my wife. When I came home to "work" Grouchy saw the boxes and got very interested, very quickly. He's loves his Lego, just like I do.
I emptied them all out into a big container and he dived right in going into some sort of Lego-trance as he rolled around in the pieces moaning slightly all the while...Like he was making sweet love to a beautiful woman. He's a straight-up freak, you know.
I put up with it for a while before I told him to stop fuck-assing around and make me some lunch...He knows that tone I used means business, so off he went.
Over that lunch is when he announced Lego as the worlds-saviour from COVID-19. I'm not sure if he drank too many Corona beers [I'd bought them to help me "work"] or what, but his argument seemed rather compelling. Don't you think?
I don't know y'all, he may be on to something here...I mean we can't argue with his logic right? Neither he, nor I have corona virus and we both play with Lego...Seems legit and not coincidental in the least bit.
Better go get yourself some Lego y'all...And laugh in the face of the corona virus.
---
Tomorrow isn't promised - Design and create your ideal life, don't live it by default
An original post written by a human
Discord: galenkp#9209 🇦🇺
Join the LEGO community here
hive-142010