Steemit Engagement Challenge S11-W2 | The Animals (Mascot)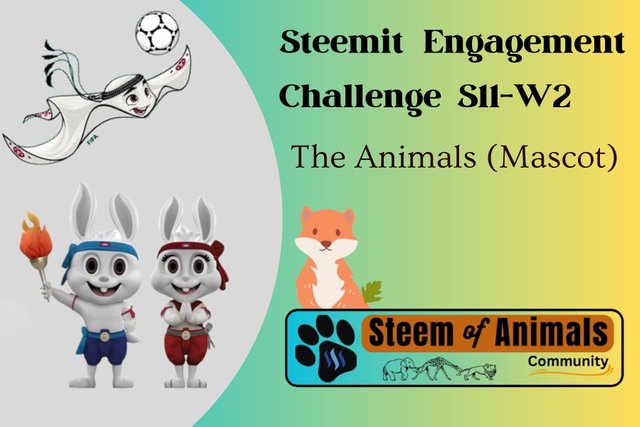 Dear steemians.
As the newest community to get the opportunity and trust to be involved in the "Steemit Engagement Challenge S11-W1, we are happy and honored to get an extraordinary welcome from all elements of society on this platform. This has motivated our team to work harder. everything for the development and growth of the community. Our great hope is that the Steem of Animals community will become a thriving and independent community.
Week 1 we had fun through a contest with the theme "Activist Diary Game" which is a form of content with the theme #thediarygame that you can publish at any time in our community. We hope it will be a fun publishing space for all our platform users.
We are happy to start our Steemit Engagement Challenge S11-W2. This week we chose a topic with the hashtag #pet which we think has a wide reach so hopefully many steemians in various countries can follow it.
Background
Humans have always lived side by side with animals in a symbiotic mutualism. We are blessed by God with various types of animals that are unique according to our region which characterizes an area. Certain types of animals are often used as mascots or symbols of a country, organization or even sporting events.
We are of course very familiar with the Chicken which is the logo or mascot of the French Football Team or the Eagle which is used as the symbol of America or the Rabbit with the names Borey and Ramdoul which is used as the mascot by Cambodia in SEA 2023. Game Events, etc.
In this contest, it is hoped that you can share about the typical types of animals in your country and information about these animals, including the philosophy contained in them, etc.
Highlight the following topics/Points in this contest
You are free to be creative to tell all about The Animals (Mascot). As help maybe you can tell some things like the following:
What is the type of your animal (pets/wild animals, etc.)
Tell us information about the animal
Are these animals also found in other countries?
What is the animal mascot used for (sports club, country, etc)
Mention its characteristics and philosophy so that it becomes a mascot
Etc
Mandatory Regulations Followed
Must be posted in the Steem of Animals community.
Write in the relevant language.
Write at least 300 words
Use your own images or if you need images from the internet for post quality, use images from copyright-free sources by pasting the source link.
Use post title "Steemit Engagement Challenge S11-W2 - The Animals (Mascot)"
Use #steemofanimals-s11w2 #pets #yourcountry tag among your first 5 among your first 4 tags.
Posts must be #steemexclusive. Any form of fraud, Plagiarism, Recycling, Use of artificial intelligence and farmer accounts will be automatically disqualified from contest participants.
Keep in mind!, Use the hashtag #burnsteem25 only if you have allocated 25% of the prize to the @null account.
Upvote and reesteem this post so more people know about it.
Mention at least 3 other active users.
Actively comment on other engagement participants from various communities included in the engagement community.
Place your contest post link in this post for easy search.
if you are a new user of the Steem of Animals community page, include your achievement link as a condition for our verification process that you as a user are entitled to the Activist label in our community.
Contest Period
From Monday, July 31, 2023, 00:00 UTC, to Sunday, August 6, 2023, 23:59 UTC*
Assessment of all entries will be carried out by our Team via Verification comments according to the following pattern,
| club status | of clubs 5050 ,75, 100 |
| --- | --- |
| Verified user | YES or NOT |
| Plagiarism free | YES or NOT |
| Bot-free | YES or NOT |
| Tag #steemexclusive | YES or NOT |
| Support #burnsteem25 | YES or NOT |
| CSI voting | last 7d |
| Score | 00/10 |
| Verification date | Date. Month and Year |
Club Status Determination : https://steemworld.org/transfer-search
| Note | Development Notes from the Verifier. |
| --- | --- |
Contest Assessor
All admins and Moderators STEEM of ANIMALS
---
Contest prizes
15 Steem which will be sent in the form of SP as a prize to each winner in the following categories:
| Best 1 | best 2 | best 3 |
| --- | --- | --- |
| 6 Steem | 5 Steem | 4 Steem |
| | | |
Contest Notes
Much appreciation from us if participants want to support community development by delegation or by sharing at least 10% of the income to the official community account @steem.ofanimals.
We do not guarantee that every participant will be supported by steemcurator01 or steemcurator02
The jury's decision cannot be contested

Open opportunities for all steemians to support community development. Whatever the value of your delegation is very valuable for community growth.
Visit our discord Server : https://discord.gg/K8uKm9W3
July 30, 2023
Greetings
The Steem of Animals Community Team