🎮🛸Videogames on the go #19 Dragon Ball Legends✊🏻🪐🌍🌌⚡/Videojuegos sobre la marcha #19 Dragon Ball Legends✊🏻🪐🌍🌌⚡
🟡English🟢🔵 Español🔴
Hi Steemians❗ welcome to a new post, today we continue with this series of post where we are going to make an analysis of a video game more of an Android and iOS platform, in these post we focus on analyzing video games that are not So well known or are known to see their mechanics and gameplay in addition to giving a personal score to these video games, having said this, join me, and let the post begin ❗🐻🚀🎮
❗Hola Steemians❗🐝 bienvenidos a un nuevo post, el día de hoy seguimos con esta serie de post en donde vamos a hacer un análisis a un videojuego más de plataforma de Android y iOS, en estos post nos centramos en analizar videojuegos que no son tan conocidos o son conocidos para ver sus mecánicas y jugabilidad además de dar una puntuación personal a dichos videojuegos, dicho esto acompáñenme ❗y que comience el post ❗🐻🚀🎮
---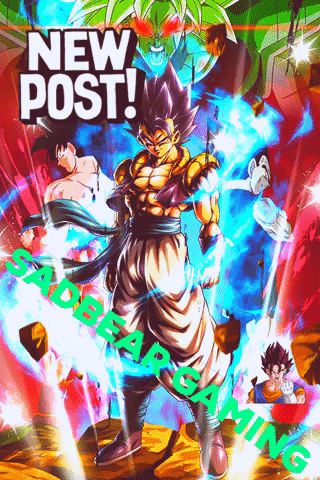 Today the video game that we are going to analyze and that we are going to review is the Dragon Ball Legends video game, I personally am quite a fan of the dragon ball franchise since I was little, and I did not know about the existence of this video game until The truth is a few months ago, and this video game looks pretty good at the aesthetic level and it doesn't look bad at all, but before making any assessment, let's take a good look at it.

El día de hoy el videojuego que vamos a analizar y del que vamos a hacer review, es del videojuego de Dragon Ball Legends, yo personalmente soy bastante fan de la franquicia de dragon ball desde pequeño, y no sabía de la existencia de este videojuego hasta hace unos cuantos meses la verdad, y este videojuego a nivel de estética se ve bastante bien y no se ve nada mal, pero antes de hacer cualquier valoración vamos a echarle un buen vistazo.
Because on Android and IOS platforms, we did not have dragon ball video games until the arrival of this video game, it marked a before and after, since in the playstore at least there were many fanmade video games made by fans, some With quite poor quality to be honest, but others used the theme of stickman dolls to avoid copyright by its creator in this case Akira Toriyama, this video game was developed by the company Dimps, and was distributed by the Bandai Namco Entertainment company , and was launched on the market in May 2018, and today it has a large rooster of characters, this video game has really had very good ratings since its release, since this video game has several game modes, in which we have A competitive multiplayer, the event mode, and also a story mode that something curious is that as this time the protagonist of the story is not Son Goku as usual If it is not a new character by Akira Toriyama himself, called Shallot and this also belongs to the Warrior Race of the Saiyans, this character since the game's exit has had many evolutions and has received several transformations since its departure, even reaching the Transformation of Super Saiyan God, this video game also has graphics in the pure Dragon Ball FighterZ style but with the difference that its graphics and environment are also in 3 dimensions and you can see the characters in all possible angles.
Debido a que en las plataformas de Android y IOS, no contábamos con videojuegos de dragon ball hasta la llegada de este videojuego, marcó un antes y un después, ya que en la playstore al menos se encontraban muchos videojuegos fanmade hechos por los fans, algunos con bastante mala calidad para ser honesto, pero otros utilizaban la temática de muñecos stickman para evitar el copyright por parte de su creador en este caso Akira Toriyama, este videojuego fue desarrolado por la empresa Dimps, y fue distribuido por la empresa de Bandai Namco Entertainment, y fue lanzado al mercado en mayo del año 2018, y a día de hoy cuenta con un gran rooster de personajes, este videojuego realmente ha tenido muy buenas valoraciones desde su salida, ya que este videojuego tiene varios modos de juego, en los cuales tenemos un multijugador competitivo, el modo de eventos, y además un modo historia que algo curioso es que como en esta ocasión el protagonista de la historia no es Son Goku como es de costumbre si no es un nuevo personaje por el mismo Akira Toriyama, llamado Shallot y este pertenece igualmente a la Raza Guerrera de los Saiyans, este personaje desde la salida del juego ha tenido muchas evoluciones y ha recibido varias transformaciones desde su salida, llegando incluso a la transformación de Super Saiyan Dios, este videojuego además tiene gráficos al puro estilo Dragon Ball FighterZ pero con la diferencia de que sus gráficos y entorno son también en 3 dimensiones y se puede ver a los personajes en todos los ángulos posibles.
The attacks that the characters can make are unlocked by playing the video game and leveling up in the same way, this video game has a gameplay quite similar to that of a game like Mortal Kombat X, or Injustice 2 Mobile, the characters are presented to us with images of Cards, but this mechanic also allows players to combine the cards that can be seen in the game interface, by doing this action we will be able to carry out combos in a combat to be able to make more effective attacks against stronger opponents, in this game we will also have available the Classic and most iconic attacks from the Dragon Ball saga, the game also deals in part with the theme of strategy because each character can have different levels of attack, especially if we play it in competitive multiplayer mode, in addition to that you can Save your progress in the cloud to be able to start your game again where you left off on any device where you are Find the game installed, despite having integrated purchases, the video game is possible to acquire good characters by playing and completing challenges, and events within the game, something that is true since it is seen in video games such as Mortal Kombat Mobile, and Injustice 2 Mobile that As you know personally, I play and have a very good account in said game, and in the years that I have been playing the game I have never invested real money in it, and all the great progress that I have made is purely achieved through hours of games and effort .
Los ataques que los personajes pueden hacer se van desbloqueando jugando al videojuego y subiendo de nivel del mismo modo, este videojuego tiene una jugabilidad bastante parecida a la de juego como Mortal Kombat X, o Injustice 2 Mobile, los personajes se nos presentan con imágenes de cartas, pero dicha mecánica permite también a los jugadores combinar las cartas que se puedan apreciar en la interfaz del juego, haciendo esta acción podremos efectuar combos en un combate para poder hacer ataques más efectivos contra oponentes mas fuertes, en este juego también tendremos disponibles los ataques clásicos y más icónicos de la saga de Dragon Ball, el juego en parte también trata la temática de estrategia debido a que cada personaje puede llegar a tener diferentes niveles de ataque, sobretodo si lo jugamos en el modo multijugador competitivo, además de eso podrás guardar tu progreso en la nube para poder comenzar de nuevo tu partida en donde lo dejaste en cualquier dispositivo en donde se encuentre el juego instalado, a pesar de tener compras integradas, el videojuego es posible adquirir buenos personajes jugando y completando desafios, y eventos dentro del juego, algo que es cierto ya que se ve en videojuegos como Mortal Kombat Mobile, y Injustice 2 Mobile que como saben personalmente juego y poseo una cuenta muy buena en dicho juego, y en los años que llevo jugando el videojuego nunca he invertido dinero real en el, y todo el gran progreso que he logrado es puramente logrado por medio de horas de juegos y esfuerzo.
The rooster of characters that we have in this game is quite extensive, having characters such as goku super saiyan, vegeta super saiyan, we also have goku super saiyan blue, super vegeta super saiyan blue, teenage gohan super saiyan 2, Frieza in several of His forms including his Golden Frieza transformation, we have characters seen in movies like shisami, we have a cooler, a young nappa, goku in his super saiyan 3 phase, a kid buu, and current characters like Broly in his Super form Legendary Saiyan, the great Villain Goku Black in his Super Saiyan Rose phase, and villains from classic dragon ball movies such as Boujack or Super Number 17. We will also have characters like Goku from dragon ball GT, we will even have goku being taken by the technique Captain Ginyu, and the saga of the tournament of power we will also have characters like Rozie, and villains from other sagas like super Janemba, something that I really liked is that they included characters from other video games Gos too, like Android 21, I must say that I really like its design personally and I find it incredible to have it in this video game too, Bardock from the Broly movie we also have this design of the character with his combat suit, we have the fusion of Veggito and Cogeta in the game too, and if you are fans of Dragon Ball Gt Vegeta and Goky also in their Super Saiyan 4 phase, and characters such as Bills the god of destruction are also available in the game, and short film characters From dragon ball like bardock we have the villain Chilled also in the game, we also have the old version of Broly with his classic legendary super saiyan look available in the game as well and beings above the gods like the angel Whis who is also Another character present in the game, and many more characters that you can find in this game, so if you are a fan of Dragon Ball, what are you waiting for? Dragon Ball Legends is waiting for you!
El rooster de personajes que tenemos en este juego es bastante extenso, teniendo a personajes como goku super saiyan, vegeta super saiyan, también tenemos a goku super saiyan blue, super vegeta super saiyan blue, gohan adolescente super saiyan 2, a Frieza en varias de sus formas incluyendo a su transformación Golden Frieza, tenemos a personajes vistos en peliculas como shisami, tenemos a cooler, a un joven nappa, a goku en su fase super saiyan 3, a kid buu, y personajes actuales como Broly en su forma de Super Saiyan Legendario, el gran Villano Goku Black en su fase Super Saiyan Rose, y villanos de películas clásicas de dragon ball como Boujack o Súper Número 17. también tendremos a personajes como Goku de dragon ball GT, inclusive tendremos a goku siendo tomado por la técnica del capitan ginyu, y de la saga del torneo de poder también tendremos personajes como Rozie, y villanos de otras sagas como súper Janemba, algo que me gustó mucho es que incluyeron a personajes de otros videojuegos también, como el Androide 21, que debo decir que me gusta mucho su diseño personalmente y me parece increíble tenerla en este videojuego también, Bardock de la película de Broly también tenemos este diseño del personaje con su traje de combate, tenemos la fusión de Veggito y Cogeta en el juego también, y si eres fans de Dragon Ball Gt Vegeta y Goky también en su fase de Super Saiyan 4, y personajes como Bills el dios de la destrucción se encuentran también disponibles en el juego, y personajes de corto metrajes de dragon ball como el de bardock tenemos al villano Chilled también en el juego, también tenemos la versión antigua de Broly con su clásico aspecto de super saiyan legendario disponible en el juego también y seres por encima de los dioses como el ángel Whis que también es otro personaje presente en el juego, y muchos más personajes que podrás encontrar en este juego, así que si eres fan de Dragon Ball ¿a que esperas?, ¡Dragon Ball Legends Te Espera!.
And so far today's post Steemians, I hope you liked it, but above all you enjoyed it, what do you think of this video game? Will you dare to try it? Let me know in the comments, if you like my content do not forget to follow me So as not to miss anything in your Steemit feed, without more to say I wish you a good morning, afternoon or evening, SadBear says goodbye from the cave ❗Until another time❗🐻🚀
The images you saw in this post have their respective sources in each of them.🦝
Add me in discord if you want to give me suggestions for posts or know some information # SadBear # 6392👽
Y hasta aquí el post de hoy Steemians, espero que les haya gustado, pero sobretodo lo hayan disfrutado, ¿Qué te parece este videojuego?, ¿Te animarás a probarlo?, házmelo saber en los comentarios, si te gusta mi contenido no olvides seguirme para no perderte de nada en tu feed de Steemit, sin más que decir te deseo unos buenos días, tardes o noches, Desde la Cueva se Despide SadBear ❗Hasta otra ocasión❗🐻🚀
Las imágenes que viste en este post tienen sus respectivas fuentes en cada una de ellas.🦝
Agrégame en discord si quieres darme sugerencias para posts o saber alguna información #SadBear#6392👽