My Played Video Games Review: Jurassic Park: Rampage Edition for the Sega Genesis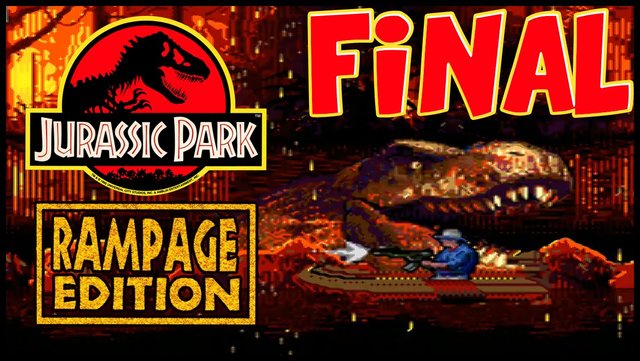 Image source
Jurassic Park: Rampage Edition is an action-adventure platform, side-scrolling video game developed by BlueSky Software and published by Sega for the Sega Genesis/ Mega drive in 1994. It is the sequel to the Jurassic Park video game, based on the first Jurassic Park movie.
This sequel to the first game which I have posted about before was nice. it has similar gameplay with several changes and a new story that continues from the previous game.
The Story
Rampage Edition is fiercer and more dangerous than ever! Go as the brave Dr. Grant to blast through all-new action-packed levels or be a wild and hungrry Raptor as you dodge the jaws of the mighty Tyrannosaurus Rex! Man or dino, the goal is the same... escape the island alive before it destroys itself!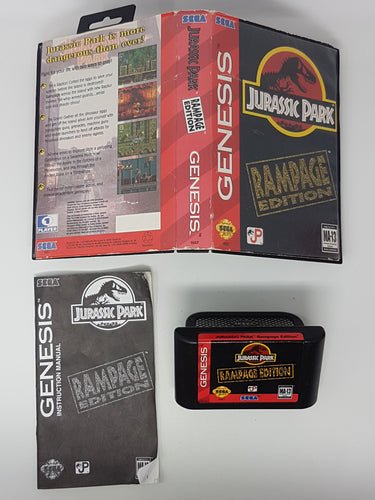 Sega opened box, manual and cartridge of the game. (Image source)
The Graphics and Sound
The graphics are well done and the dinosaurs look great. The enemy animations look good but there are too few of them. Some enemies will run toward you and the running animation looks good. The only downfall is that the animation is too few.
Great sound and music here. But the music seems like they took maybe about a minute of music and looped it, and the sound effects are good but there are too few of them in the game.
Gameplay video sample of Jurassic Park: Rampage Edition playing as Dr. Grant and the Raptor. Watch in 360p for near TV resolution of that time.
The Gameplay
Jurassic Park: Rampage Edition has good gameplay as a 3rd person side-scrolling shooter. You will be going against carnivorous, predatory dinosaurs. The levels are well thought out and various dinosaurs' DNA is hidden in each level to collect.
Your adventure will take place in various places. The levels are also well designed and range from climbing down an aviary to riding a dinosaur through the savanna or to driving a boat down rapids.
You can play as a raptor The variety of gameplay is incredible. There are plenty of weapons to obtain throughout the game that stay with you on your adventure. They range from the shotgun to the lame tranquilizer gun, plus many more.
The game has good controls. Basic controls of jump, shoot, and weapons change, that's about it. It is very easy to pick up this game and play it.
Being able to play as Grant or the raptor on their own adventures is what makes this game get good replay value.
My Verdict
Jurassic Park: Rampage Edition is a good improvement over the first game. But the other areas of it could have used a little tune-up. Still, it is an improvement over the overall good game that was the first.
Play it on the Sega Genesis/Mega Drive or on a damn good, easy to use emulator.
Let's keep on gaming in the free world!