Contest Alert👉My Lifestyle Activity Review Week #2: Choose At least 5 From The Listed Items And Review And Review At Least 4 Times In A Week.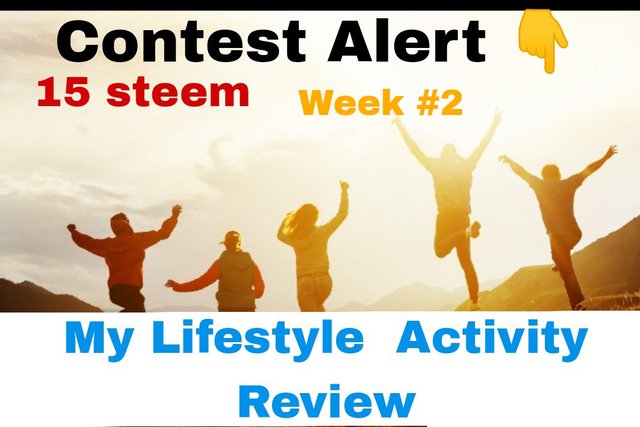 Hello dear members of steemkids community, I am delighted to welcome you to this lifestyle activities review for week #2. The result of week 2 will soon be announced. Just stay tuned. It's another week and it's going to be awesome! Hope to receive your entries from today.
On a daily basis, we all are involved in one activity or the other, we are excited about them or we are not. But the aim of this contest is to help us keep track of our activities within the day.
Here, I have listed a few things that are usually part of our activities for each day. Pick at least 5 of them and review in your entry for each day. You can do so daily or at least for 4 days. It all depends on you and if you will like to win. Check what you are expected to write on each of the choices below
Your Fashion
Your Food
Your leisure
Your Work
Your health
Your Purchases
The behaviors of the people you met
The traffic along the way
The weather conditions
Your overall feelings for the day
Your plans for the next day

Your Lifestyle Activity Review, What You need to Write On
Your Fashion
Here, you are expected to write on your fashion for the day. It. Your hair, your clothing, your shoes and so on. Whatever you are putting on, how you love it, how you come about it and so on and why you chose them for the day. Each day is unique and as such I will like to see how simple, or gorgeous you look.

Your Food
We eat on a daily basis and as such, I will like to know what you took for the day. It could be desert, water, food (breakfast, lunch or dinner) fruits, drinks, even tea or coffee. Tell us the taste, the makeup if you can, and why you chose them. Even if you ate out, I will be glad to know about it.

Your Work
Our work, our pride! Share what your main work is for the day. If you are employed, how did it go for the day, the stress, the joy, the activities you Carried on and how you feel about it. If you are self employed or anything at all that put food on your table or where you get the money to care for your expenses, please share how it went for the day. Your feelings about it. What went wrong or what did you do right? How many hours you spent on it.

Your Health
"Health is wealth" they said and a healthy person is the one that will be ready for the days activities.
I will like to know your health condition. How you feel health wise within the day and what you did to care for your health. You can also tell about the health of the people around you.

Your leisure
We all have leisure times within the day no matter how tight our schedule is. We may choose to spend the leisure with friends, watch movies, football, reading publications here in steemit, or books, or anything at all that occupied our free time. You can share them. It will be so excited to read about them. Yell why you chose to spend your leisure on them. You can include how many hours you spend on them.

Your Purchases
We can't do without purchases on a daily basis even when we choose to buy things on monthly basis. There are usually things we buy within the day. It could be minor or major. Why did you buy it? What is it? How much did you buy it? Has the price is increased or reduced? Is it in good condition or not? Did you really need it or you bought it out of want? Close by or far away from your home?

The behaviors of the people you met
You met different types of persons within the day. What's your experience like with them? Even if you didn't directly have close contact with them,what did you admire about them or hate about them? Their general behavior and how you dealt with them within the day. Let's read about them.

The traffic along the way
We ply the road daily. It could be the street where we live or the major roads. Was it congested or free, In good condition or bad, the people or vehicles, how did they walk or drive, reckless or carefully? Only you know. Please tell us.

The weather conditions
The weather condition for the day, rainy, sunny, or just ok? Did you enjoy it? Did it disturb your plans for the day? Let us read about it.
Your overall feelings for the day
On the overall, tell your general experience for the day and how you feel about it. Will you like to have such a day again if the opportunity is given you? Did anything go wrong of everything was just fine? Did you achieve your plan for the day?

Your plans for the next day
How about your plan for the next day? How have you planned to move, wear, eat and so on. Planning is important. You can just plan and try to fulfill them but it is not a must that you will have to fulfill all. Let's see how organized you are.

Purpose Of This Contest
I want to see more quality contents in the community and engagement.
As for quality, please be detailed and write at least 70 words in each category. Originality is the key. Use your own pictures. It has to be your own activities.

For engagement, try to engage with others in their own entry and let me know how many you have engaged with. Your engagement will have to be quality one. Read the publication and point out what you love about one or two or more points you have read. Appreciate the author and if there is need, offer some suggestions for improvements in a mild way.
Steemit has its social aspect and that is what we want to fulfill. Apart from meaningful comments, please, manually upvote others. This is very important to me in this contest. Hope to see you all do so

Contest Prize
15 steempower
1st place 👉7sp
2nd place 👉5sp
3rd place 👉 3sp
Note that if your publication is of quality, you might be chosen for booming support.
Also, the community account will also upvote your publications if it is deserved.
We also have the community curators. Try to use their tags where appreciate.
And you never can tell, the chief curators might find your publications worthy of receiving supports from them. It's up to you to present your entry very well.
The winners will be chosen based on who makes the highest entries for the week, who engaged the most and who follows all rules

Contest Rules
✓ Post your entry in steemkids community
✓ Use the title 👉 My Lifestyle Activity Review Week #1 by @yourusername
✓ upvote and resteem this contest post.
✓ your post must be steemexclusive. Ams no plagiarism will be tolerated.
✓ you can make as many entries as possible but just once a day. But make sure to drop your entry links at the comment section of this post. Note that if you make more than one entry, just keep editing your comment and add to the previous ones you already dropped. Do not drop them on separate comments.
✓ invite at least 3 friends to take part
✓ use the tags: #steemexclusive #lifestyle #thediarygame #yourcountry and any other hashtags.
✓ Anyone can take part
✓ Entry will end on Sunday, 28th August, 2022 by 11:59 pm Nigeria time
✓ Support the community by setting beneficiary percentage of any amount
I wish you all the best!

This is my introductorypost here