Contest Alert: Help The Kids To Develop Their Creativity... Create Something From Nothing (With Plastic Bottles).(25 Tron)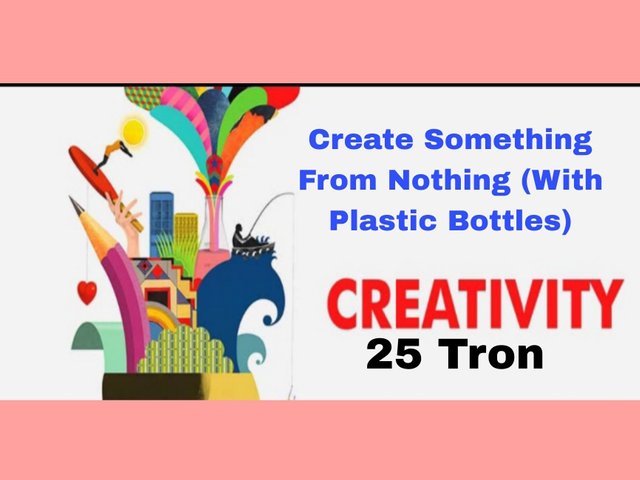 Hello friends, welcome to my brand new contest that will keep us all busy within the week. Each day that passes by, we see used items around us and most of which we use. They litter around and becomes valueless.
How about transferring them into something useful that can benefit you and other?


This week, I will like you to use those plastic bottles around you to make something that can be useful. It can be anything but let's see how we can help the kids to develop their creativity through this means. I know by now you are already thinking of what you can make with those plastic bottles you are stirring at.
Well, in case you don't know what to create with them, feel free to explore you tube channels such as the one below and many more to get creative ideas.
Let's play with this and learn. We can save a lot of cash by using the plastics around us to create something useful we could have bought from the market. Our kids can also learn.
👉Include the following in your post
Steps on how you made the craft

How did you get the idea?

How useful is what you have made?

Which kid did you inspire or do you intend to inspire and help develop the creativity?

You can share it in you tube if you can. It is optional.


✓ You must present your own creative work. Do not repeat the one you created before. It must be new and original. Only learn from others and practice.
✓ Publish your post in Steemkids community using any language of choice
✓ You must be at least in club5050 to participate.
✓ The minimum length of your post is 300 words
✓ This contest will start on 00:00(UTC) Sunday 25/09/2022, to 23:59(UTC) Sunday 01/09/2022.
✓ Drop the link of your entry post as a comment on this post. Invite 3 friends to participate
✓ Use the title 👉Help The Kids To Develop Their Creativity... Create Something From Nothing (With Plastic Bottles)
✓ Make sure to follow @ngoenyi. Vote and resteem this post
✓ Plagiarism of any sort will be detected and you will be disqualified.
✓ Include only original images
✓ Include #developkidscreativity-w1, #steemexclusive and your club status among your first 3 tags.
✓Anyone can take part
✓set at least 10% beneficiary to @steemkidss


We will award 25 Tron to 5 outstanding entries. Which means that 5 winners will get 5 Tron each.
This is in addition to the booming support your entry might get if it is outstanding.
The community curators might also visit your post.
And the chief curators are looking out for opportunities to support you. Show yourself outstanding.
Good luck to you all

This is my introductory post here