We invite all kids to join us on telegram today and have fun|5 steem reward for participants
Greetings to you all kids/klovers.
With heart full of joy and delight I along with the telegram moderator @fortwis09 make this invitation to all kids.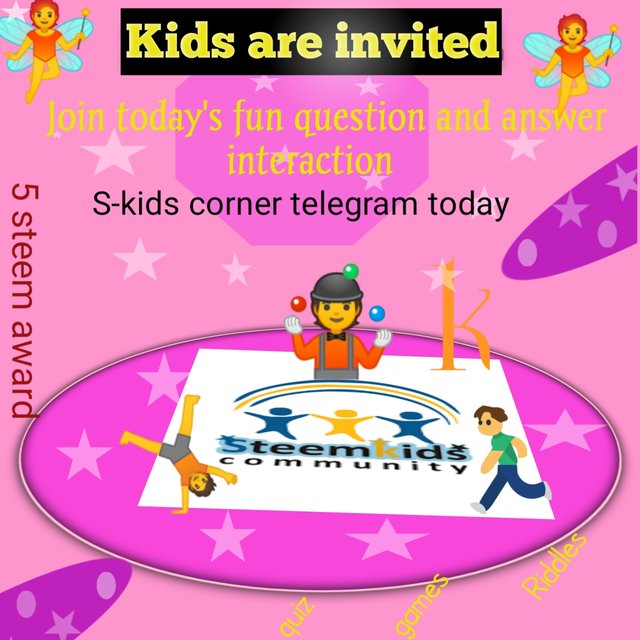 Today we are organising a fun question and answer games. It will include riddles, jokes for kids, or quiz.
Lots of questions will be asked and answers will be given from other kids.
Anyone who has an activity can also bring it up.
It's more like fun interactions.
Who are invited?
All verified kids are invited to join this interaction. However other kids are also allowed to join and they will be helped to get verified. So you can invite other friends to join.
Venue
Since the interaction is mainly for the kids, it is going to be held in the S-kids corner telegram
Every kid is expected to be online at the telegram group at that period of time so they can join.
Time
We will start by 6:30 pm (Nigerian time).
Activities
As afore mentioned, we are going to ask riddles, quiz, jokes for kids, maybe short stories with some lessons for kids.
Everyone can contribute his questions. You can prepare for any game you want to introduce.
Just say Hi when you come online and we will be happy to welcome you.
Call your friends too to join if possible, but they should between the age of 8-18.
So tonight is gonna be fun for every kid.
Reward
5 steem will be shared among every kid who made active participation in the group.
Kids may also stand the chance to win steem for giving answers correctly.
So let's get ready for tonight. It gonna be interesting for us

I understand that most kids do not have smartphones to join but nevertheless, we beg our parents to maybe spare a smartphone for that time period. We want our kids to have fun with other kids as well.

if you haven't joined our S-kids corner telegram, click on the link below to join:
https://t.me/joinchat/YtJKdR30vtdkZjRk
All verified kids:
@viviandaniella
You are all invited. Your friends are invited too.
Special mention:
@steemkidss
@ngoenyi
@peachyladiva
@eliany
@goodybest
@mariajruizb
@brightobias