HOW TO STEEMIT - Quick Guide for Newcomers on Steemit
Hello Steemian!
You probably came to visit this blog because you are new to Steemit.
WELCOME, and thank you for hanging out with us!
To help you make your experience even more enjoyable, we made a list of useful tips, links, and fun games to play on the Steem Blockchain.
In this post we will cover:
Importance of keys
Complete your profile with info, and profile image
How to earn STEEM
How many times can I post?
How to get more STEEM POWER
Communities to join
Useful links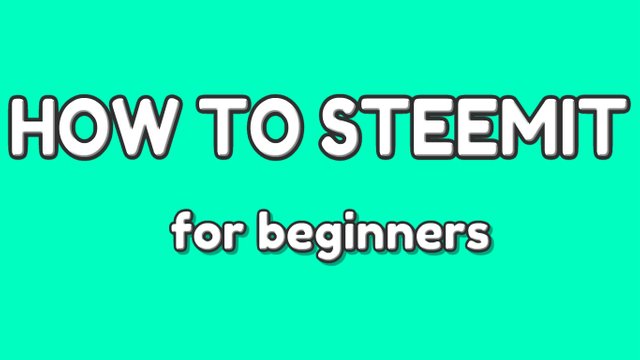 1. Importance of keys
You'll be given a set of passwords uniquely generated for you. Keep these keys safe and secure.
+ Master password
Master password is used to derive all keys for your account, including the owner key.
Only use this key when you lose your other keys. Not recommend to use for login into any applications or other platforms with this key, use your posting key instead.
Difference between Master Password and Owner Key here
+ Posting key
This key allows you to post, comment, edit, vote, resteem, and follow or mute other accounts. Most users should be logging into Steemit every day with the posting key.
+ Active key
The active key is meant for more sensitive tasks such as transferring funds, power up/down transactions, converting Steem Dollars, voting for witnesses, updating profile details and avatar, and placing a market order.
+ Memo key
If you want to send someone an encrypted memo through wallet transfer,
type "#" followed by the message in the memo. Then use the memo key to encrypt and the receiver would use their private memo key to read your message.
+ Owner key
The owner key is only meant for use when necessary. It is the most powerful key because it can change any key of an account, including the owner key. Ideally, it is meant to be stored offline and only used to recover a compromised account.
Sources:
https://steemitwallet.com/faq.html#How_can_I_keep_my_Steem_account_secure
https://steemit.com/steem/@steemitblog/steem-basics-understanding-private-keys-part-1
https://www.steem.center/index.php?title=Steem_Key_Management
2. Complete profile with info, and profile image
Your profile info, profile image, and cover image are set in your steemitwallet.com Settings page. A complete profile is more appealing and will give more engagement. Once your image is uploaded, click the Update button and enter your active key.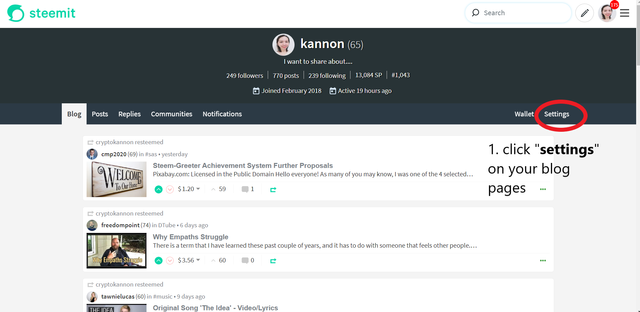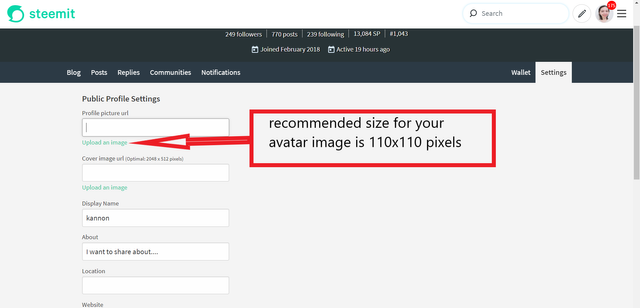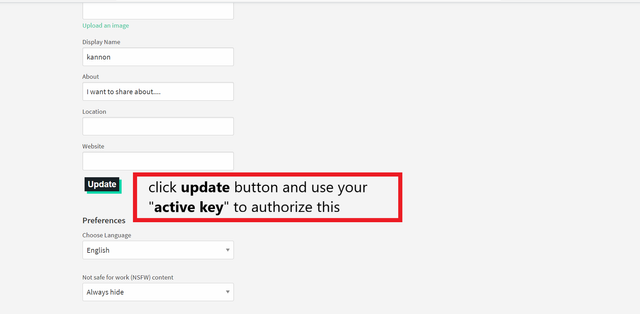 3. How to earn STEEM
There are several ways you can get more STEEM, here are some options:
Content creator
Create interesting or valuable content on steemit for the content consumers if you decide to earn steem by being content creator

Freelance work
Networking with a community member on steemit and share your passion or specialized skills that you can offer to the community as paid services or market your product.

Play games
You can earn steem by playing games powered by the Steem blockchain. Splinterlands, for example, where you can trade the cards and DEC token for Steem.

Lease/Renting out your Steem Power
Buy STEEM at exchanges and power up your STEEM to Steem Power then rent/lease it out to other steem users using dlease.io for daily Steem payment to your wallet.
You can also buy STEEM at crypto exchanges. Here is a list of the most popular exchanges:
4. How many times can I post?
The more resource credits (manapower) you have in your account, the more transactions you can perform. We recommend having at least 20SP to perform a normal usage. This is equivalent to 2 posts a day and several comments and upvotes. When you power up, you will have more manapower (RC) instantly. To know exactly the status of your account, we recommend using the free tool: https://steemworld.org (by @steemchiller)
5. How to get more STEEM POWER
Steem Power is the holy grail on Steem. The more you have from it, the more influence you have on the platform. So we can recommend to POWER UP your STEEM in your Wallet.
Liquid STEEM in your wallet earns you nothing, you can trade this at an exchange for other crypto or sell for worthless fiat currency. When you power up STEEM, you earn at the time of writing 2.18% APR, you don´t have to do anything, it increases automatically.
When you power up STEEM, you earn curation rewards, this is a portion of the total payout of the post you voted on. Authors get 50%, curators get 50%. The more SP you have, the more curation rewards you earn because your vote is bigger.
Compete in challenges on Steemit. Monthly, there is a contest called #spud4steem, on this day you get extra motivated to POWER UP, because you can earn SP and other juicy prices! Follow @kiwiscanfly
6. Communities to join
Check HERE all the communities on Steemit
7. Useful links.
Thank you and STEEM ON!
JOIN THE STEEMING CURATORS ON DISCORD
If you want to support our project @steemingcurators, you can do that by delegating STEEM POWER and you earn a weekly payout for your contribution! .
---
FOLLOW OUR STEEMAUTO CURATION TRAIL :