Steeming Community Important Announcement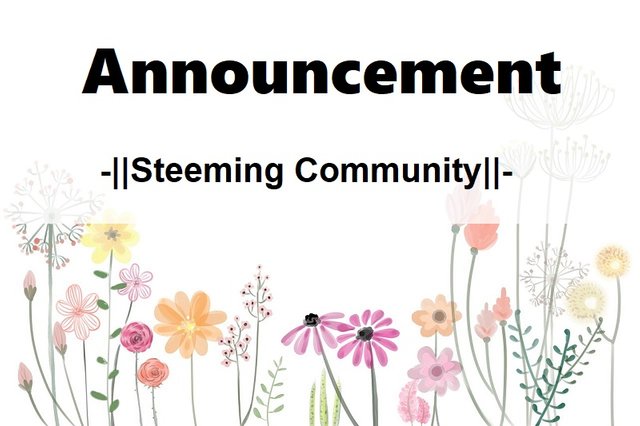 Hello Steeming Community Members!
We would like to thank you for your continuous support to this community.
We will make this announcement short and clear as possible.
There are a few things that we want to let you all know about the updates and also changes that we will implement in this community.
We will list them out as follow:
Newly appointed Steeming Community Moderators:
We would like to introduce to you all our newly appointed moderators of Steeming Community and also the existing one that still active working in growing this community. They are:
@imamalkimas from Indonesia
@juichi from Philippine
@boss75 from Bangladesh
@advhl from Venezuela
@jesusremaj7 from Venezuela
@psicoparedes from Venezuela
@cryptokannon from Japan
We are still looking for more moderators to join and help us growing this community, especially from other countries that are not yet in the list of this existing moderators. Please let us know if you're interested to join us and tell us in a post why you would be good moderators for Steeming Community 😊
One of our mission is to grow this community curation account @steemingcuration to at least 100,000 SP by the end of this year.
We would need all community members that active posting in this community right now, that is currently at 144 active posters to support this mission through delegation and also by setting up their post reward with 30% beneficiary set to @steemingcuration community curation account. This goal is achievable if all of this 144 active posters delegate at minimum of 700SP to @steemingcuration
We have decided to take this more aggressive approach as we are serious about building this community and want those who support us to truly commit to this mission by showing us through this action of delegate their steem power and also setting their post reward beneficiary to @steemingcuration at 30% so we can grow this community curation account faster and more effective.
How to set the beneficiary setting to @steemingcuration?
First, scroll down under your posting editor and go click on "Advance Settings" to set the % percentage of the post payout reward to @steemingcuration at 30%. You have to do this step before you post your content at Steeming Community as this step only can be done before you click the "Post" button.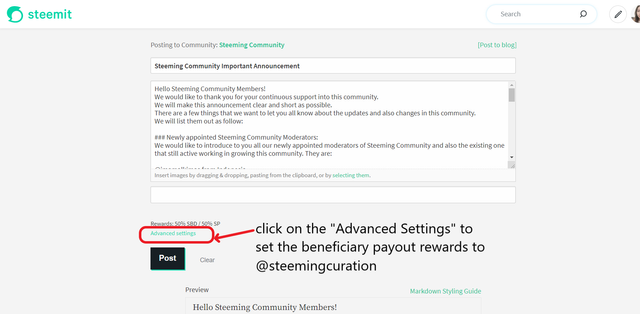 Under the "Who should receive any reward?" section, type 30 at the % blank box and steemingcuration in another blank box with the "@"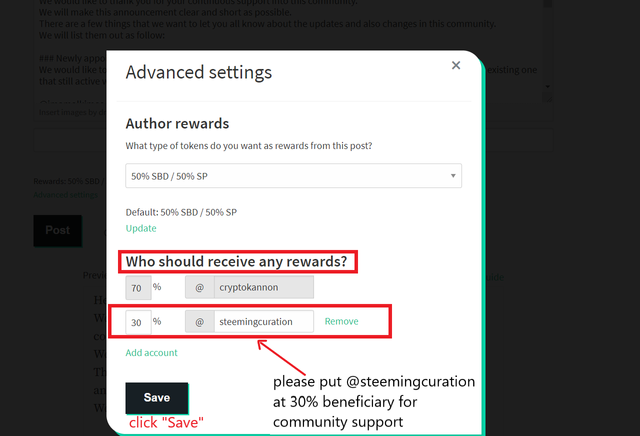 From now onwards, we will only select post for booming curation from users that have set their post payout beneficiary reward at 30% to @steemingcuration We are keen on supporting those who genuinely wanted to support this community by helping us growing our community curation account @steemingcuration by doing this step and also by delegation. We need your proof of stake to this community for the brighter future 🤗 . Please refer to this post on How to delegate your steem power to @steemingcuration?
Benefits as Steeming Official Members:
Daily upvote from @steemingcuration community curation account
We will make sure that those who delegate their steem power to the community will get a daily upvote from @steemingcuration account correspondence to their total of SP delegation provided that their post have follow our community guidelines.
Delegators will have access to promotional channel in our discord for further support in booming curation.
Members will be given a slot for organize a contest
Active members that have delegate over 1000SP to @steemingcuration account will be given a chance to organize a contest in the community.
and lastly,
other benefits that will be announce from time to time...
Steeming Community Discord server
We have setup Steeming Community discord server for our community members to communicate with our moderators and for other things that they need to reach out to us off the Steemit Chain. Please join us there and say your hi.
Steeming Community Discord server
That is all for now from us and please stay tune to incoming contests from us.
Regards,
Steeming Community Team.