Types of Users on Steemit Community...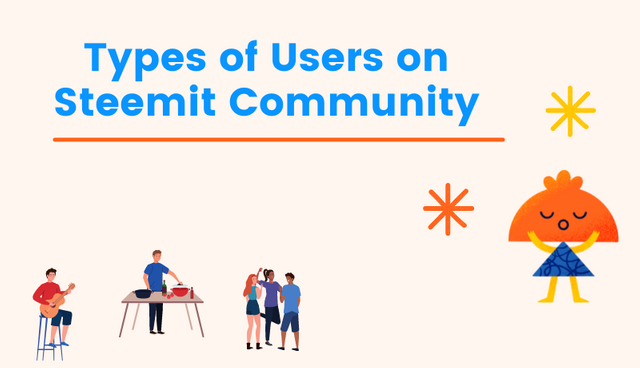 Hi everyone! How are you all been doing? Are you still having fun here? For me, I'm as usual not that much of a content creator I mostly most of the time reading others posts and sometimes I don't know what to comment or have nothing to comment on and just upvote their post: not that great practice as people should be commenting on each other post so the author feels seen at least. 😅 Other than that I do daily curations as I'm responsible for submitting daily selection posts at several communities for Community Curation Support of Booming. Then sometimes checking on my team members at Steem Greeters and other communities that I help managing..
In this post, I will share my observation on the type of users or community members that we have on Steemit. This post is just for entertainment purposes and purely based on my own limited personal observations. You might add some other types that you see on Steemit if you see one, just to add to the fun 😁
On Steemit we have several types of community members. I will categorize them as follow:
Content Creators
Pure content creators
These are the users that coming into Steemit to share their content and simply just this.
Grumpy content creators
These are the users that creating content and in return hoping that they will get steem out of it from steem curator or investors of Steem. They will be haunting the curators of Steemit if they don't get any steem or not enough steem payout on their contents. They are the users that I usually mute in here
Casual Users
These are the users that usually just consume the contents here. They sometimes appear in someone's post comments section leaving some meaningful thoughts/opinions or just simply write something on the comment section to let the author know that they have been visiting. Or sometimes nothing..
Investors
These are the users that coming here that have spent their own money to buy steem and power up that steem so they get curation reward out of it to get the return on their investment. They also get steem power by earning it from the community work or through their contributions into Steem Community.
Investors on Steem Community have several categories too.
Active Hermit Investors
These are the users that accumulating steem power just so they get to upvote their own posts or delegate to delegate for upvote service. They also purchased steem so they may buy upvote from buying upvote service. They usually don't involve in any community projects and just simply doing their things, milking steem...
Active Angel Investors
These types of investors usually those who are actively involved with the community activities, helping their members to grow and delegating their steem power to other communities here to support those communities' growth. They also sometimes write content to educate or organize a program for the community. A good example of these investors is the Steemit team/the steemcurator01 that most of the users here chase after for upvote..
Community Builders and Community Developers
Then the next types of steem community members are community builders and community developer that are using their time, energy and skills sets to contribute to the growth of Steem Community.
You may only see them publish the programs or projects that they currently do for the community. Those that doing it to seriously earn money here will be complaining about how they being underpaid or not enough reward for their works. And those who do it for fun are fun to be around..
As for Steem Developers they may be seen only publish their current report on their project or service that they currently offer to Steem Community; this including the top witness of Steem Blockchain. They usually supporting community projects too by delegating their steem power or curating community members' posts.
Serial spammers and plagiarists
These types of users also include as steem community members as without them some of us here have nothing to do. They create jobs for some of us so their existence has some contributions to the Steem ecosystem too, it is just not in so favorable way..
Which types of community members are you in this type of user on Steemit? 😄