My Village in TenPics-Dhokrakole19-02-2021 by sm-shagor👨‍🌾Farmers and farming👨‍🌾
---
Hello..!!
My Dear steemians,
I am @sm-shagor from 🇧🇩Bangladesh🇧🇩
---
Today I will discuss with you about the agricultural work in our village. I will share with you the details of how the village farmers work in the field and what kind of work they do. Bangladesh is an agricultural country. Especially the people of the village are more engaged in agriculture. I think the government should give special importance to the farmers as Bangladesh is an agricultural country.
Bangladesh is an agricultural country. Eighty-five percent of the people in this country live in villages. In Bangladesh, 59.84% of the population is rural and 10.71% is urban. The contribution of agriculture sector to the gross domestic product (GDP) is 19.1% and 47.1% employment is being created through agriculture sector.
---
#1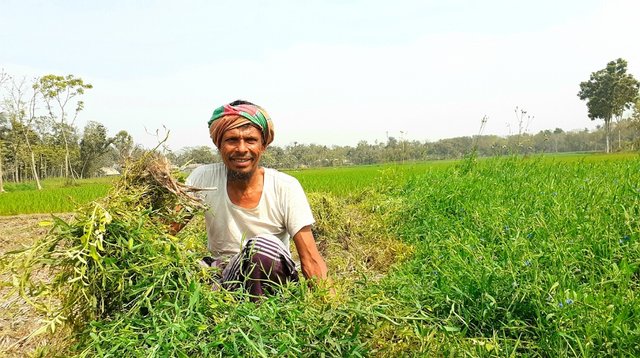 You can see in this picture a farmer picking crops from the land. The crop is not yet suitable for harvesting. Even then he is harvesting from the field, which he will use as cattle feed.

#2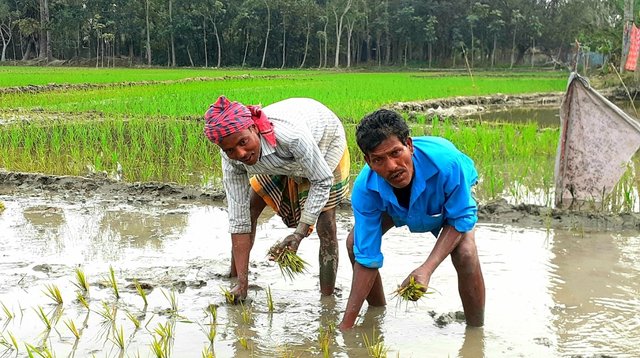 Two farmers are planting paddy in the land. Rice is the staple food of Bangladesh. Good quality paddy is produced almost everywhere in Bangladesh.

Bangladesh ranks third in the world in rice production.Bangladesh's rice is exported to various countries through which Bangladesh earns a lot of foreign exchange and plays an important role in GDP.

#3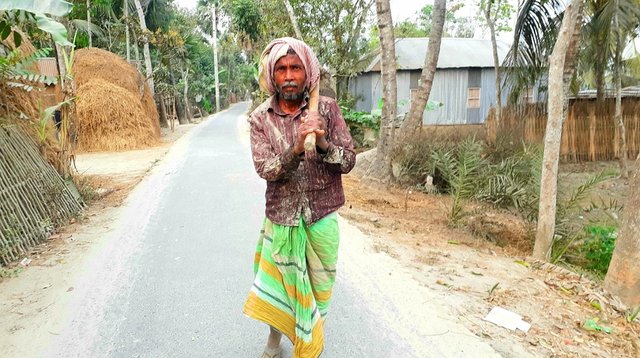 You can see in this picture a farmer returning home tired after working all day. A farmer works in the field from morning to afternoon.
He is a poor farmer. He cultivates his own land and works on people's land. A farmer earns 350bdt/4.17 per day and with it they manage the household expenses.

#4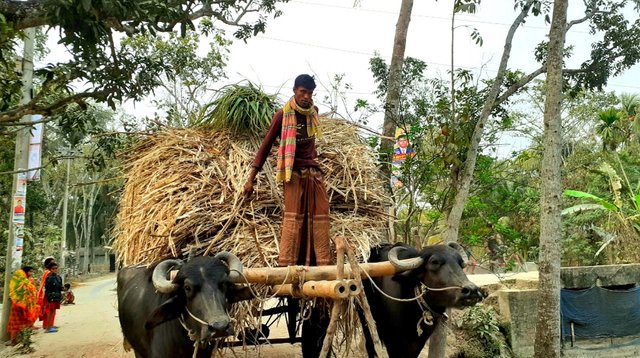 You can see in this picture a buffalo driver loading some goods into his buffalo car. A buffalo cart plays an important role in agriculture. It is used to transport crops from the field..
A buffalo driver earns 650bdt/$7.74 per day. 50% of his buffalo in his buffalo is spent on his career in two parts of the money he earned.

#5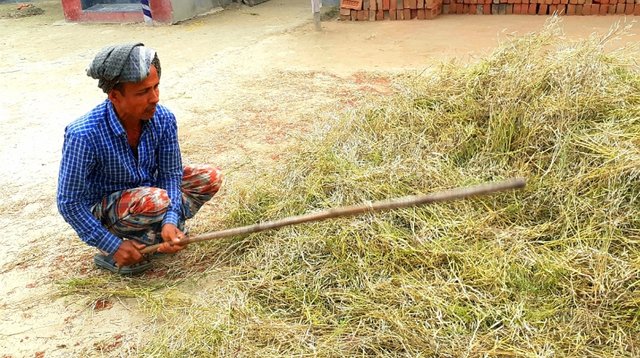 In this picture you can see a farmer threshing mustard.Village farmers thresh mustard in this way. Mustard is a lucrative crop producing oil from mustard.

After collecting the mustard from the mother, it is brought home, then dried in the sun, then separated from the mustard plant by hitting it with a stick.

#6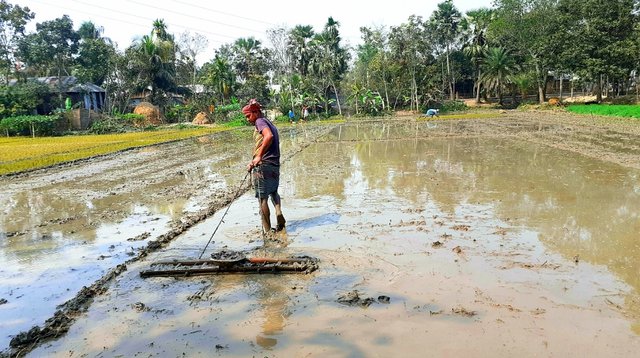 You can see in this picture a farmer leveling his land with a ladder. If the land does not have to be evenly liquid to make it suitable for paddy cultivation, water will accumulate in one place and water will not be available in another place.. Therefore, it is very important to prepare the land for paddy cultivation.

#7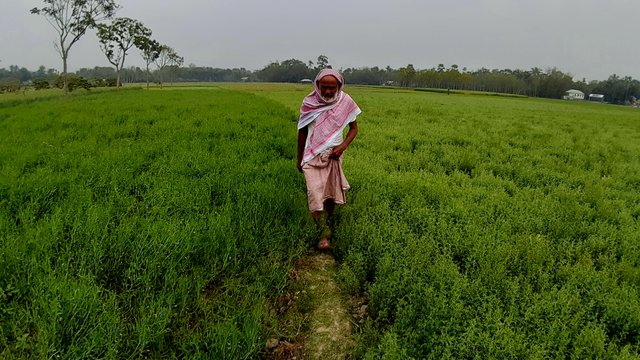 You can see in this picture a farmer visiting his land. This is my grandfather, he went to inspect the land and to look after those who were working on the land.. He is very skilled in agriculture. He is a famous person in our village.

#8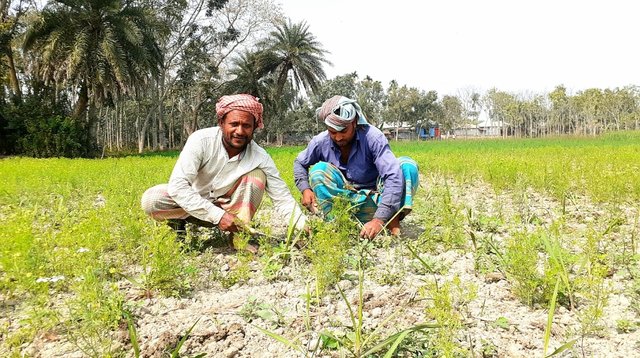 You can see in this picture 2 workers are working in the field they are picking the grass from the field so that the crop can grow fast.If there is grass in the crop field, it damages the crop, so it is very important to separate the grass from the crop field.

A worker earns 400bdt/$4.76 after working from morning till evening. With this income he bears all the expenses of his family.

#9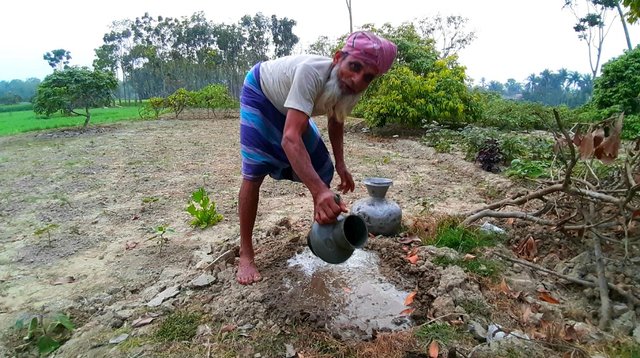 You can see in this picture a vegetable farmer. He is watering his pumpkin seeds. He grows a variety of vegetables in his vegetable garden. Her vegetable garden is full of vegetables all year round.

When the vegetables are ripe, he picks them up from the ground. And the money he earns from selling it in the market he spends on running his family.

#10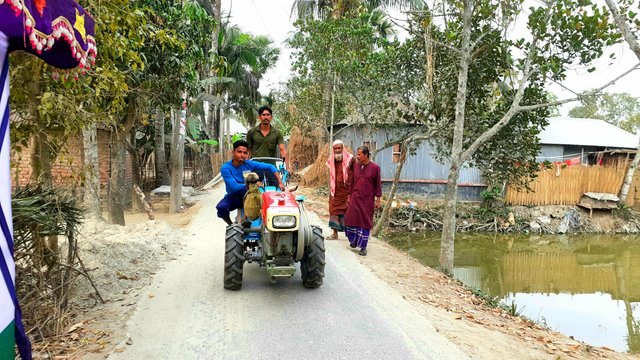 You can see in this picture a power tiller driver taking the power tiller cultivate the land. This device is used to cultivate land. This machine plays an important role in agriculture.

Peasants used to cultivate land before Nangal and Kodal. A power tler driver earns 500bdt/$5.95 per day.

I am proud to become an agricultural household boy. My ancestors were engaged in agriculture work so I know a lot about agricultural work. I think farmers are our country's resources. My love for the farmer of all our country. Farmer Real Hero in Our Country.

Benefactor's reward: 10% of the Author reward will go to @steem-bangladesh

Thanks everyone for reading this post.
See you soon.
Connect Me On:
Facebook | Twitter