CHRISTMAS CONTEST IN POETRY CITY || POETRY TO SANTA CLAUS || TITLE: FEELINGS THAT I DID NOT HAVE AND NOW I PRAY FOR NOT TO RELEASE /// CONCURSO EN NAVIDAD EN POETRY CITY || POEMA A PAPÁ NOEL || TÍTULO: SENTIMIENTOS QUE NO TENÍA Y ...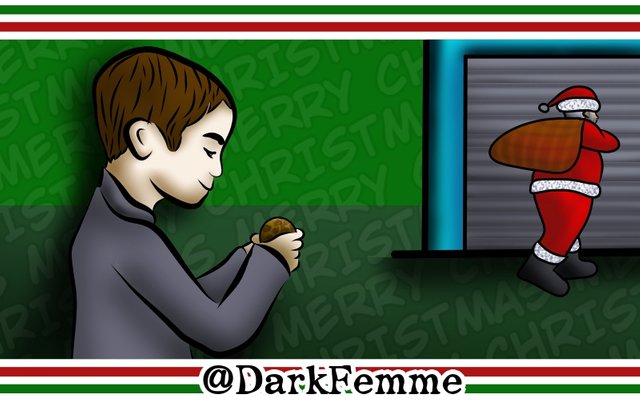 ---
---
---


The day comes when everything is a chaos,
people struggling to get a little more,
invades delirium when I see how stressed they are,
I make sure to remain the invisible that nobody will notice.

---

Llego el día en que todo es un caos,
las personas luchando por obtener un poco más,
invade el delirio cuando veo lo estresados que están,
me aseguro de seguir siendo el invisible que nadie notará.


Ants without order those that register the streets,
torment my lonely moments,
those moments when the rodent is my partner
and hunger my most faithful guardian.
---

Hormigas sin orden las que recorren las calles,
atormentan mis ratos de soledad,
esos momentos en los que el roedor es mi compañero
y el hambre mi más fiel guardián.


Marathon of the hours I appreciate are about to end,
the night is approaching slowly,
while my body feels cold injected
and my stomach growls after the smells to see pass.
---

Maratón de las horas que agradezco están por acabar,
se acerca la noche a paso lento,
mientras mi cuerpo siente inyectarse al frío
y mi estómago gruñe tras los olores ver pasar.


I felt stunned when I heard footsteps splashing to my corner,
fighting fears for not calling memories,
bewildered of the motives that made me reappear before the world,
begging the mistake to have priority.
---

Me sentí pasmado cuando oí pasos chapoteando hasta mi rincón,
luchando contra los miedos por no llamar a los recuerdos,
desconcierto de los motivos que me hicieran reaparecer ante el mundo,
rogando a la equivocación tener la prioridad.


It was the warm hands that startled my senses,
leading the instinct to activate protection,
Wishing that distance could be realized,
restless breathing that betrayed my instincts.
---

Fueron las tibias manos quienes sobresaltaron mis sentidos,
guiando al instinto a activar la protección,
deseando que la lejanía se pudiera concretar,
agitada respiración que delataba mis instintos.


Aware of the soft voice I agreed a moment of my attention to grant,
I went with my activated alerts appreciating the sweet smell of cookies,
also being the most unexpected food for a cold night,
while I let myself be embraced by the blankets that the old Santa Claus posed on my body.
---

Consciente de la voz suave pacté un momento de mi atención conceder,
fui con mis alertas activadas apreciando el olor dulce de las galletas,
también siendo el más inesperado alimento para una fría noche,
mientras me dejé abrazar por las mantas que el viejo Papá Noel posó sobre mi cuerpo.


Exalted feeling of importing more,
the one that I didn't have before and now I pray not to let go,
I did not ask to believe in goodness and here it is,
I didn't have Christmas and I've seen it arrive.
---

Exaltado sentimiento de importar más,
ese que antes no tenía y ahora ruego por no soltar,
yo no pedí creer en la bondad y aquí está,
yo no tenía navidad y la he visto llegar.


It was not the things that I received the compensation of fate,
nor was it important how much they would give me,
my immense joy is remarkable,
only for that gesture of heart that this day fills me with peace.
---

No fueron las cosas que recibí el resarcimiento del destino,
ni fue lo importantes cuánto me hubieran de dar,
es notable mi inmensa alegría,
solo por aquel gesto de corazón que este día me llena de paz.

---
Esta es mi participación al concurso con una poesía libre.
Para ver las bases del concurso ir a este post.
---
This is my participation to the Christmas Contest of Poetry, the type of writing is free poetry.
For see the rules about this contest go to this post.
---

Twitter: https://twitter.com/FemmeDark
Instagram: https://www.instagram.com/dark.femme.box
Discord: DarkFemme#3243
Telegram: @DarkFemme

Nota: Todos los separadores, la imagen de portada y la firma son de mi autoría. Contenido original publicado en varias redes con el mismo nombre de usuario.
Notes: All separators, cover image and sign are my own. Original content published on others networks with the same username.
---

PD de la PD... XD
Increíblemente... todo en contra y ahora como para no perder mi publicación igual lo muestro a ustedes, ya ni dentro del concurso -dijo ella suspirando.
---
Posted from my blog with SteemPress : [https://steemit.com/@darkfemme]
---