$1000 STEEM Prize - Update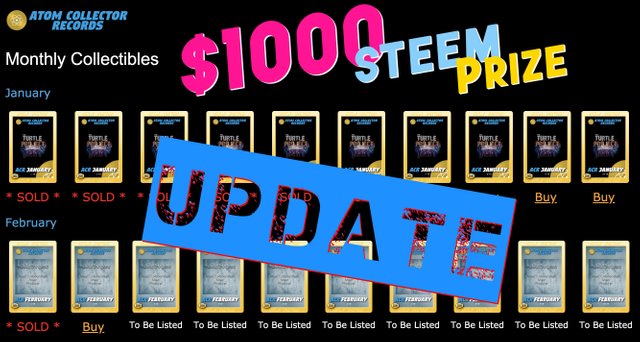 Four days ago I announced an exciting new contest where 10 people have the chance to win $100 each!
I am excited to say that seven of the ten January cards have now been sold and the February cards are now becoming available on the market.
Please read this post for full details of how you can enter.
How To Buy A Card
Head over to the MUSIC NFT Showroom and scroll down until you see a card available for 2500 ATOM:


If you click on the "i" you will see the card details:


Click the shopping trolley to purchase the card
You can purchase ATOM on Steem Engine here.

The current price for ATOM is less than $0.003 and as the card also has 1000 ATOM locked in you will effectively pay 1500 ATOM which is approximately $4!
GOOD LUCK!
---

Earn ATOM tokens listening to independent music on AtomCollectorRecords.com
Join our Discord for airdrops, giveaways and more!