Music For Steem | Today Is Your Day | Cover | Hoy Es Tu Dia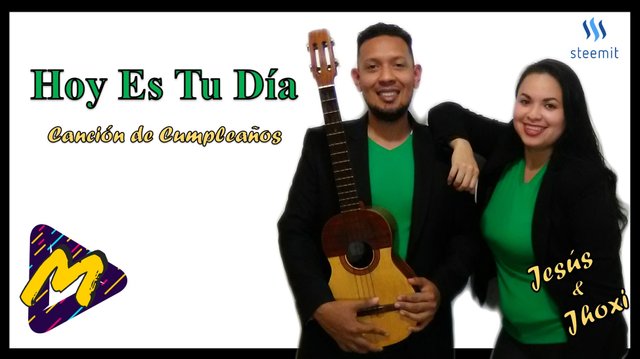 Hello Hive friends! It is very pleasant for me to share this post with you, since in this cover the user

@jhoxiris

accompanies me, and we had a long time without performing an interpretation together for the platform.

This time we interpret the popular birthday song entitled "Hoy Es Tu Día", belonging to the compilation of Maestro Vicente Emilio Sojo, which has been covered by different artists that I admire a lot, such as Ilan Chester and the unforgettable Morella Muñoz.
However, this beautiful song came into my life at an early age because it belonged to a family of musicians, where a well-sung happy birthday has never been missing. On the other hand, the choral world has led me to meet and collaborate artistically with many members of the Orfeón Universitario de la Universidad Central de Venezuela, where this piece is a classic both in their studio recordings and on each birthday of their members and friends.

We recorded this cover with an Alcatel Cameo X and the images were edited with the PhotoDirector application. We really hope everyone here is to the liking and I take this opportunity to thank all the communities that have given their support to our musical projects, such as

@musicforsteem

,

@booming01

, and

@steemcurator01

. Thank you for visiting me and we will read in future publications...
Today is your day of grace and light,
that you celebrate it, I pretend.
That you celebrate it with joy
that overflows from the heart.
May happiness smile on you
between music and flowers,
candy and liquor
and hopes in your day.
May the bees give you their honey,
the placid dawn its splendor.
The nightingales give you their song
and the cherubs give you their love.
May the moon surround you
with its pearly light
and the stars admire you
between rainbow clouds.