Music For Steem🎵 - I LOVE THE EIGHTY - NEW CHALLENGE ( 80 s Music ) cover "Chris isaak - juegos de amor"
Hola es para mi un placer estar en este concurso musical music for steem " Yo amo los 80" de la mano del amigo
@gaborockstar
. Quiero hacerlo con una canción del cantante y compositor "Chris Isaak" con su tema que lleva por nombre. "Un juego de amor", esta canción esta realizada en el idioma del ingles, yo le hice una adaptación al idioma español, haciendo referencias en su letra sobre una promesa de amor.
Hello, it is a pleasure for me to be in this music for steem musical contest "I love the 80s" from the hand of my friend @gaborockstar. I want to do it with a song by the singer-songwriter "Chris Isaak" with his title track. "A game of love", this song is made in the English language, I made an adaptation to the Spanish language, making references in its lyrics about a promise of love.
@betzaelcorvo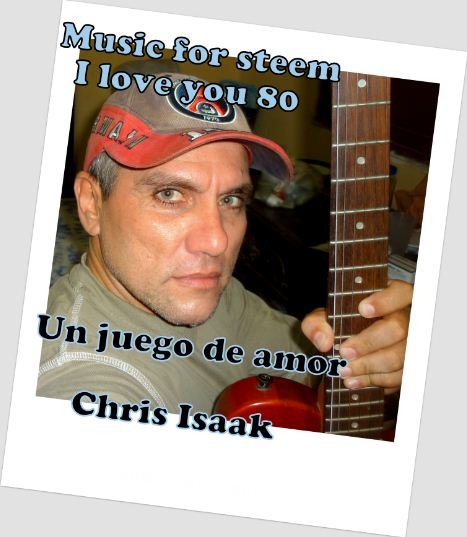 • youtube


Letra y música por * Chris Isaak *


I estrofa


Fuego en mi mundo
que puedes tu salvar
extraño desearte
solo quiero amarte
Nunca soñé a alguien como tu
nunca soñé perder a alguien
como tu
coro
Oh Donde estas amor?
Oh Donde estas amor?
Oh Donde estas amor?
El mundo solitario esta
mi corazón no puede mas
busque a alguien como tu
para hacerte esta canción
Oh Donde estas amor?
Oh Donde estas amor?
Oh Donde estas amor?
Enamorarme, es soñar despierto
en la distancia queda el dolor
Oh Donde estas amor?
Oh Donde estas amor?
Oh Donde estas amor?
triste es no estar allí


Translation to English


The world was on fire and no one could save me but you
It's strange what desire would make foolish people do
I never dreamed that I'd meet somebody like you
And I never dreamed that I'd lose somebody like you
No, I don't wanna fall in love
(This world is only gonna break your heart)
No, I don't wanna fall in love
(This world is only gonna break your heart)
With you
What a wicked game to play
To make me feel this way
What a wicked thing to do
To let me dream of you
What a wicked thing to say
You never felt this way
What a wicked thing to do
To make me dream of you and
I don't wanna fall in love
(This world is only gonna break your heart)
No, I don't wanna fall in love
(This world is only gonna break your heart)
With you
The world was on fire and no one could save me but you
It's strange what desire would make foolish people do
I never dreamed that I'd love somebody like you
I never dreamed that I'd lose somebody like you
No, I don't wanna fall in love
(This world is only gonna break your heart)
No, I don't wanna fall in love
(This world is only gonna break your heart)
With you
(This world is only gonna break your heart)
No, I
(This world is only gonna break your heart)
(This world is only gonna break your heart)
Wicked Game
• youtube
Si deseas participar aquí te dejo la dirección del concurso