music for steem - cover - me basta de Jose Jose
Hola amigos "Music for steem" hoy es un gran placer estar en esta actividad musical, para esta especial cita les presento esta canción titulada "Me basta", del cantante "Jose Jose" , una canción muy romántica, , con que siempre me ha acompañado en reuniones de amistades, en noches de fogatas y guitarras, aquí se las comparto para que puedan disfrutarla, saludos a todos.
Hello friends "Music for steem" today it is a great pleasure to be in this musical activity, for this special appointment I present this song entitled "Me enough", by the singer "Jose Jose", a very romantic song, with which I have always Accompanied in friends' meetings, in nights of bonfires and guitars, here I share them so that you can enjoy it, greetings to all.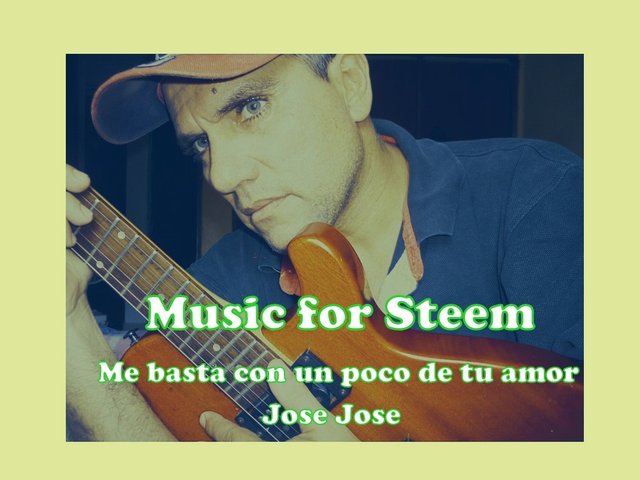 • youtube


"Me basta"


Sabes lo que dicen por ahí
"Pobre ruiseñor
Dónde ha caído"
Dicen que estoy ciego por tu amor
Y que tú
Juegas conmigo
No te pido cuentas, corazón
No quiero saber
Quién es tu dueño
Dame lo que tú me puedas dar
Corazón
Que yo lo acepto
coro
Me basta
Con un poco de tu amor
El que tengas escondido
El que nadie haya querido
Que a mí no me importa, no
Me basta
Con un poco de tu amor
Con lo que tengas guardado
Con lo que hayas olvidado
Con eso
Me quedo yo
Sabes lo que dicen por ahí
"Pobre ruiseñor
Le han sometido"
Dicen que estoy loco por tu amor
Y es verdad
Loco perdido
Y es verdad que a veces creo morir
¿Quién te creés que soy?
Yo tengo celos
Pero un día tuve que elegir
Y ya ves
Lo que prefiero
Jose jose "Me basta"