Music for Steem - Te Amo (cover song) by @beatriche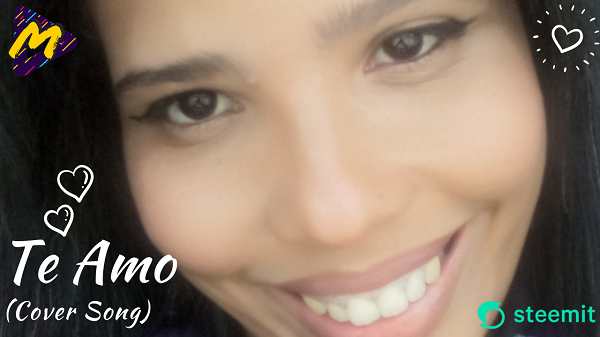 Un saludo a toda la comunidad de Music for Steem
Aunque no lo parezca, esto es no es nada fácil para mi, siento que hago el intento pero no lo logro todavía, sin embargo, mi abuela siempre decía que: "la peor batalla es la que no se lucha" así que seguiré intentándolo hasta que lo logre.
Debo confesar que grabe este video unas 40 veces, ya ni sé cuantas fueron, y sinceramente esto fue lo mejor que logré hacer. Así que espero que les guste por lo menos un poquito.
Este tema tan cargado de sentimiento y que pertenece a mi cantautor favorito Franco de Vita y bueno, quizás no sea la mejor interpretación pero si les digo que esta llena de mucho sentimiento.
En estos últimos días, el amor ha rodeado mi aura y me he dejado envolver por esta hermosa magia, así que una bonita forma de exteriorizar lo que siento es esta.
Greetings to all the Music for Steem community.
Although it may not seem like it, this is not easy for me, I feel like I'm trying but I can't do it yet, however, my grandmother always said that "the worst battle is the one you don't fight" so I'll keep trying until I succeed.
I must confess that I recorded this video about 40 times, I don't even know how many, and honestly this was the best I could do. So I hope you like it at least a little bit.
This song so full of feeling and that belongs to my favorite singer Franco de Vita and well, maybe it is not the best interpretation but I can tell you that it is full of a lot of feeling.
In these last days, love has surrounded my aura and I have let myself be wrapped by this beautiful magic, so this is a nice way to express what I feel.

Letra / Lyric
Ay nos hubieran visto
Estábamos allí sentados
Frente a frente
No podía faltarnos la luna
Y hablábamos de todo un poco
Y todo nos causaba risa
Como dos tontos
Y yo que no veía la hora
De tenerte en mis brazos
Y poderte decir
Te amo
Desde el primer momento en que te vi
Y hace tiempo te buscaba
Y ya te imaginaba así
Te amo
Aunque no es tan fácil de decir
Y defino lo que siento
Con estas palabras
Te amo
(Uh-uh-uh)
Y de pronto nos rodeo el silencio
Y nos miramos fijamente
Uno al otro
Tus manos entre las mías
Tal vez nos volveremos a ver
Mañana no sé si podre
¿Qué estás jugando?
Me muero si no te vuelvo a ver
Y tenerte en mis brazos
Y poderte decir
Te amo
Desde el primer momento en que te vi
Y hace tiempo te buscaba
Y ya te imaginaba así
Te amo
Aunque no es tan fácil de decir
Y defino lo que siento
Con estas palabras, oh-oh
Te amo
Desde el primer momento en que te vi
Y hace tiempo te buscaba
Y ya te imaginaba así
Te amo
Aunque no es tan fácil de decir
Y defino lo que siento
Con estas palabras
Te amo
Hmm, te amo
Traducido con www.DeepL.com/Translator (versión gratuita)
Translated with www.DeepL.com/Translator (free version)
Todas las imágenes y separadores de texto son de mi propiedad excepto las que indican la fuente
All images and text separators are my property except those that indicate the source
Gracias por tu lectura y si te gustó no olvides dejar tu voto y comentar
Thank you for your reading and if you liked it don't forget to leave your vote and comment
Texto original de
Original text from