User Details with SP Details || 287 Users || Dolphins, Minnows, Red Fish and Club5050!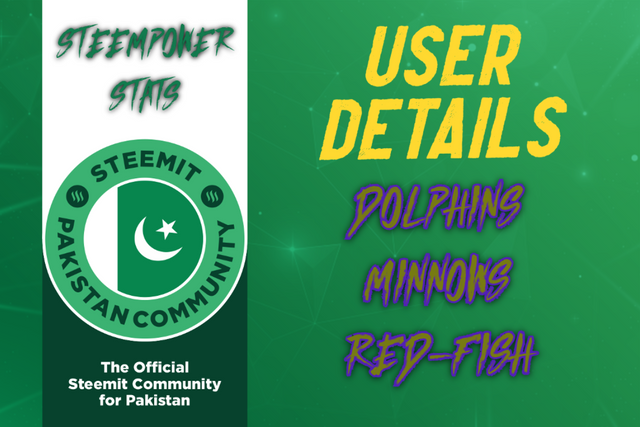 Hello Everyone, this is
@steemit-pak
. The Official Country Curation account of Pakistan. We are glad to see all of you working hard for the development of the community and its official account.
With all this going on, we are now keeping our eyes on every user that is posting in the Steemit Pakistan Community.
Here below, take a look at the stats below. We are having a lot of Dolphins and there are a lot more who are soon going to be newly dolphins. Many have reached half way there and are a part of #club5050 which will help them grow more!
User Statistics and their Steem Power

| Username | Own Steem Power | Status |
| --- | --- | --- |
| steemit-pak | 25941.72 | Double Dolphin |
| hassanabid | 9872.505 | Dolphin |
| mawattoo8 | 8337.286 | Dolphin |
| haidermehdi | 8068.744 | Dolphin |
| huzaifanaveed1 | 7583.091 | Dolphin |
| suboohi | 7541.815 | Dolphin |
| event-horizon | 6822.254 | Dolphin |
| vvarishayy | 6709.373 | Dolphin |
| mohammadfaisal | 6301.646 | Dolphin |
| amjadsharif | 5779.555 | Dolphin |
| janemorane | 3402.695 | Minnow |
| maazmoid123 | 2677.502 | Minnow |
| tasonya | 2497.372 | Minnow |
| aniqamashkoor | 2405.423 | Minnow |
| dabeerahmed | 2396.468 | Minnow |
| salmanwains | 2103.036 | Minnow |
| ahmadfaraz | 1761.228 | Minnow |
| zhanavic69 | 1596.405 | Minnow |
| bassamjamal | 1526.164 | Minnow |
| miniklady | 1467.938 | Minnow |
| majerius | 1404.245 | Minnow |
| pecintabunga20 | 1231.964 | Minnow |
| azizulhassan | 1096.067 | Minnow |
| ashkhan | 1026.3 | Minnow |
| salemumar5 | 967.6418 | Minnow |
| yarhassan | 926.5654 | Minnow |
| fabiha | 917.5495 | Minnow |
| shahidchoudary | 891.3307 | Minnow |
| mustafaasif | 853.0753 | Minnow |
| allahnawaz03 | 837.3771 | Minnow |
| hibbanbilal | 825.6178 | Minnow |
| arrowgate | 820.0531 | Minnow |
| benjamin09 | 819.5587 | Minnow |
| mrsfurqan | 790.3288 | Minnow |
| sualeha | 787.9813 | Minnow |
| shahzadprincejee | 749.0161 | Minnow |
| abdu.navi03 | 671.4145 | Minnow |
| uzma4882 | 639.5709 | Minnow |
| shabbir86 | 613.0639 | Minnow |
| arinaz08 | 604.3406 | Minnow |
| samizuberi | 594.0006 | Minnow |
| malikusman1 | 592.4052 | Minnow |
| saharsaqi | 586.3767 | Minnow |
| akmalshakir | 583.8978 | Minnow |
| farooq2923 | 580.7758 | Minnow |
| zeebhutta | 577.7008 | Minnow |
| rimsha26 | 577.2399 | Minnow |
| fatimafahim | 553.6085 | Minnow |
| syedmraza01 | 540.1301 | Minnow |
| khan55 | 536.8728 | Minnow |
| attiyaasghar | 527.8539 | Minnow |
| ahsansharif | 521.4821 | Minnow |
| syedahira | 498.0061 | Red Fish |
| hammadahmed112 | 467.9087 | Red Fish |
| steemdoctor1 | 443.5884 | Red Fish |
| lolitsmaryam | 442.9193 | Red Fish |
| sherazsultan | 433.4206 | Red Fish |
| isha46 | 423.2724 | Red Fish |
| psicgenesisprato | 411.7694 | Red Fish |
| nayita238 | 396.8683 | Red Fish |
| faran-nabeel | 395.7704 | Red Fish |
| naqshraja1 | 382.7838 | Red Fish |
| ramzanbaow | 360.176 | Red Fish |
| azeem22 | 357.5092 | Red Fish |
| azibalee | 344.356 | Red Fish |
| alirazaop | 343.9069 | Red Fish |
| kunwal | 342.4814 | Red Fish |
| ahtishamghumman5 | 336.4361 | Red Fish |
| adeelasif | 332.4821 | Red Fish |
| abeeha | 327.1096 | Red Fish |
| ahsanjawed | 320.5982 | Red Fish |
| umme.hani | 319.8073 | Red Fish |
| s-m-mubashir | 313.2491 | Red Fish |
| faizanwrites07 | 307.6694 | Red Fish |
| msalmanjaved | 303.4034 | Red Fish |
| ranarahman | 295.1877 | Red Fish |
| ansardillewali | 294.1687 | Red Fish |
| seapearl | 291.7873 | Red Fish |
| abdulqayyum95857 | 275.7968 | Red Fish |
| drhira | 265.9871 | Red Fish |
| afifaasif | 260.4509 | Red Fish |
| aamerasghar1 | 259.22 | Red Fish |
| yasin120 | 254.7086 | Red Fish |
| zaid311 | 253.4697 | Red Fish |
| nazmul-sakib | 252.6289 | Red Fish |
| eshacheema786 | 237.1385 | Red Fish |
| jahilamdmi | 231.3381 | Red Fish |
| mahnoor11 | 229.7301 | Red Fish |
| wardahhh | 228.9337 | Red Fish |
| sanabl | 224.1489 | Red Fish |
| arslanaj | 222.2724 | Red Fish |
| forhadmiya | 221.4102 | Red Fish |
| syedhuzaifa123 | 212.8781 | Red Fish |
| aimmy | 211.5381 | Red Fish |
| rahul989 | 209.8287 | Red Fish |
| hashir123 | 201.2193 | Red Fish |
| ansooch | 199.1855 | Red Fish |
| bunda-monteski | 193.2636 | Red Fish |
| mariamfahim | 191.6866 | Red Fish |
| syedarhamamir | 190.4729 | Red Fish |
| ammar79 | 184.335 | Red Fish |
| yokondap | 180.5843 | Red Fish |
| mabuzar | 178.7317 | Red Fish |
| mubashirasghar | 167.8404 | Red Fish |
| alihassanraza | 167.0458 | Red Fish |
| nehazakir | 165.2922 | Red Fish |
| mahishines | 163.966 | Red Fish |
| mizna.says | 162.9767 | Red Fish |
| rizwanwattoo | 154.7624 | Red Fish |
| umerfarooq2 | 149.3362 | Red Fish |
| saleem456 | 146.6977 | Red Fish |
| karim1234 | 139.3983 | Red Fish |
| hira.umair | 132.2611 | Red Fish |
| habdallah | 132.0195 | Red Fish |
| bilaldar113 | 131.8313 | Red Fish |
| fatimawasif | 129.7915 | Red Fish |
| imtiaz80 | 125.7543 | Red Fish |
| haseeb94 | 125.72 | Red Fish |
| ubaidsajid | 124.9534 | Red Fish |
| babalog | 121.9563 | Red Fish |
| daniyalbutt | 120.9021 | Red Fish |
| mominacheema07 | 117.3986 | Red Fish |
| shafiullahz | 116.1338 | Red Fish |
| areebabaig | 113.5855 | Red Fish |
| asif1234 | 112.6346 | Red Fish |
| js15 | 112.2532 | Red Fish |
| cryptokethor | 109.9334 | Red Fish |
| aslam234 | 103.051 | Red Fish |
| ahmadnawaz546 | 98.64559 | Red Fish |
| srilife | 98.07756 | Red Fish |
| aligraphic | 95.97118 | Red Fish |
| faiqach | 84.67013 | Red Fish |
| bushramalik | 80.5447 | Red Fish |
| fazalniazi12 | 79.00712 | Red Fish |
| fizaashraf | 77.07081 | Red Fish |
| hamasabilal | 76.84402 | Red Fish |
| aqsaejaz | 76.41305 | Red Fish |
| zaheer123 | 75.96689 | Red Fish |
| smghufran | 74.33361 | Red Fish |
| pixie.dust | 70.84887 | Red Fish |
| ziaullah1 | 69.73075 | Red Fish |
| sheham-sh | 68.48065 | Red Fish |
| saimnasir | 67.29164 | Red Fish |
| sameeralii | 66.39165 | Red Fish |
| amnafaraz2005 | 65.73336 | Red Fish |
| iffatilyas | 64.60541 | Red Fish |
| ammar2021 | 61.62392 | Red Fish |
| namwoli | 61.28053 | Red Fish |
| ahtshammursleen | 59.09037 | Red Fish |
| zoyasoomro | 53.84016 | Red Fish |
| aaliarubab | 52.83052 | Red Fish |
| zohaibb | 52.47235 | Red Fish |
| musfirah-m | 50.40677 | Red Fish |
| ammarakbar | 50.1738 | Red Fish |
| ayeshakhaan | 48.734 | Red Fish |
| muzz21 | 48.34251 | Red Fish |
| alirazajoyia | 48.29787 | Red Fish |
| ghazalach | 47.81133 | Red Fish |
| qadeerarif546 | 46.35888 | Red Fish |
| nasar.akbar | 44.29858 | Red Fish |
| ayeshaaa | 43.25882 | Red Fish |
| shaheeranwar | 42.56257 | Red Fish |
| ubaid008 | 38.41425 | Red Fish |
| ashalnadeem1 | 35.76133 | Red Fish |
| jannat12 | 32.10253 | Red Fish |
| safarizwan | 31.43679 | Red Fish |
| munawar1235 | 31.3681 | Red Fish |
| umiriska | 30.18304 | Red Fish |
| mosman | 30.16007 | Red Fish |
| steembody02 | 26.77542 | Red Fish |
| bushikhan | 26.06454 | Red Fish |
| kholaa | 24.74618 | Red Fish |
| syedainshraajaz | 24.60398 | Red Fish |
| uruj | 24.36135 | Red Fish |
| wajihasheikh | 22.87989 | Red Fish |
| akmal6033 | 22.37453 | Red Fish |
| waniaa | 21.97973 | Red Fish |
| eshazahid | 21.37457 | Red Fish |
| ahsaniqbal | 21.29916 | Red Fish |
| azhariqbal18 | 20.43018 | Red Fish |
| sawera1 | 19.96834 | Red Fish |
| mominahk27 | 19.91205 | Red Fish |
| syeda.wania | 19.561 | Red Fish |
| harry7k | 19.04865 | Red Fish |
| tanvirahmad | 18.39813 | Red Fish |
| hassanahmed1 | 18.28834 | Red Fish |
| zoyabhatti06 | 17.54831 | Red Fish |
| emmytexfrankline | 16.89361 | Red Fish |
| abdul-saboor | 16.59029 | Red Fish |
| aina.biya | 14.78194 | Red Fish |
| shezikhan | 14.51729 | Red Fish |
| ahmadrazaali | 14.11789 | Red Fish |
| laiba4321 | 13.82822 | Red Fish |
| sidrashareef | 13.77482 | Red Fish |
| hussnain31 | 13.72133 | Red Fish |
| faiqahaider5 | 13.61214 | Red Fish |
| safia-faiz18 | 13.57502 | Red Fish |
| husnainahmad235 | 13.33558 | Red Fish |
| qaisali49 | 13.24594 | Red Fish |
| farooqm | 12.99848 | Red Fish |
| mariebhatti9 | 12.89435 | Red Fish |
| hiba.khalid | 12.66558 | Red Fish |
| azkaakbar | 12.53788 | Red Fish |
| adnanzafar | 11.51256 | Red Fish |
| ayeshasadiqa | 11.33951 | Red Fish |
| usman01 | 11.31313 | Red Fish |
| chaudhrymahrosh | 11.14178 | Red Fish |
| hananch | 10.28395 | Red Fish |
| shamimalik | 9.994753 | Red Fish |
| fariha2003 | 9.24816 | Red Fish |
| umar51 | 9.168516 | Red Fish |
| naddiyaatif | 9.117743 | Red Fish |
| awaisash001 | 9.058129 | Red Fish |
| aniqa | 8.346967 | Red Fish |
| mubeenramzan | 8.18463 | Red Fish |
| taha.imtiaz | 8.162694 | Red Fish |
| aktrazee | 8.07826 | Red Fish |
| sheikhibrahim007 | 7.024858 | Red Fish |
| mohammadnaveed | 6.916201 | Red Fish |
| malikshazib | 6.715683 | Red Fish |
| sonukhan | 6.679874 | Red Fish |
| abdullhahsafdar | 6.15139 | Red Fish |
| meshah | 6.145402 | Red Fish |
| talhaazam234 | 5.731087 | Red Fish |
| fatsalba | 5.454031 | Red Fish |
| aisha07 | 4.768459 | Red Fish |
| asadali3233 | 4.42068 | Red Fish |
| arifzulfiqar | 4.267641 | Red Fish |
| hamzaalisajid | 4.081504 | Red Fish |
| habib80246 | 3.907247 | Red Fish |
| heera820 | 3.694331 | Red Fish |
| saadahmads | 3.657569 | Red Fish |
| faraz2020 | 3.588538 | Red Fish |
| ridaaly | 3.227889 | Red Fish |
| nasirmali | 2.783657 | Red Fish |
| obi866 | 2.495061 | Red Fish |
| syedarimsha | 2.458205 | Red Fish |
| rashidsharif | 2.311788 | Red Fish |
| abidhusi | 2.285875 | Red Fish |
| kareemalizai | 2.220247 | Red Fish |
| shahrukhsalar | 2.058851 | Red Fish |
| enamghumman | 1.924075 | Red Fish |
| areeb56 | 1.76014 | Red Fish |
| mrlegend01 | 1.701635 | Red Fish |
| hafizabidali | 1.692322 | Red Fish |
| zoya-2001 | 1.634117 | Red Fish |
| hafsasaadat90 | 1.520923 | Red Fish |
| sayyamafzal | 1.369614 | Red Fish |
| shaban004 | 1.331639 | Red Fish |
| shafitiger | 1.096441 | Red Fish |
| aliraza51214 | 1.082521 | Red Fish |
| ayyanfarooqi | 1.054329 | Red Fish |
| yasminsadiq | 1.020138 | Red Fish |
| mustafaniazi | 0.97606 | Red Fish |
| muhmmadyusuf | 0.716303 | Red Fish |
| majeedshah | 0.628324 | Red Fish |
| hammad1088 | 0.480575 | Red Fish |
| usama1088 | 0.463555 | Red Fish |
| bazmi777 | 0.162127 | Red Fish |
| babarali1 | 0.08019 | Red Fish |
| rehmat151 | 0.080065 | Red Fish |
| akram58 | 0.064149 | Red Fish |
| mzubairali | 0.060823 | Red Fish |
| nafeela | 0.04305 | Red Fish |
| koneenzahra | 0.038178 | Red Fish |
| anas925 | 0.029067 | Red Fish |
| naseemaziz | 0.010191 | Red Fish |
| gonglo | 0.003007 | Red Fish |
| ogarmark | 0 | Red Fish |
| mubeensahar | 0 | Red Fish |
| syedsaim | 0 | Red Fish |
| syedaanousha | 0 | Red Fish |
| arsu.saeed | 0 | Red Fish |
| vickywaqar1435 | 0 | Red Fish |
| xiety | 0 | Red Fish |
| artbyhamid | 0 | Red Fish |
| muneebahmad0 | 0 | Red Fish |
| arslan.aslam9 | 0 | Red Fish |
| syedtahaajaz | 0 | Red Fish |
| mrperfect01 | 0 | Red Fish |
| drarfamasihuddin | 0 | Red Fish |
| badarjan157 | 0 | Red Fish |
| bilalarshad16 | 0 | Red Fish |
| itxjalil | 0 | Red Fish |
| kamran.laghari | 0 | Red Fish |
| maria59122 | 0 | Red Fish |
| xuwei4823040 | 0 | Red Fish |


Subscribe STEEMIT PAKISTAN
Quick Delegation Links To earn delegation rewards