Betterlife Diary Game || Superior Faculty Iftaar Dinner 2k22 || @aneela78 || Club75
Asslamualikum steemit family.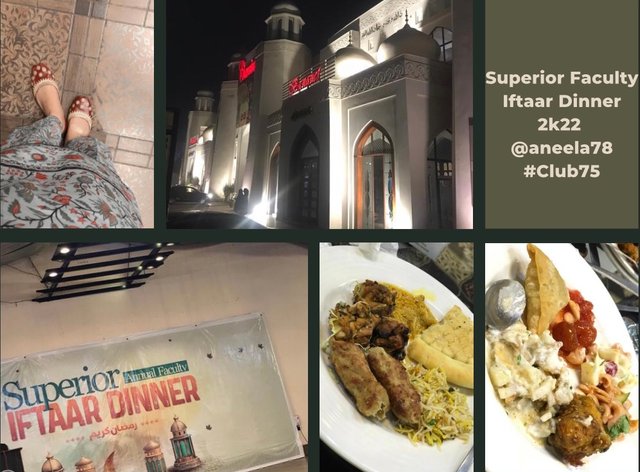 This is me @aneela78 .How are you all doing ,I hope everyone is doing great .I'm here again to share another diary with you all. Which is about the Superior faculty Iftaar dinner 2k22.
Let's started :-

SEHRI TIME :-
I woke up at 3:30am and offer my Tahjud prayer.And then I went for sehri my mother made sehri for us in sehri I had Biryani , Dehi and Tea.Usually I eat partha in sehri but last night my sister made biryani in Iftaar so I also eat Biryani in sehri.
---
Mostly people said that k if you eat Biryani in sehri you feel thirsty all day.But it's just a myth not a reality.Last Ramadan I only eat Biryani, palao, boiled rice with dal in sehri. And I never felt thirsty all day during fast.
---
So After sehri I wait for the fajar Azan.After Azan I offer my fajar prayer and recite Holly Quran.After that I went to sleep round about 5:30am.

AT WORK:-
So again I woke at 6:40am because of college.In Ramadan routine becomes so hectic I just feel sleepy all day.Kahir after waking up I just got fresh and iron my clothes and start getting ready for college.
---
After getting ready I wait for my Auto.Aa usual my auto came late.I left for college at 7:30am which is the my timing for reaching at college and I was late as usual because in Ramadan all schools colleges timings are the same and roads are full of traffic.
---
I reached college at 7:45am and again got scold by my Campus InChArG.:(خیر ہوتا ہے چلتا ہے دنیا ہے
I just start working on my task. I had to perform exam duty duty the main reason of being scolded.And after that I done my other daily tasks.
---

AT HOME:-
As I mentioned it was iftaar dinner by my college at Char Minar. So I left college early round about 1:00pm. After reaching home I offer my zuhar prayer and went to sleep because at 5:00pm I have to left for the Iftaar dinner.
---
I woke up at 4:00pm and guess what there was no light at home.And I didn't iron my clothes.what a bad luck.At 4:30pmلائٹ آگئی۔۔ and I ironed my clothes.And offer my Asar prayer.
---
After that I start getting ready for the Iftaar.and again my Auto wala came late.So I left home round about 5:20pm.And I also picked my colleague on my way to char minar.

AT IFTAAR DINNER:-
We reached Char Minar at 5:45pm. Almost all the male female staff members were there.And other came after us.After sone time Our worthy principal came.And Ceremony started.
---
There was also Umrah draw.three Umrah draw was included one for the male staff,one for the Female staff and one for the those staff member who are the in college more than 6years.
---
Started with the Talwet-e-Quran pak. Sir Umsan recite the talwet.After that Sir Nadeem Iqbal gave the lecture on Sabar.He qouted the Hadees and Quran Ayat in his lecture.
---
So after that our principal announce the winner of Umrah ticket after the draw. Those lucky people were Sir Ijaz, Miss Javeria and Miss Humaira.May Allah pak give a sadat of umarah to every Muslim Ameen.
Char Minar Event Complex

After that we Iftaar our Fast with Kahjoor and Jam-e-Sherri.national drink of Pakistan.We eat Russian salad, Chicken pakora,Dahi bhaly,Samosa,Bagan pakora.
---
After Iftaar we all went for the Maghrib prayer there was also the arrangements for the Prayer.Male members offer the prayer in the Imamt of Sir Nadeem iqbal and for female there was separate hall for Namaz.
---
After namaz we all went back to our seats and round about 8:00pm they served dinner. In dinner we had Different type of Handi,BBQ,Chinese,Pasta, Naan, Biryani and in Sweet Gulab jaman , Pastries , Ice cream , Kheer and Custred.After dinner we had photo session and round about 8:45pm we left for home.


Okay G here I'm ending my diary hope you all enjoy reading it.See you guys next time .Take care
ALLAH HAFIZ

REGARDS

Subscribe STEEMIT PAKISTAN
Quick Delegation Links To earn delegation rewards