Steem Sri Lanka 3G | SL-Charity Proposal | 10% to SL Charity

Today we are excited to announce the start of fundraising for our very first charity program.


Introduction
Align to our new project
Steem Sri Lanka 3G
we are planning to conduct a charity program with the idea of providing a social value with our steemit earnings. This is happening for the first time ever in Sri Lanka!
We are planning to raise a charity fund using the rewards of posts we make during the next 3 months.
Start On : 25th February 2021
Close On : 27th May 2021
Minimum Estimated Amount : 100 000 LKR (~1400 STEEM)
Fundraising Methodologies:
Minimum of 5% benifitiary to @sl-charity from members live in Sri Lanka
Steem Donations
*Currenlty we are not planning to use @sl-charity for posting purposes


What Will be the Use of Fund
The selection of the exact activity/organization will be done in May 2021.
The fund will be used for one or more of the following activities.
Facilitating low-income students with school wear and stationaries.
Funding for emergency medical operations
Sponsoring meals of Karapitiya Cancer Hospital
Donating for a charity organization directly
Funding for a school library, temple, or an animal hospital

Setting Beneficiary
In the advanced settings section, you can add @sl-charity as the beneficiary account.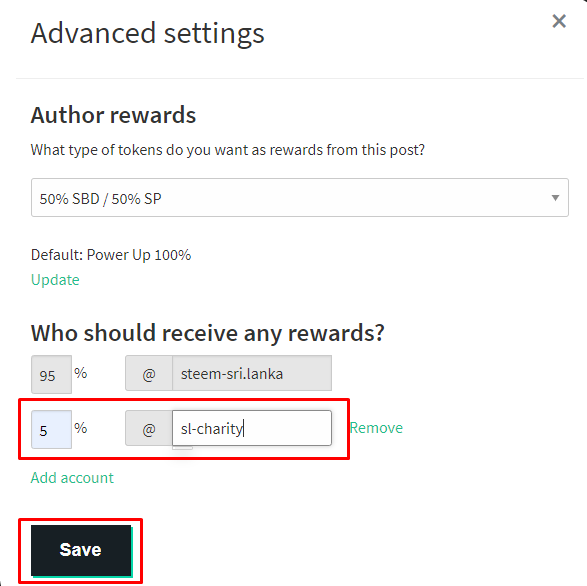 And don't forget to write 5% to SL Charity as the last words of your title and mention @steem-sri.lanka an the bottom of your posts.

Get Together to Grow