Join steem-sri.lanka Curation Trial & Take the Maximum Advantage of Curation

What is the Curation Trail?
Before talking about the curation trail you have to understand what the curation is. Curation is one way to earn rewards. When you read others' posts if you like their contents you can vote on those posts. Based on your vote percentage and voting power you will get some amount from the rewards of that post. So anyone can earn rewards by easily voting on others' posts.
But if you are busy with your real-life situations you can join with a curation trail. A Curation trail is a group of votes followed by one account. That means if you follow some curation trail, the owner of the curation trail will vote on posts on behalf of you and you can easily earn rewards without doing anything. It's something like you are giving your voting power to someone to vote on others' posts.
As the Steem Sri Lanka Community, We thought to start a curation trail to help members of Steem Sri Lanka Community and several quality posters outside the community.
The main advantage of a curation trail is, You can earn curation rewards without curating posts yourself.

Why is steem-sri.lanka Curation Trail special?
There are several reasons why we are special.
We are manually curating all the posts and mainly consider the quality of the post when we curate.

Our curation trail already has several members which are having high SP amounts in their accounts.

The curator account is having more than 30k+ Effective SP. And It will help to have more curation rewards.

Members of the curation trail will be able to have some random votes from our curation trail according to the quality of the posts.

Already we have 15 members in our Curation trial.

You have your flexibility to set up your voting weight. But we prefer it if you can set it up upto 100% (Scalable).

How To Join Our Curation Trail?
Go to SteemAuto

Click on the LOGIN/REGISTER button.


Then You will see a page as below. Click on the Continue button.


Then enter your steemit username and private posting key. (Steemit username should enter without '@' mark). Click on the Get started button.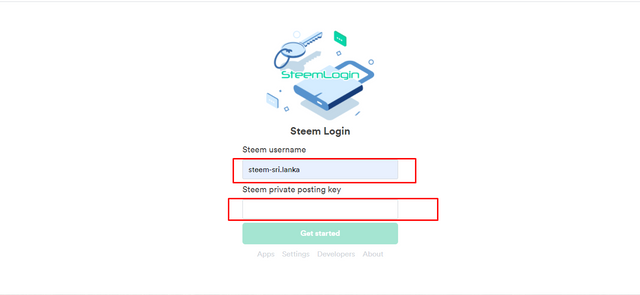 Click on the Log in button.


Now you have entered to the SteemAuto. Click on the CURATION TRAIL and then click on SteemLogin.


Then Click on Log In button and after that you have to enter your steemit username and active key. After entering the active key and username click on the continue button on the next page.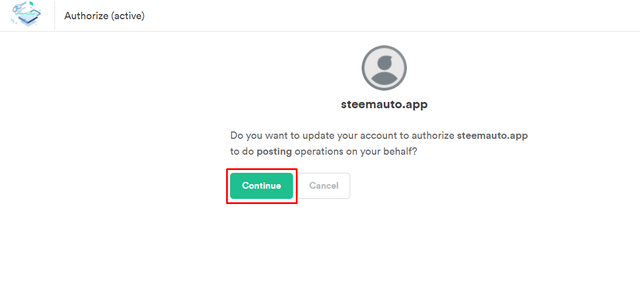 Then Click on the curation trail and you will see a screen as below after scroll down. In the search bar enter as steem-sri.lanka and click on search.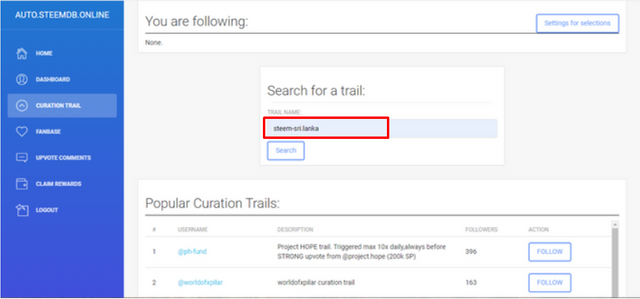 After that Click on follow button.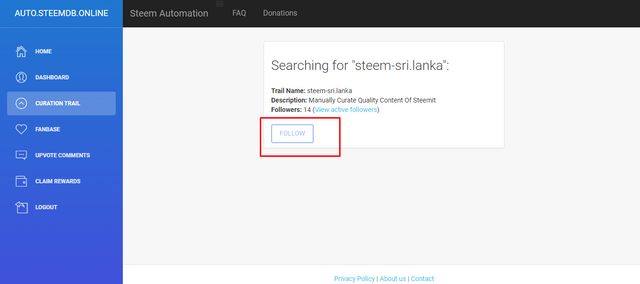 Then click on setting and make sure to enter the voting weigh as you prefer.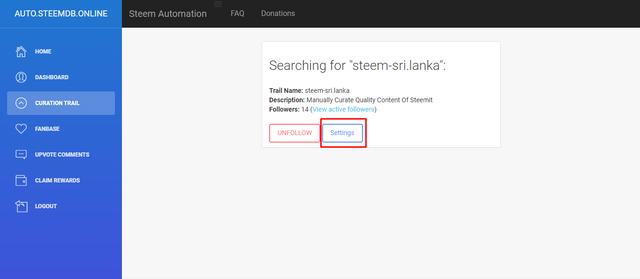 We prefer if you can make the voting weigh as 100%. Then click on save Settings. Now You are a part of our Curation trail.


We are Inviting to Join Our Curation Trial
If you feel that you are not taking maximum benefits from your SP, or If you are looking for more curation reward, or if you don't have time for curating or if you like to support our project, we are looking for you!
We invite you to join steem-sri.lanka curation trial!
Cc: @steemcurator01, @steemcurator02