Splinterlands Social Media Challenge: The Battle To The Ends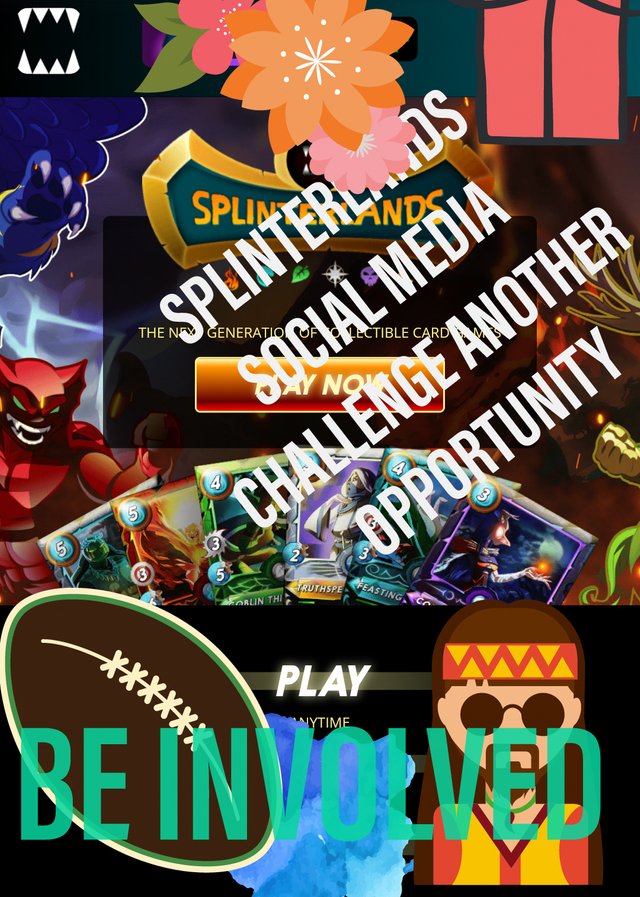 My gratitude to God almighty who is the father of all, who also gives us opportunity to be alive up to this moment, it is not by our might and power, we are alive today but by his grace. I can't thank him enough for what he has done for me.
No matter what I do in this platform, I will always give thanks to @splinterlands and @steemmonsters community for this great work and great effort they are putting in to make this platform the best and also make sure everyone participate. @Splinterlands has been my best platforms, am always eager to do something there. A big thanks to you.
My gratitude also goes to my hivers and my friends who has supported me through voting, comments and also advised me on what to do. God bless you and keep you safe from all evils. I have so many good friends here that has helped me in many ways who there names cannot be forgotten. They might not known that I beared them in mind for there support but I really does.
When I started playing games and posting on this platform, despite of my deficiency- I really don't know how to post properly then. They still upvote my Post with lack of Quality. God bless you, and I love you.
TODAY
I planned yesterday with intention of going to morning cry this morning because I have to win souls for Christ but I slept off. When I woke up I couldn't go again.
Therefore, I went to my friend's house to as maybe we can reach out to people in the morning but he said, I have gone out for my morning cry and I can't go out today again because I have many works to do." We later talked for few minutes before I left his house for my house.
After I came back, I started thinking of what to do. I get back to work at @Splinterlands.
MY FIRST GAME AT SPLINTERLANDS TODAY
I could not emerging how I won my first game today. I always got defeated in most cases but I won with big merging today. It shows how I am improving on this game. You can click the link below to watch it on @splinterlands
PSX_20200616_122012.jpg
Source
I made one big mistake on my Summoners arrangement. I want to placed Cerberus at the end but I did not due to the time left to select my Summoners.
FURIOUS CHICKEN
PSX_20200615_224630.jpg
It is always my lucky summoner that is the reason I kept using it.
GOBLIN MECH
PSX_20200616_125043.jpg
I called this summoners "German machine" the way it destroys summoners, I don't miss the opportunity to select it if I had to. It did a wonderful work at this battle.
KOBOLD MINER
PSX_20200616_125108.jpg
One of the major reason I used this summoner is the way it attacks from the back.
CERBERUS
PSX_20200616_125120.jpg
I love using this monster at the end because it has abilities to regenerates it lives when is being reduced.
SETUP
ROUND 1
PSX_20200616_130112.jpg
My Kobold miner struck the furious chicken as we know that it attacks from the back,band that was the first elimination from my side. And my furious chicken got eliminated again.
ROUND 2
PSX_20200616_130131.jpg
At this round, Kobold miner eliminated another summoner from the back which was so good to me. It's just like I knew that this summoner will work to optimum level at this battle. I have been using this summoner in battles. In some cases it works perfectly and also works anticlockwise sometimes.
Therefore, it inconsistency made me not to use it very well again.
This is a scary round for me, my goblin Mech and Kobold miner got eliminated at this round with a struck from opponent's goblin Mech.
ROUND 3
PSX_20200616_130148.jpg
I was opportune to eliminate the goblin Mech and Kobold miner at this stage.
Hence summoners was 1/3, that is I have three summoners left and my opponent have only one left.
ROUND 4
PSX_20200616_132537.jpg
the battle was easy to predict at this round, I was already happy for my victory.
ROUND 5
PSX_20200616_130216.jpg
The Battle was concluded.
LESSON I LEARNED
From the beginning of the game I have learned something so important especially when I was arranging my Summoners. I made mistake due to the time. I realized that my time was short to select my Summoners.
These are the things I learned
Time management: it is very crucial to manage one's time in everything you do. I could not made appropriate decision with that short time that was the reason I made mistake in selection. Prompt decision making with time given is a vital key in any Organization today.
This has resulted to some companies bankruptcy in every part of the world. Many employers and employees has failed due to time management that have resulted to folding up of companies.
Arrangement: this is a big problem in a company today, just because you are connected to the employer without thorough knowledge of the position, you might be placed there which might cause company a lot of problems.
Arrangement in an organization is very important and the competence is a vital key.
Any company without adequate arrangement can ends up developing issues unknowingly.
Your Decision Should be accurate and Precise: if your decision can be accurate, you will win always. But you must build your foundation very well by upgrading your Summoners or buy good ones.
A company that is financial bauyance will be difficult to go down. They will keep flying.
#splinterlands#steemmonsters#battlechallenge#neoxian#bdcommunity#ocd
8 minutes ago in Splinterlands by chrisamuda (60)$0.001 vote
Reply Edit 0