Application For Booming Support - Steemit Azerbaijan Community (July 2022)
Hello, Respected Steemit Team and Dear Steemians!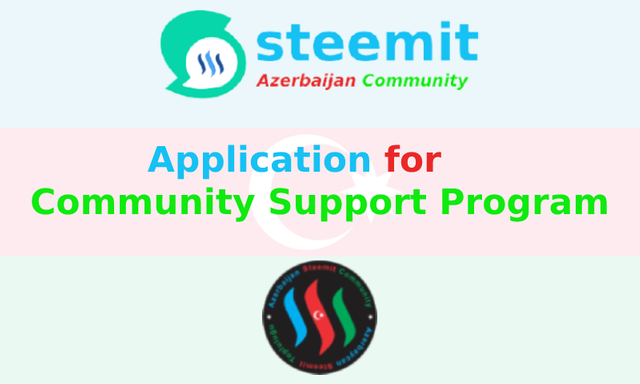 Steemit Azerbaijan Community, one of the fastest growing communities of the Steemit Platform, is making this application for the November Support Program.
First of all, we'd like to thank all the Steemit Team for supporting us in the last two support programs. We are trying to do our best each time!
Without further ado, we'd like to introduce you to our community again.

Steemit Azerbaijan Community is the only community that represents Azerbaijan as a country on the Steemit platform.
The aim of our community is to bring together the users joining the Steemit Platform from Azerbaijan and to represent our country Azerbaijan here in the best possible way.
Although most of the writers in our community are Azerbaijani and Turkish writers, we are for everyone who produces quality content regardless of their language, religion, gender and race. Especially, after the growth of our community and the launch of our Steemit Student project, the number of foreigners abroad joining our community has increased considerably.
Regardless of the language they write, everyone who writes quality content in our Community, within the framework of the rules set by the Steemit Platform and within the framework of the rules specific to our Community, is rewarded by our community's curation account and our other users with a big amount of SP.
Even you can not find any post that is quality, but did not get an upvote!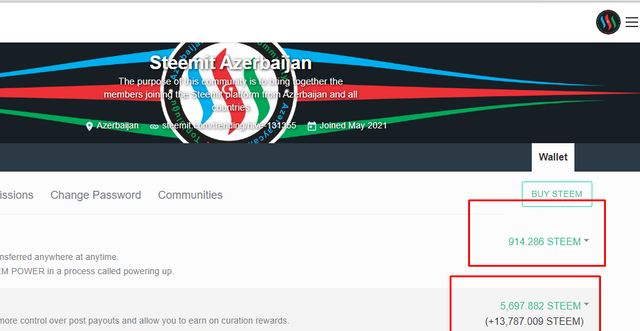 Steemit Azerbaijan Community has 4 management members: admin-@revan746, moderators-@cameron99, @nurengizbagirova and @famil. All management members of our community are from Azerbaijan and they can all speak Azerbaijani, Turkish, English and Russian very well.
Despite 4 management members, we have some plans for managing the community from this month. We explain these in detail in the Plans & Updates section below.
Considering all possible worst-case scenarios, our community's management members shared their account passwords with each other. Thus, we are confident in the reliability and security of our community management.
On the other hand, we also considered the possibility of our admin leaving our community. If such a thing happens, our admin will hand over his own admin to one of the current management members, with the votes of everyone in the community through an election.

The Community Curation Account of our community is @steem-azerbaijan.

As Steemit Azerbaijan Community, our biggest goal is to become a fully self-sufficient community. Of course, the first requirement to be a self-sufficient community is to have more and more SP. Knowing this, we have a strong, clear plan and strategy to collect more SP which worked very well in the past months.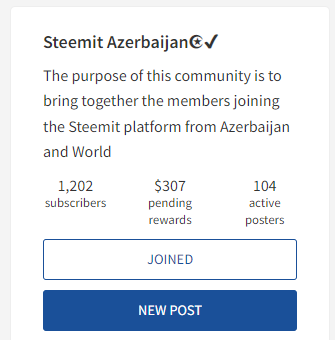 As we stated in our application last month, we built a strong SP collection policy that is called "2+1" SP Collection Policy.
The main lines of this strategy are as follows: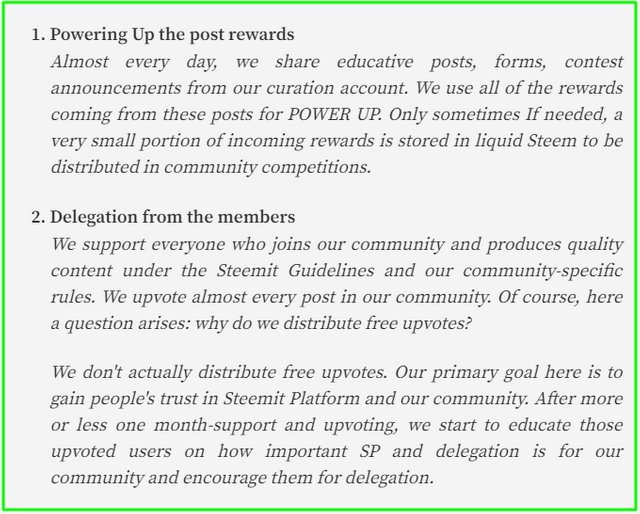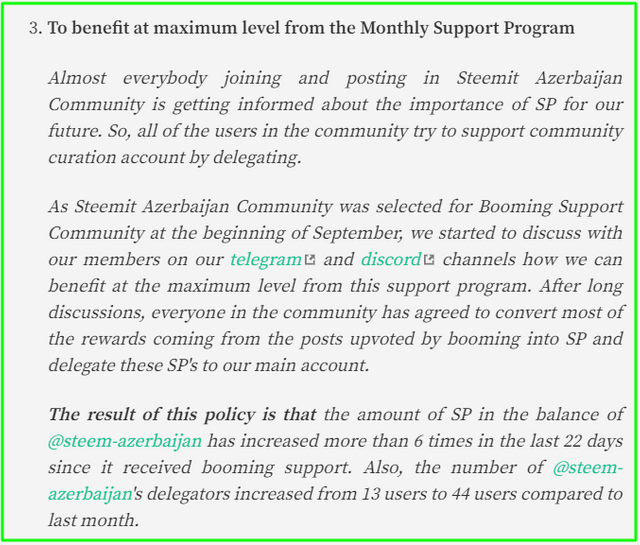 In addition to this strategy, all posts to be shared from this account will be shared with #club5050 starting nowadays.
We POWER UP almost all the rewards from the posts shared by our main account.Of course, If needed, a very small portion of incoming rewards is stored in liquid Steem to be distributed in community contests.
On the other hand, since we have won the booming support program in the last two months, we POWERED UP all rewards coming from the posts upvoted by booming.
Furthermore, we also have a clear strategy for funding our contests. In order to fund these contests with less cost, we demand 100 % upvotes from every user who wants to participate in the contest. In this way, we conserve more rewards coming from the posts and dedicate almost all of them to Powering Up.
All admins and moderators of our community have access to our curation account and its voting , but since each admin and moderators have their own task in the community, we elected @revan746 and @cameron99 (from this month) for setting and adjusting the whole voting process. On the other hand, all of our admins and moderators participate in choosing poscess of daily best posts.
The current Voting CSI score of @steem-azerbaijan is 10.0 ( 2.84 % self, 291 upvotes, 86 accounts, last 7d ).

One of our greatest achievements is that no posts within our Community have received any plagiarism warnings until this time, more exactly during the whole support program in the last two months.
This is absolutely the result of our regular awareness-raising policies and our individual approach to each post within our community. That is, we urge community members on our Discord and Telegram channels almost every day to be careful about plagiarism and abuse. On top of that, we also regularly share contents about plagiarism and abuse on our Curation Account and Steemit Azerbaijan Youtube channel.
You ask who are specifically responsible for checking the posts shared in our community. All of our management members are responsible for this important task. One of our admins, @cameron99 specifically works on this hard task and also some volunteers helps him to deal with this task.
On the other hand, you ask how we check plagiarism and abuse. We are trying to use cutting-edge tools for this purpose. We mostly use Google Search and SmallSeoTool.
Respected Steemit Team, if we have succeeded in launching the Steemit Student project today, the support we have received from the booming tier 2 in the last two months has played a major role here. After we explained to our students the importance of your support, they prepared a THANK YOU video for you! :)
Thank you very much again, dear team! :)
You can get acquainted with the details of the Steemit Student Project from our announcement about the Steemit Student Project. The announcement post is as follows:
We Launched Steemit Student! - Steemit Student Təqaüd Proqramını açıq elan edirik || Announcement
After the Steemit Student Project, our next goal is to start our Steemit Cafe project which we plan to open in the capital Baku.
As we mentioned in our previous applications, the only obstacle to starting the Steemit Cafe project is that we do not have a larger audience number. Despite this, a large crowd is about to gather in our community, especially thanks to the Steemit Student Project. We hope that we will start our Steemit Cafe project very soon.
This cafe will not only be the place where our community members will gather, but it will also be the place where all the great writers, bloggers and thinkers in our country will gather and will introduce Steemit Platform and our community to all people coming there.

In this section, we will first answer these questions: " Why should Steemit Azerbaijan Community be chosen?", secondly "How does our community support Club5050?", and lastly "How do we control #steemitexclusive tag in all posts?".
Why should Steemit Azerbaijan Community be chosen?
We have listed 3 main reasons for you why you should consider our community:
As you saw above, Steemit Azerbaijan Community is really doing successful projects and works. We have clear strategies and plans that lead our community to be one of the greatest communities on this platform. As you will see the statistics below, we use all the support of you in a very efficient way.



During the last two months of winning the Booming support program, our Community has tried to use this support to the maximum extent. That's why, in the last 2 months, the amount of SP in our community curation account has increased more than 8 times - from 3000's to 25,000's.Nearly everyone in our community has converted the rewards coming from Booming posts into SP and delegated them to our curation account.

Steemit Azerbaijan Community is one of the most active communities on the Steemit Platform. Here too, we want to talk with the figures and statistics.

Below you can see the number of subscribers to the active posters in the Steemit Azerbaijan community this month. Although the rankings have declined, our community has seen a 4 % increase compared to the last month.
One of the most important things that make our community special is the Trust and Credibility we have earned among our community members. Everyone is sure that the upvotes are distributed fairly. All members believe in the future-oriented initiatives and activities of our community. That is why the number of our delegations and the number of joining from other communities is constantly increasing as well.
You can be sure that one of the two biggest topics discussed in our Community's Telegram and Discord channels lately is #club5050, and the other is Steemit Student. Everyone in our community knows the importance of SP, which is why almost all of the rewards are POWER UP. Now it is our duty to make these POWER UP-s official in our posts with the tag #club5050. As a result of our encouraging policy, our goal from next month is to see the tag #club5050 in all posts in our community.
Do we encourage only #steemexclusive posts in your community?
Yes. We assure you that all posts shared in our community have the #steemexclusive tag. Our admins, moderators are regularly reviewing all shared posts. We have no concerns regarding this important issue. It is our first tag all the time.
Dear Steemit Team, we believe that we deserve to win the support program with what we have done and will do. The development of our community and the projects we have done are before the eyes in numbers. :)
Thank you very much for your time and attention!
Sincerely,