WORLD OF FOOTBALL CONTEST #3 - THE UNFORGETTABLE FIFA WORLD CUP TOURNAMENT / CONCURSO "World of Futball" # 3 - UNA COPA MUNDIAL DE LA FIFA INOLVIDABLE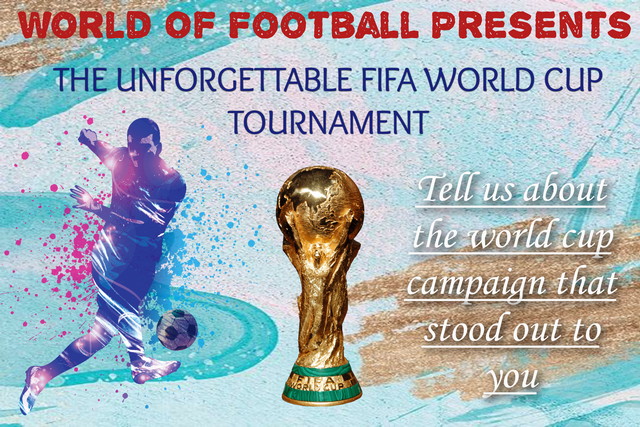 ---
We all love the Fifa World Cup. It is without a doubt the most popular sporting event in the world. This is the period we feel most passionate about the game of football. Many countries face off against each other with 32 countries taking part in the recent 2018 campaign.
The first world cup event took place in 1930 (90 years ago) with just 13 countries; Argentina, Belgium, Bolivia, Brazil, Chile, France, Mexico, Paraguay, Peru, Romania, Uruguay, USA and Yugoslavia. And Uruguay emerged the winners of the first ever FIFA World Cup competition. Since then, football has seen tremendous growth as we witnessed as many as 108 participation the qualifiers of the 2018 FIFA World Cup.
ABOUT THE CONTEST
Out of the 21 FIFA World Cup campaigns that have taken place from 1930 to 2018, we would like you to single out the one that stood out to you. Here are a few hints/ideas;
The year within which your country performed their best.
The most disappointing World Cup for your country.
A single match, team or player that stood out to you in a particular year, etc.
Personal events running along the developments on the World Cup.
RULES
Entries can be made in ANY language.
Entries must be within this community.
Entry must be at least 300 words long.
Include as much details as possible.
Please use #footballcontest, our new contest label for easy identification of entries.
Share the link to your post on the comments section of this contest.
Add a picture of you with your country flag or national team kit for extra points.
Be creative.
PRIZE POOL
| Rank | Prize |
| --- | --- |
| 1st | 10 |
| 2nd | 8 |
| 3rd | 7 |
| 4th | 4 |
| 5th | 3 |
Winners will be announced on the 12th of October.
---
---
SPANISH
A todos nos encanta la Copa del Mundo organizada por la FIFA. Es sin duda el evento deportivo más popular del orbe. Este es el período en el que más nos apasiona el fútbol. Muchos países se enfrentan entre sí, 32 países participaron en la reciente campaña de 2018.
La primera copa del mundo tuvo lugar en 1930 (hace 90 años) con solo 13 países; Argentina, Bélgica, Bolivia, Brasil, Chile, Francia, México, Paraguay, Perú, Rumania, Uruguay, Estados Unidos y Yugoslavia. Y Uruguay resultó ser el ganador de la primera Copa Mundial de la FIFA. Desde entonces, el fútbol ha experimentado un tremendo crecimiento, ya que presenciamos hasta 108 participaciones en las eliminatorias de la Copa Mundial de la FIFA 2018.
ACERCA DEL CONCURSO
De las 21 campañas de la Copa Mundial de la FIFA que se han llevado a cabo desde 1930 hasta 2018, nos gustaría que relatará cuál fue la que más le llamó la atención. Aquí hay algunas sugerencias/ideas;
El año en el que su país se desempeñó mejor.
El Mundial más decepcionante para tu país.
Un solo partido, equipo o jugador que te llamó la atención en un año en particular, etc.
La historia personal ocurriendo a la par del desarrollo de la Copa Mundial.
REGLAS
Las participaciones se pueden realizar en CUALQUIER idioma.
Las entradas deben publicarse desde esta comunidad.
La entradas debe tener al menos 300 palabras.
Incluya tantos detalles como sea posible.
Utilice #footballcontest, nuestra nueva etiqueta de concurso para identificar fácilmente las entradas.
Comparte el enlace a tu publicación en la sección de comentarios de este concurso.
Agrega una foto tuya con la bandera de tu país o algunos artículos o prendas de tu equipo nacional para obtener puntos extra.
Ser creativo.
PREMIOS
| Rank | Premios |
| --- | --- |
| 1st | 10 |
| 2nd | 8 |
| 3rd | 7 |
| 4th | 4 |
| 5th | 3 |
Los ganadores se anunciarán el 12 de octubre.
cc:
GOOD LUCK!!!

---
JOIN US ON DISCORD
https://discord.gg/sD8tTJ
---
---

Join our World Of Football Community
---
Delegate to our Community through the following links:
50SP
100
250
500
1000
5000
---