More Communities Rallied to Help Poor Families During Covid-19 Movement Control Order Extension
Hello everyone!
As of 23 April 2020, the Prime Minister of Malaysia has issued another extension of Movement Control Order (MCO), though the number of Covid-19 tested positive has greatly reduced, it has not reach a safe level for the public to resume their normal life.
Such movement control order is necessary to keep the whole country safe; unfortunately this also causes many who have lived from day wage to day wage to suffer with the lack of financial capability in food provision and fulfilling necessary daily needs such as paying the bills.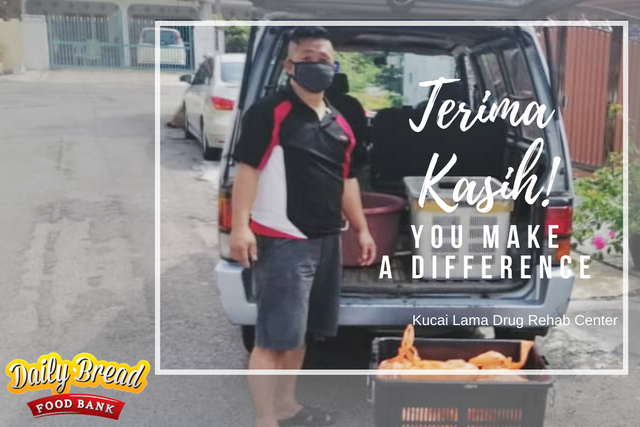 While many are unable to obtain necessary food to sustain, the Daily Bread Food Bank has been very blessed with the help of many communities rallied together have been able to keep these centers and family alive for another 2 weeks.
As we have shared before from the Unsung Heroes series, Vincent, who is the main outreach to the aboriginals has collaborated with us the Daily Bread Food Bank and our donors Sweetly Bakery to pack necessary items and extra bread to these families' livelihood have been affected as they are fishermen.
Our Food Bank has also been opened through planned appointments in order to help other families who are struggling, including uncle Alex who just recovered from shingles right when MCO started and though he is a Grab driver, he is considered high risk with health challenges and was unable to work as usual to feed his family of 8.
One of the drug rehab centers in Kucai Lama thank the CSR companies for donating ingredients
By Week 3 of MCO many communities started rallying in to help when we realise that Malaysia is now heading towards a 60 day lock-down; through donations that has allowed us to obtain more chicken, eggs and other necessities in order to help the under privileged families with job loss regardless of nationality and race.
All of these families received aid lost their day-to-day jobs / forced into unpaid leave
Chinese families who are usually hawkers, Indonesian foreign worker families who are contract workers and many more as close as Kampung Kayu Ara to as far as Klang receive aids through mobilized outreach voluntary teams of different languages from the Glad Tidings Assembly of God.
Volunteers who applied for permit, cleared from Covid-19 test fully utilize their free time during this MCO to help send food items to the families who are in trouble near their homes.
Despite of the pandemic that has caused many facing much adversity on all aspects, humanity has greatly shown its true nature of loving one another through such hard times.
Some of @fitinfun's surplus, with the blessing of @iamjadeline, has managed to help an outreach to get some extra basic vegetables apart from the items donated by the Food Bank
This included our late @fitinfun who has always wished she could help those who are in trouble as much as she has received kindness during her challenging stay as a digital nomad in Malaysia, had her wish came through when her love offerings overflowed during her recent passing, and whatever that has left for her were donated to an outreach team for drug rehab centers with basic food source for the centers to survive for a week or two.
---
For those who wish to be part of the blessing for these under privileged families and centers in Malaysia, please do not hesitate to contact us at +6019 283 4066 for more information on how you can be a part to help.
Every penny makes a huge difference
We are truly grateful for such love from such loving community.
Angie Ng
Daily Bread Food Bank Director
disclosure: Daily Bread Food Bank one of the non-profit channel under the LCS (Life Community Service) ministry.
To know who we are, please do read through our introduction here in Steemit


Time flies indeed! We are already here for 2 years!
Where you can find us in mainstream media


ps: 1% of this post goes to null in the support of keeping STEEM alive
pps: The liquidated STEEM here will be sold off to donors (Malaysia region) with Steemit accounts or within @dses charity investor stakeholders for us to purchase whatever that is lack for monthly food distribution