Announcement about Hive, Splinterlands and PeakCredits
SPLINTERLANDS ANNOUNCEMENT
@Splinterlands announced they will stay on Steem after the split which is in about 24hrs. They will then test the new chain and make sure they can transition seamlessly. It is a good plan and helps to make sure none of the players are impacted and low risk.
PEAKMONSTERS GOES WHERE SPLINTERLANDS IS
Where they go and when they go... https://peakmonsters.com/ must be on the same chain.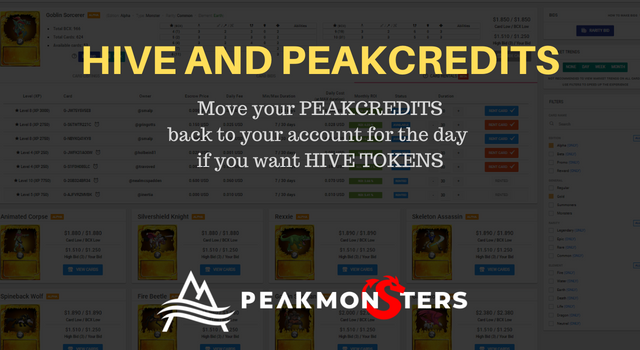 PEAKCREDIT
The best solution for users who want HIVE TOKENS for their peakcredit is to move peakcredit to your account today and then tomorrow after the snapshot move it back to @peakcredit
It will literally take you 10 seconds (if that)
And there is zero risk for you or us.
FOCUS FOR THE DAY
We have been tasked with preparing and trying to launch a SteemPeak.com styled website on the Hive Blockchain... by tomorrow. It is no easy task. Seeing that duplicating peakcredit isn't a necesity because it can be done so easily by all users we will continue to work on high priority work.
Be mindful of your rentals to leave enough for the day
In the end if you are careful you can literally only have peakcredit out of your account for less than an hour. But if you don't need it and don't want to forget then do it right now after reading this.