STEEMIT ENGAGEMENT CHALLENGE-S12W2 | LIFESTYLE DIARY GAME
⭐ NAMASTE STEEM FASHION&STYLE COMMUNITY COMMUNITY ⭐
STEEMIT ENGAGEMENT CHALLENGE-S12W2
Friends, you all are very welcome in today's Steemit Engagement Challenge-S12W2. I hope you all are well and safe. Today I am once again participating in this community, the topic of which I found very interesting. I am very happy to participate in this competition today. The topic of this competition is so exciting that everyone would like to participate in it. Now I start writing about today's competition.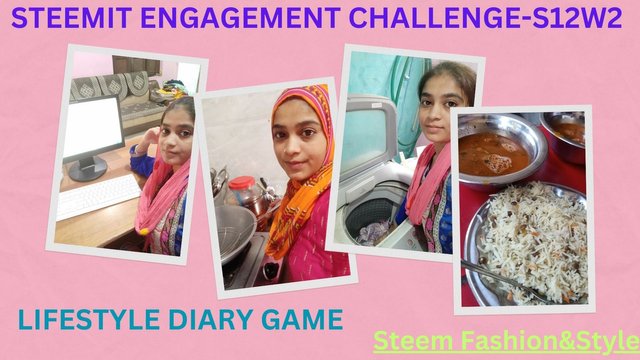 MADE BY CANVA
She is a housewife. On whom every responsibility of the house falls. A housewife who does all the household work. Cleaning the house, cooking food for the family, going to the market to buy vegetables, buying all the necessary items for the house, all this is done by a housewife. And a woman can do all this including budgeting while purchasing goods. A housewife fulfills her many responsibilities simultaneously. It completes all the tasks easily. When the husband gives the monthly expenses to the wife, she manages all the household expenses without complaining. Many times she also saves money and tries to fulfill the needs of every member of the family.
The job of a housewife is such that she does not get a salary, nor does she ever get time off from work. She fulfills all these responsibilities throughout her life. I am a housewife and along with my court work, my husband's hospital work, and household work, working on Steam, I do all this every day in my life. It is not the case that a housewife can only do household work. After our household work, we can also do our other work. That's why I am sharing with you how I spend my entire day.
Today I woke up at 5 in the morning. I wake up every day at 5 o'clock. Because my husband has to go to the hospital in the morning. That's why I wake up early in the morning and prepare lunch boxes for them. I got up and brushed my teeth, washed my face, and then took a bath. After taking a bath, I went to the kitchen and prepared my husband's lunch box. Then I went into the room and woke up my husband. I had kept all the necessary things and clothes for him to take a bath in the bathroom.
Today I prepared chana masala in my husband's lunch box. I had prepared Khaman for everyone for breakfast. I had brought a packet from the market to make this khaman. In the morning I prepared Khaman for everyone. After my husband took a bath, we had breakfast together. After breakfast, he went to the hospital and I started doing my household work.

After that, I cleaned my bed. When we sleep on the bed, the bedsheet gets shifted here and there. That's why the first thing I do at home is clean my bed.

Later I cleaned my room. After cleaning, I put the clothes in the washing machine to wash. I wash the clothes which can be used in the washing machine and wash the new clothes with my hands. There were no new clothes to wash today, so I washed today's clothes in the washing machine. After cleaning my room, I also cleaned the other rooms.

After the clothes were dusted, I went to the terrace and left them to dry. After finishing all the cleaning work in the house, I went to the kitchen and started preparing lunch. Today for lunch, I applied spices on the fish and fried it in oil. I don't eat fish but everyone in the house wanted to eat fish, so I prepared fish for lunch. After frying the fish, everyone had lunch.

I washed the utensils after lunch. You all know that whenever we eat anything, we use utensils, hence there are more utensils. After washing the utensils, I kept the utensils at their place.

I finish my household work and lunch by 1 o'clock. After that, I am free in the afternoon. I work on Steam in the afternoon. If I have some court work or my husband has given me some hospital work, then I do it in my free time in the afternoon. Today I read all of the Steemit Engagement Challenge in the afternoon. Then I decided which post I wanted to prepare today. I worked on the computer till 3 o'clock. After that, she got up. Then I made tea for everyone.

At 4 in the evening, I brought clothes from the terrace. The clothes were arranged and kept in my wardrobe. After doing this, I cleaned the garbage in the house. Had gone to the market at 5 pm to buy some household items. By 6 o'clock I had come home with the luggage. I came home and freshened up.
After freshening up, I arranged the things I had brought from the market. Then I rested for a while. The market is very far from our house and I was feeling tired when I went on foot. I rested for a while.

I went to the kitchen at 7 o'clock and started preparing dinner. I cook dinner late. Because my husband comes late from the hospital. After his arrival, I had dinner together. Today I made dal and pulao for dinner.

I went to the kitchen at 7 o'clock and started preparing dinner. I cook dinner late. Because my husband comes late from the hospital. After his arrival, I had dinner together. Today I had prepared dal and pulao for dinner. After his arrival, I gave him water to drink. Then after he freshened up, I had dinner. After dinner, I took care of all the utensils and garbage and wrote today's post.

So, friends, this is how today's day ended. Now I end my competition here. I hope you like my post. See you again with a new post with new energy. Thank you.



STEEMIT ENGAGEMENT CHALLENGE-S12W2 | LIFESTYLE DIARY GAME

THANK YOU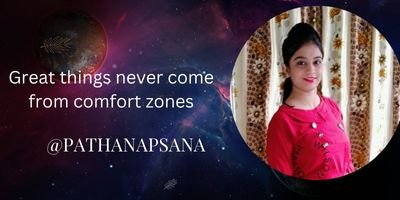 Posted using SteemPro Mobile