🥞World's Best Vegan Pancakes! 🥞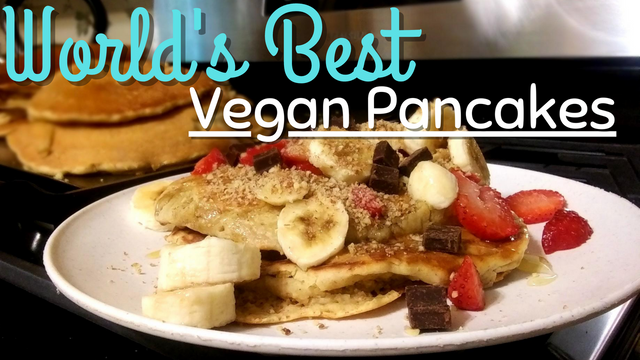 What do we want?!


Pancakes!


When do want them?


Now!


When you want pancakes...it's time for pancakes. Nothing else will do. And I have spent years trying to make the perfect batch. There have been quite a few failed attempts, but finally! Finally! The right combination of flour, sugar and vinegar came into fruition.
This recipe can also be substituted with oat flour for a gluten free version. I've made that several times for my mom. Mostly, I like to do a blend of white flour, oat flour, and if I'm feeling particularly froggy, a little almond flour.
Now, this recipe is pretty big, and it may require a little downsizing. When all is said and done, it makes about 20 or so 5-6 inch pancakes. But the batter can also be frozen! So, if you do make all of it, but find that it's too much, store the left overs in a ziplock bag. I'm going to guess that it will last in there for a long time, but we've only ever managed a week or so. The kids actually feel it tastes even better after it's been frozen!
Alright, let's get right to it.
World's Best Vegan Pancakes
8 cups flour – 4 cups white flour, 3 cups oat flour, 1 cup almond flour (my go to, but optional)
½ cup sugar (sub for honey)
½ cup brown sugar (sub for maple syrup)
4 tablespoons baking powder
4 teaspoons salt
½ tablespoon baking soda
2 tablespoons vinegar (white or apple cider)
4 teaspoons vanilla extract
1 cup melted coconut oil (canola oil would work too)
Enough non-dairy milk to make batter thick but runny
Combine flour, sugar, baking powder, salt, baking soda and whisk well.
Add in vanilla, oil, and vinegar and whisk.
Add milk one cup at a time, whisking in between. Amounts will vary based on what sweetener was used. If using liquid sweeteners, the batter will need less. Whisk until most of the lumps are gone and batter is creamy.
Turn on griddle or pan to medium heat.
Let the batter sit while the pan heats up.
Laddle ½ or so of batter onto pan. Once the side that is down is golden brown (3 or so minutes), flip it and cook the other side. Double check that the insides are cooking all the way through. If they are still runny, reduce heat.
Store done pancakes in the oven under Warm heat, or on a plate covered with a towel.
Serve with your favorite fruit toppings and maple syrup! Maybe a little chocolate too!
I hope you love these as much we do! Thanks for sharing this with me!
Much love,
Stacie D

---

---

---