🏆⚽Concurso: XI ideal de la eurocopa / Contest: Ideal XI of the Eurocup 🏆⚽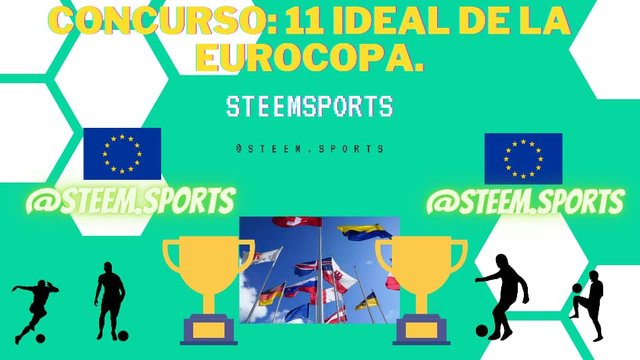 Imagen creada por @steem.sports
---

Ya empezó la Eurocopa en su edición 2020, y se acabó la larga espera de 5 largos años, si 5 años y no los 4 años acostumbrados, del torneo de selecciones más importante del viejo continente, el considerado mundial de fútbol sin Argentina y Brasil en donde 24 selecciones distribuidas en 6 grupos comandadas por Portugal los actuales campeones y las siempre favoritas: Alemania, España, Francia, Holanda, Italia y Inglaterra junto con todas sus estrellas darán el todo por el todo a partir del 11 de Junio por conquistar el tan ansiado trofeo, por tal razón te invitamos a nuestro nuevo concurso: mi Xl Ideal de la Eurocopa.

---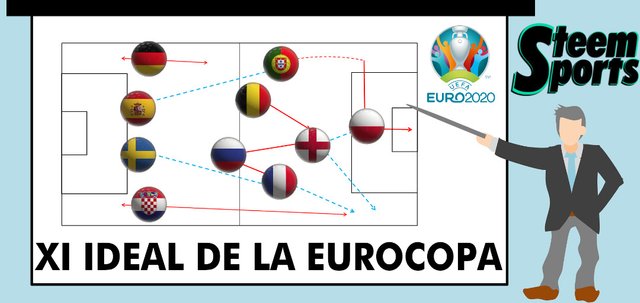 Imagen de @steem.sports
---
¿EN QUÉ CONSISTE EL CONCURSO?
1./ Deberás armar tu XI ideal y elegir un jugador en cada posición y contarnos en una breve reseña el porqué de esa elección y en qué ayudaría en el desenvolvimiento de tu equipo dentro de la cancha.
2./ Elige una formación con la cual jugarás e igualmente elige tu director técnico ideal.
REGLAS DEL CONCURSO
Debes crear una publicación y colocar la misma en la comunidad #steemsports.

Utiliza el título: Concurso" Mi XI Ideal De la Eurocopa - (Tu título seleccionado)
El post debe tener un mínimo de 300 palabras y 2 fotos o imágenes (mínimo)
Debes respetar los derechos de autor si la IMAGEN (no contenido) no es tuya (hipervínculo, link o fuente).
Debes colocar un enlace en el apartado de respuesta de esta publicación anunciando tu entrada al concurso.
Debes utilizar las siguientes etiquetas: #steemsports, #(país) #steemexclusive, entre las primeras etiquetas de la publicación.
Nos agradaría mucho que nos apoyaran dándole re publicar a esta publicación para que más usuarios puedan ver, leer y participar en este concurso.
Invita al final de tu post a tres amigos dentro de la plataforma, seguír la cuenta @steem.sports
Se creativo y cuida tu ortografía, la creatividad y la redacción serán recompensadas, @steem.sports está incluida en el programa de apoyo a las comunidades, se original y podrías ser seleccionado para ser curado por las cuentas @booming.
INFORMACIÓN IMPORTANTE
Este concurso es válido desde el martes 15-06-2021 al lunes 21-6-2021 a las 23:59 hora de Venezuela (UTC -04 Venezuela)
Este concurso puede ser realizado por hombres y mujeres de cualquier nacionalidad

Solo se permitirá una entrada por participante
Si es de tu agrado apoyar la cuenta de curaduría, puedes hacerlo configurando tu post con un 20% a favor de @steem.sports (No es obligatorio).
PREMIOS A REPARTIR
1ER LUGAR 10 Steem
2DO LUGAR 6 Steem
3ER LUGAR 4 Steem
SE ENTREGARÁ 5 MENCIONES HONORÍFICA AL POST CON EL MEJOR ANÁLISIS DE SUS ELECCIONES
---
English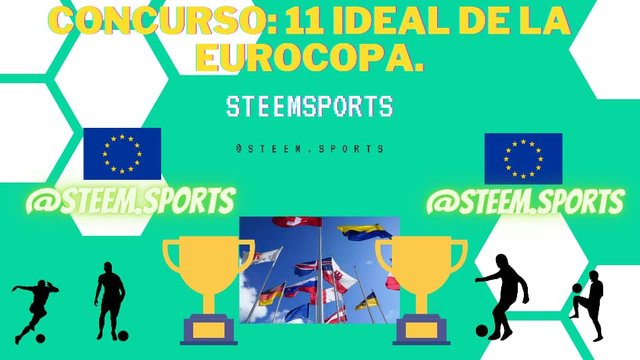 Imagen creada @steem.sports

---
The Eurocup has already started in its 2020 edition, and the long wait of 5 long years, if 5 years and not the usual 4 years, of the most important national team tournament of the old continent, the one considered world football without Argentina and Brazil in where 24 teams distributed in 6 groups led by Portugal, the current champions and the always favorites: Germany, Spain, France, Holland, Italy and England together with all their stars will give everything for everything from June 11 to conquer the so long-awaited trophy, for this reason we invite you to our new contest: my Xl Ideal de la Eurocopa.

---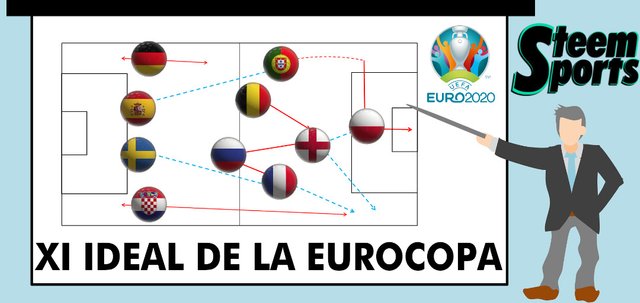 Image from @steem.sports
---
WHAT IS THE CONTEST ABOUT?
/ You must build your ideal XI and choose a player in each position and tell us in a brief review the reason for that choice and how it would help in the development of your team on the field.
/ Choose a formation with which you will play and also choose your ideal technical director.
CONTEST RULES
You must create a publication and place it in the #steemsports community.

Use the title: Contest "My Ideal XI Of the Eurocopa - (Your selected title)
The post must have a minimum of 300 words and 2 photos or images (minimum)
You must respect copyright if the IMAGE (not content) is not yours (hyperlink, link or source).
You must place a link in the response section of this publication announcing your entry to the contest.
You must use the following tags: #steemsports, # (country) #steemexclusive, among the first tags of the publication.
We would be very pleased if you could support us by republishing this publication so that more users can see, read and participate in this contest.
Invite three friends on the platform at the end of your post, follow the account @steem.sports
Be creative and watch your spelling, creativity and writing will be rewarded, @steem.sports is included in the community support program, be original and you could be selected to be curated by @booming accounts.
IMPORTANT INFORMATION
This contest is valid from Tuesday 06-15-2021 to Monday 06-21-2021 at 23:59 Venezuela time (UTC -04 Venezuela)
This contest can be held by men and women of any nationality *
Only one entry per participant will be allowed
If you like to support the curator account, you can do so by setting your post with 20% in favor of @steem.sports (It is not mandatory) *.
AWARDS TO DISTRIBUTE
1ST PLACE 10 Steem
2ND PLACE 6 Steem
3RD PLACE 4 Steem
5 HONORARY MENTIONS WILL BE GIVEN TO THE POST WITH THE BEST ANALYSIS OF YOUR CHOICES *
---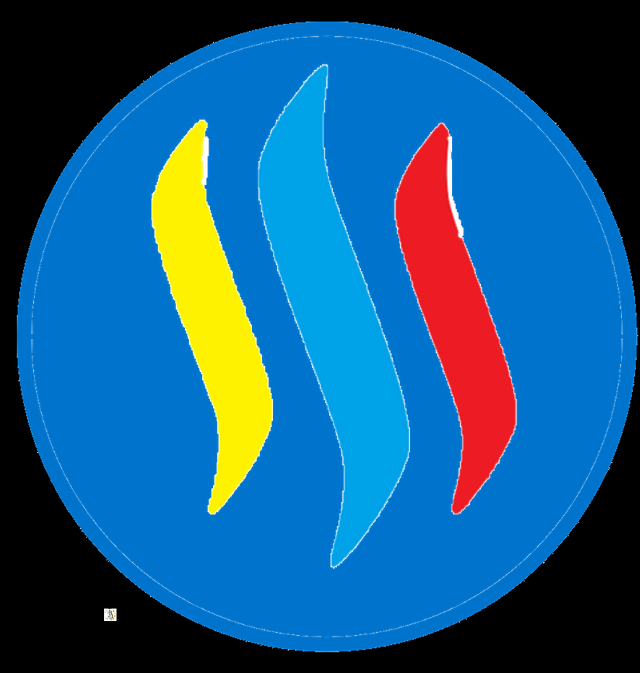 Imagen @steem.sports
---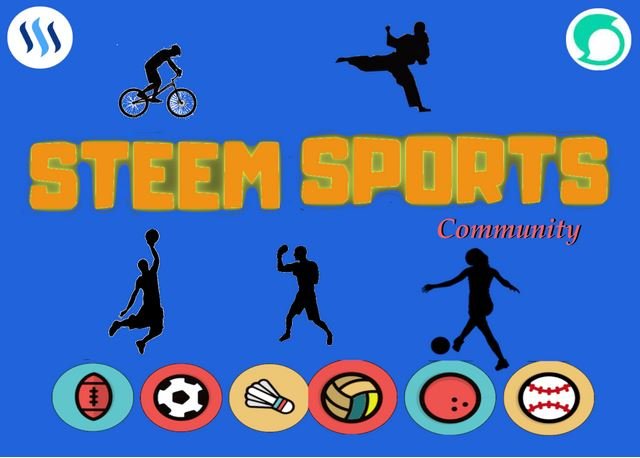 Imagen @steem.sports
---