Von der Kaffeekanne zum Vogelhaus - From coffee pot to birdhouse
Hallo zusammen,
wer schon länger meine Beiträge liest, weist das meine Frau, immer eine Überraschung parat hat. Nun auch dieses Mal! Eines Nachmittages kam sie mit zwei alten DDR Kaffeekannen nach Hause. "Schau mal diese habe ich bei Ebay-Kleinanzeige für 5 € gekauft", sagt meine Frau zu mir. "Was willst du mit den alten Kannen", fragte ich sie, "Ein Vogelhaus bauen" bekam ich zur Antwort. Ein Vogelhaus aus einer Kaffeekanne? Sollte ich schon mal den Arzt anrufen, oder doch abwarten?
---
who has been reading my posts for a while, knows that my wife, always has a surprise ready. Now also this time! One afternoon she came home with two old GDR coffee pots. "Look at these I bought on Ebay classifieds for 5 €," says my wife to me. "What do you want with the old pots", I asked her, "To build a birdhouse" I got the answer. A birdhouse from a coffee pot? Should I already call the doctor, or wait and see?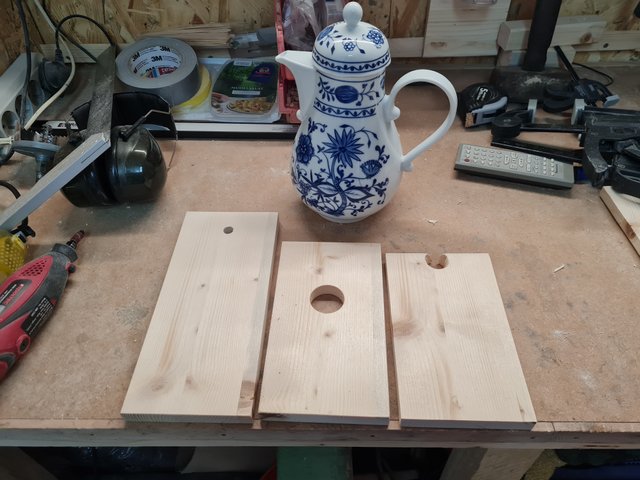 Dann zeigt sie mir ein Bild und habe es dann verstanden, nur wozu brauchen wir 2 Vogelhäuschen? Sie erklärte mir das sie diese Vogelhäuschen verschenken möchte. Was brauchen wir dafür? Eigentlich nicht viel, 3 Kieferholzbretter reichen dafür. Eine Rückplatte zum Aufhängen, eine Grundplatte mit einem Loch und eine Frontplatte mit einem größeren Loch.
---
Then she shows me a picture and then understood it, only why do we need 2 birdhouses? She explained to me that she wants to give away these birdhouses. What do we need for it? Actually not much, 3 pine boards are enough for it. A back plate for hanging, a base plate with a hole and a front plate with a larger hole.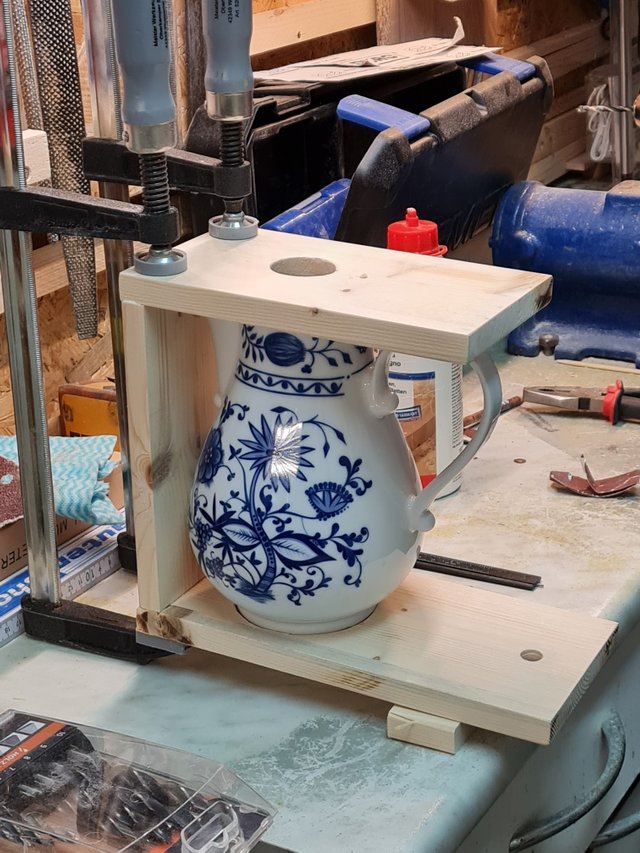 Bei dem Loch in der Frontplatte bestimmt ihr selbst welcher Vogel dort einziehen kann. In unserm Vogelhaus haben wir eine Größe von 3,2 cm gewählt, so können dort, Kohlmeise, Haussperling, Kleiber und Trauerschnäpper nisten. Bei einer Größe von 2,8 cm Durchmesser, sind für Blau- und Tannenmeisen gut. Das Mal als Beispiel, ihr könnt es so dann anpassen. Die Grundplatte hat am Ende auch ein Loch, dieser ist für den Ausguss damit die Kanne gut reinpasst.
---
With the hole in the front panel you determine yourself which bird can move in there. In our bird house we have chosen a size of 3.2 cm, so there can nest great tit, house sparrow, nuthatch and pied flycatcher. At a size of 2.8 cm in diameter, are good for blue and fir tits. The time as an example, you can adjust it so then. The base plate also has a hole at the end, this is for the spout so that the jug fits in well.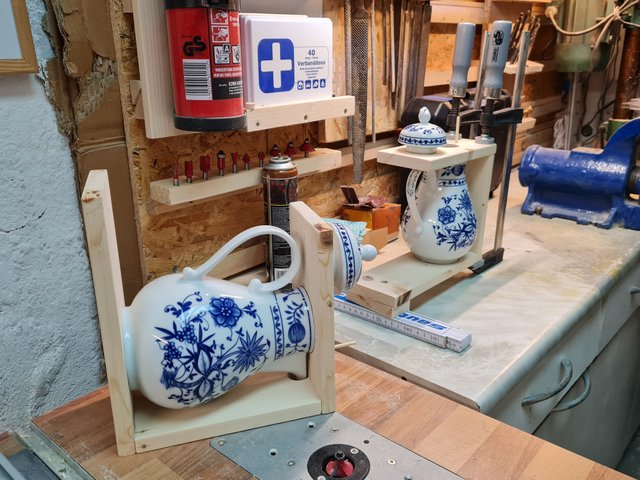 Ich habe noch zur Sicherheit die Ränder der Kanne ins Holz eingefräst und es dann mit einem Epoxidharz verklebt. So kann die Kanne auch später sich nicht verschieben. Dann haben wir noch eine Anflughilfe angesetzt und den Deckel über das Loch fest geklebt. Fertig war die Bastelarbeit und mein Teil war erledigt. Nun war meine Frau dran, die Vogelhäuser anzumalen.
---
To be on the safe side, I milled the edges of the jug into the wood and then glued it with an epoxy resin. So the can can not move later. Then we put on an approach aid and glued the lid firmly over the hole. Finished was the tinkering and my part was done. Now it was my wife's turn to paint the birdhouses.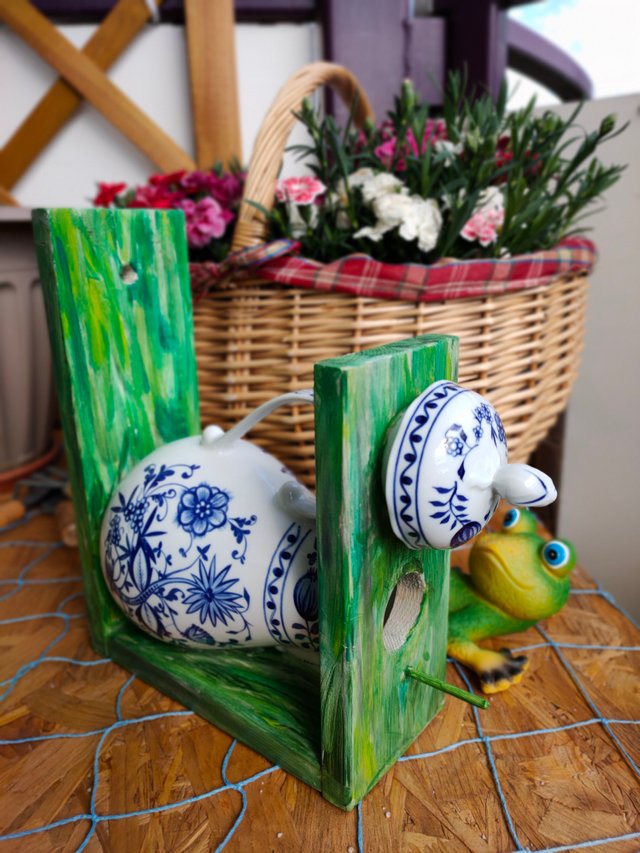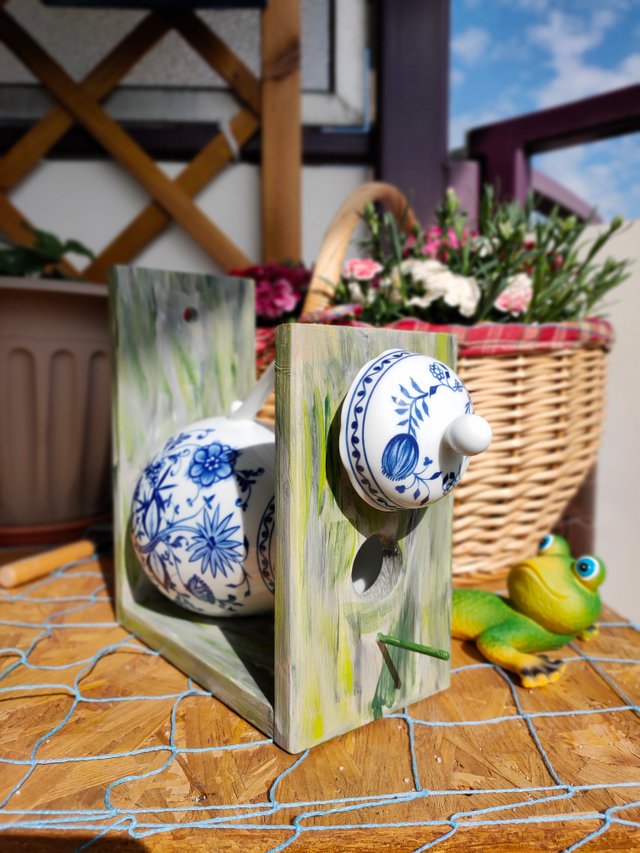 Ich habe viel Respekt vor meiner Frau, sie hat immer wieder Ideen und überrascht mich immer wieder aufs neue. Diese Vogelhäuser hatten ein Materialeinsatz, inkl. Kannen, von nicht einmal von 10 € pro Vogelhaus. Als außergewöhnliches Geburtstagsgeschenk, unbezahlbar. Das war's wieder von mir, ich wünsche euch noch einen schönen Abend.
---
I have a lot of respect for my wife, she always has ideas and surprises me again and again. These birdhouses had a material input, including pitchers, of not even from 10 € per birdhouse. As an unusual birthday gift, priceless. That's it again from me, I wish you still a nice evening.
Gruß
Hornet on Tour
Photo by Hornet on Tour