Fotowalk - Glasmanufaktur Harzkristall / Harz Crystal Glass Manufacture
Hallo zusammen,
altes Handwerk hat schon seine Faszination, so auch das vom Glasbläser/in. Schon im Spreewald konnte ich dieses bewundern, also gingen wir auch im Harz zu einer Glasmanufaktur. Leider waren die großen Führungen, alle ausgebucht aber man bot uns an, das Schauglasblasen zu besuchen. Es war verdammt interessant zusehen, dass hier nicht nur eine Show gemacht wird, für die Touristen, sondern das wirklich was hergestellt wird, für den Verkauf.
---
Old craft has its fascination, so also that of the glassblower. Already in the Spreewald I could admire this, so we also went in the Harz to a glass factory. Unfortunately, the big tours were all booked, but we were offered to visit the show glass blowing. It was damn interesting to see that here not only a show is made, for the tourists, but that really what is made, for sale.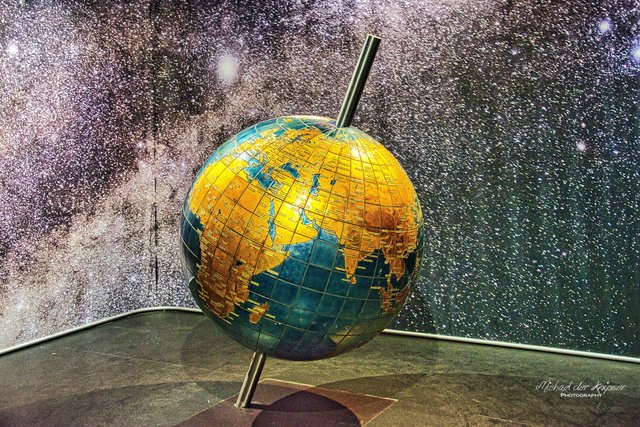 (30 mm; f/5,6; 1/80 sek.; ISO 6400)
Kamera: Nikon D7100, Objektive: Nikon 18-105 mm
Bevor alles beginnt, zeigt man uns Ihren ganzen Stolz. Der weltgrößter Globus aus Glas, hier auf dem Foto zusehen. Die "Küttner´s Kugel" hat ein Durchmesser von 1,28 m und wiegt ca. 500 kg. Der Bau der mit Glasschmelz verzierten Weltkugel, hat etwa 20 Jahre gedauert. Es ist schon beeindruckend was alles möglich ist. Dadurch das der Raum recht Dunkel ist, musste ich die ISO ganz schön hochdrehen.
---
Before everything begins, they show us your pride and joy. The world's largest globe made of glass, seen here on the photo. The "Küttner's globe" has a diameter of 1.28 m and weighs about 500 kg. The construction of the globe, decorated with molten glass, took about 20 years. It is impressive what is possible. Because the room is quite dark, I had to turn up the ISO quite a bit.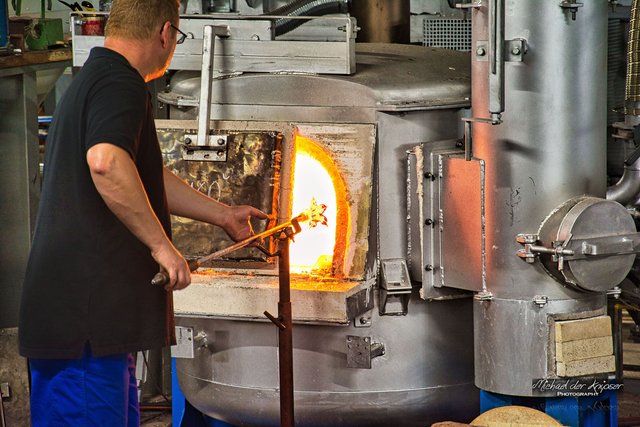 (105 mm; f/5,6; 1/80 sek.; ISO 1000)
Kamera: Nikon D7100, Objektive: Nikon 18-105 mm
Nun ging es weiter mit der Schauglasbläserei, es wurde uns gezeigt wie mit einfachen Mitteln, so was Schönes entstehen kann. Wir hatten keine Ahnung was es eigentlich werden sollte und es bliebt auch spannend bis zum Schluss. Zum größten Teil wurde mit einer Art Zange gearbeitet, es wurde geformt, gezogen oder auch verdreht.
---
Now it went on with the show glass blowing, it was shown us how with simple means, something beautiful can arise. We had no idea what it was supposed to be and it remained exciting until the end. For the most part, we worked with a kind of pliers, it was formed, pulled or twisted.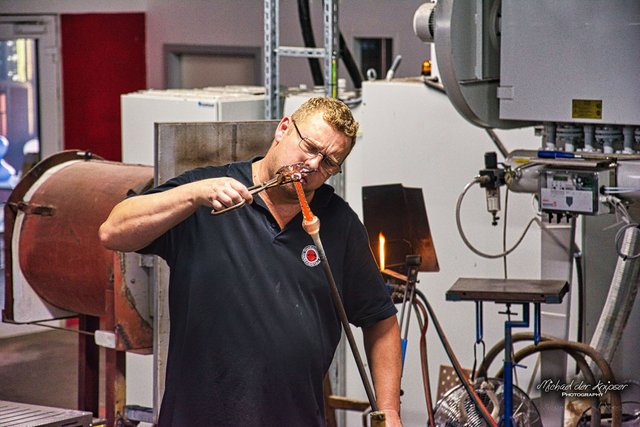 (105 mm; f/5,6; 1/100 sek.; ISO 1000)
Kamera: Nikon D7100, Objektive: Nikon 18-105 mm
Und immer wieder wurde das Glas erhitzt, damit es formbar bleibt. Gerade für sowas ist sehr viel Fertigkeit und Erfahrung gefragt. Aber auch die Hitze am Hochofen muss man schon mögen. Aber was ist, das für ein Ding was er fertigt? Es wurde viel spekuliert und geraten. Doch keiner hat es erraten. Oder wisst ihr es, was es wird?
---
And again and again the glass was heated so that it remains malleable. Especially for something like this, a lot of skill and experience is required. But you also have to like the heat at the blast furnace. But what is this thing he is making? There was a lot of speculation and guesswork. But no one has guessed. Or do you know what it will be?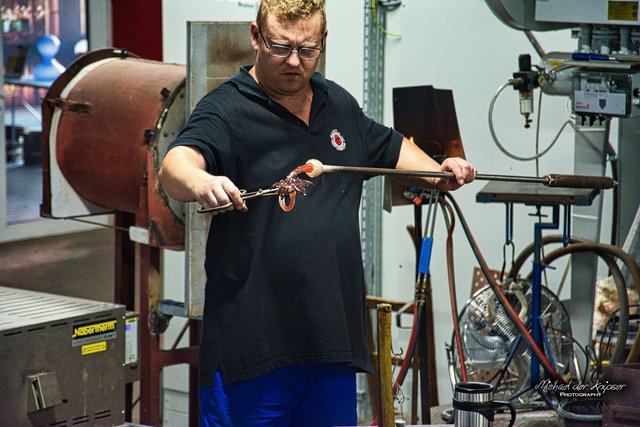 (105 mm; f/5,6; 1/80 sek.; ISO 1000)
Kamera: Nikon D7100, Objektive: Nikon 18-105 mm
Erst hier konnte man sich das schon denken, oder? Ja richtig, es wird ein Serviettenhalter. Es war richtig interessant zu sehnen, was wirklich hinter ein Handwerk steckt. Das war's wieder von mir, ich wünsche euch einen schönen Abend, bis zum nächsten Mal.
---
Only here you could already guess, right? Yes right, it will be a napkin holder. It was really interesting to long what is really behind a craft. That's it again from me, I wish you a nice evening, until next time.
Euer Hornet on Tour
Photo by Hornet on Tour (Michael der Knipser)
Translated with www.DeepL.com/Translator (free version)