Automobile Zeitreise / Automobile time travel 1937 "Mercedes-Benz W 138" Deutsch / Englisch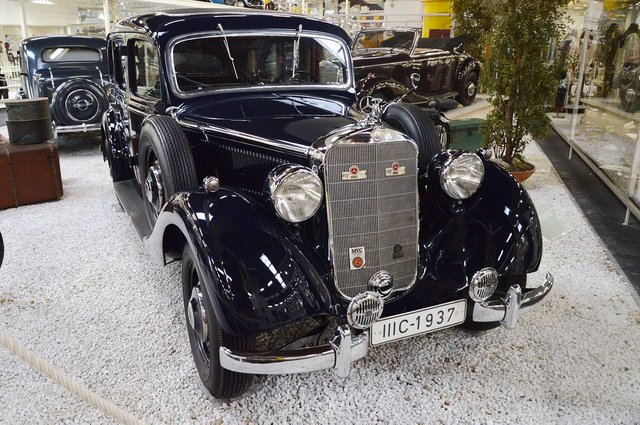 By For a gallery of some more of my uploaded pictures see: here. - Own work, CC0, https://commons.wikimedia.org/w/index.php?curid=24487388
---
Nun, auch wenn der Diesel nicht gerade einen guten Ruf hat, frage ich mich. Wer hat das erste Fahrzeug in Serie gebaut? Die Antwort kam gleich, es war Mercedes-Benz und Hanomag. Nun schauen wir uns ein Fahrzeug mal an. 1936 stellte Mercedes-Benz, auf der 26. Internationalen Automobil- und Motorrad-Ausstellung in Berlin, den 260 D vor. Weltweit waren der 260 D und Hanomag Rekord Diesel die zwei ersten PKW-Modelle mit einem Dieselmotor.
---
Well, even if the diesel doesn't exactly have a good reputation, I wonder. Who built the first vehicle in series? The answer came immediately, it was Mercedes-Benz and Hanomag. Now let's take a look at a vehicle. In 1936, Mercedes-Benz presented the 260 D at the 26th International Automobile and Motorcycle Exhibition in Berlin. Worldwide, the 260 D and Hanomag Rekord Diesel were the first two passenger car models with a diesel engine.
---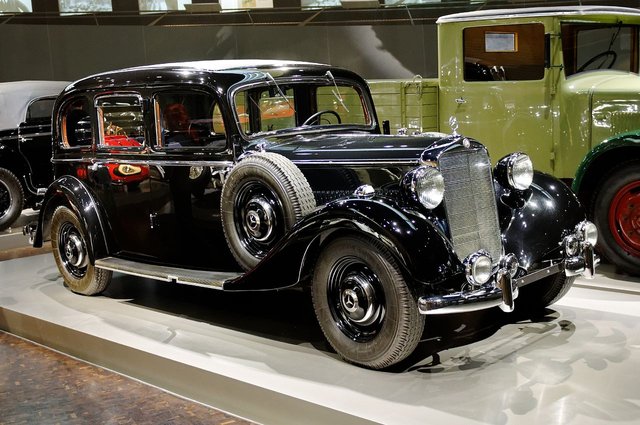 Von Ra Boe / Wikipedia, CC BY-SA 3.0 de, https://commons.wikimedia.org/w/index.php?curid=38512146
---
Der Mercedes-Benz 260 D, ist ein Selbstzünder mit Vorkammereinspritzung, dieser leistete 45 PS bei 3000 U/min. Er war jetzt mit max. 90 km/h nicht der schnellste, doch war es so gewollt. Es solle ein Fahrzeug der Vernunft sein, das heißt Effizienz und Zuverlässigkeit standen im Vordergrund. Da war es auch kein Wunder, das Mercedes-Benz 260 D zur Anfangszeit als Taxi genutzt wurde.
---
The Mercedes-Benz 260 D, is a compression ignition engine with prechamber injection, which produced 45 HP at 3000 rpm. It was now with max. 90 km/h not the fastest, but it was meant to be. It should be a vehicle of reason, that means efficiency and reliability were in the foreground. So it was no wonder that Mercedes-Benz 260 D was used as a cab in the early days.
---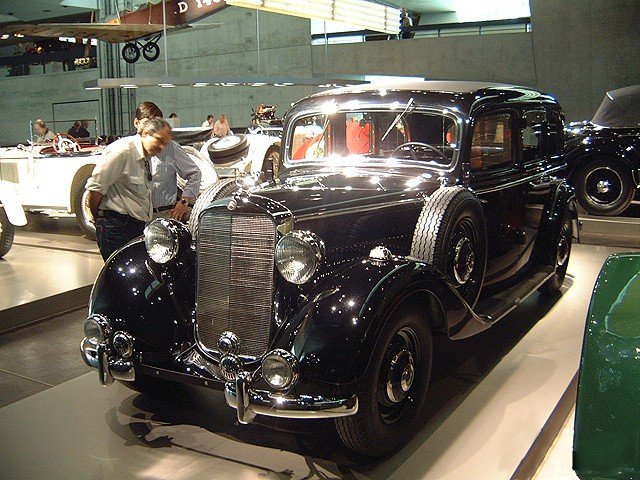 By Cawimmer430 at English Wikipedia, watermark removed by Trucker Joe - Transferred from en.wikipedia to Commons., Public Domain, https://commons.wikimedia.org/w/index.php?curid=1812004
---
Die Bauform der Karosserie nannte man Pullman. Unter der Bezeichnung Pullman versteht man, dass dieses Fahrzeug gestreckt ist. Man könnte es mit der Stretch-Limousinen vergleichen, nur hier ist es schon vom Werk auch so gebaut. Neben der langen Pullman-Version, wurde der Mercedes 260 D, auch mit einem kürzen Radstand gebaut. Einmal als vier- oder fünfsitzige Limousine und auch als Cabrio.
---
The design of the body was called Pullman. The term Pullman means that this vehicle is stretched. You could compare it with the stretch limousines, only here it is already built like this from the factory. Beside the long Pullman version, the Mercedes 260 D was built, also with a shorter wheelbase. Once as a four or five-seater limousine and also as a convertible.
---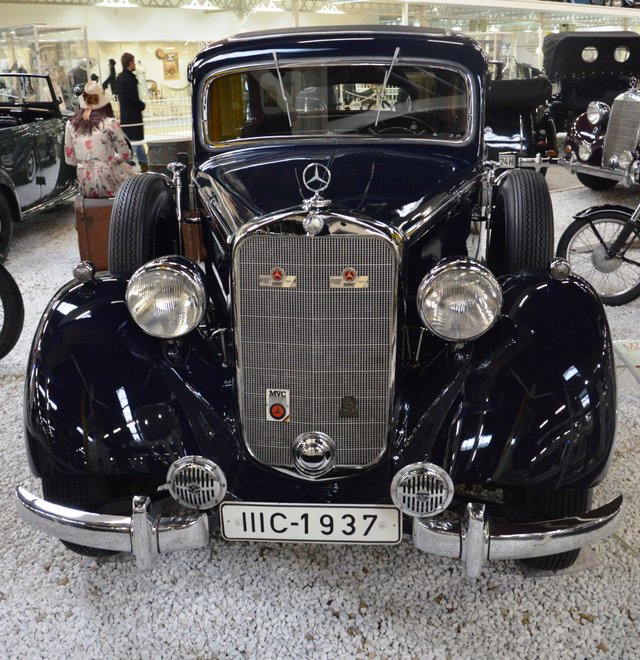 By For a gallery of some more of my uploaded pictures see: here. - Own work, CC0, https://commons.wikimedia.org/w/index.php?curid=24487128
---
Doch leider wurde der 260 D nur 4 Jahre gebaut, mit Ausbruch des 2. Weltkrieg wurde die Produktion 1940 eingestellt. Heute wäre ein 2,6 Liter Vierzylinder Motor mit 45 PS, kein Verkaufsschlager, zumal der Motor ein 2 t Fahrzeug bewegen müsste. Auch der Verbrauch von 9 Liter Dieselöl auf 100 km, sind für heutigen Maßstäbe zu hoch. Aber der Dieselmotor ist kaum totzukriegen. Im Daimler Museum steht ein W128, was früher mal ein Taxi war, mit ca. 1,2 Mio. Kilometer auf der Uhr.
---
But unfortunately the 260 D was only built for 4 years, with the outbreak of World War II production was stopped in 1940. Today a 2.6 liter four-cylinder engine with 45 HP would not be a big seller, especially since the engine would have to move a 2 ton vehicle. Also the consumption of 9 liters of diesel oil per 100 km, are too high for today's standards. But the diesel engine is almost impossible to kill. In the Daimler Museum there is a W128, which used to be a cab, with about 1.2 million kilometers on the clock.
---
Quelle:
https://de.wikipedia.org/wiki/Mercedes-Benz_W_138
https://www.kfz-betrieb.vogel.de/diese-autos-haben-geschichte-geschrieben-a-758895/
https://www.t-online.de/auto/technik/id_46716588/mercedes-benz-260-d-nagelprobe-im-ersten-diesel-der-welt.html
---
Das war sie wieder die Automobile Zeitreise, danke fürs Lesen.
---
That was the Automobile Time Travel again, thanks for reading.
Gruß
Hornet on Tour