Growing the Steem World Together
Steem WITNESS Forum
This will happen Sunday the 24th May on the @greenhouseradio at @canna-curate's discord server.
Live at 11am PDT / 02pm EDT / 06pm UTC / 03am JST
Some real basic questions to be asked at this upcoming Forum.
There is more than a few problems currently for Steemit and those who have used this platfor for ways toe BLOG.EARN.REPEAT for the last 4 plus years.
The future feels very bleak for a great number of people here. We have used this place to promote, create, build, blog, make life long connections and of course make STEEM.
As of writing this, the ability to even trade steem had been majorly restricted with exchanges like Binance and Bitrexx disabling support to deposit and withdraw Steem.
This doesn't affect only the notorious blacklisted accounts recently targeted in HF23, it affects all of us who rely on these exchanges to BUY, SELL and TRADE Steem.
So the questions below are pretty basic but have very deep implications of our uncertainty during this event.
---
Where do we stand?
---
Where Do We go?
---
The Forum
This is Your Personal Invitation
---
@justyy @steemchiller @steemhunt @triple.aaa @dev.supporters @zzan.witnesses @dlike @jayplay.witness @snackplus @indo.witness @ayogom @skuld2000.wit @segye.witness @the707 @bukio @symbionts @steem-dragon @hinomaru-jp @hoasen @future.witness @matreshka @maiyude @parse @cryptoking777 @menacamel @rlawlstn123 @steem-agora @roadofrich @fuli @cn-witnesses @smt-wherein @exnihilo.witness @block-buster @surpassinggoogle @familyonline-tv @helloworld.wit @ciska
---
to join us and all Steemians who are ready to find solutions to the issues we are experiencing on the blockchain! Together we create a brighter future for all those who use steem as their blog!
Please use the following Guidelines so we all will have a pleasant experience... Thank you!
Communication requires a conscious perception of the value of each word, which together in a sentence results in a unique energy. This verbally expressed energy is received and processed differently by each and everyone.

That contributes to a large extent to the fact that misunderstandings can arise, which can then lead to excessive demands on the participants in the conversation. This excessive demand shows itself often in absurd, irrelevant expressions, which are then, by some, unconsciously interpreted as an insult.
To have the "civilized" Conversation we're all looking for, please:
Respect Your Nature!
Be Impeccable With Your Own Word!
Handle Everything From A Neutral Point!
Be Sincere / Honest!
Find Truth By Asking Kindly!
Always Give Your Best To One And All!
---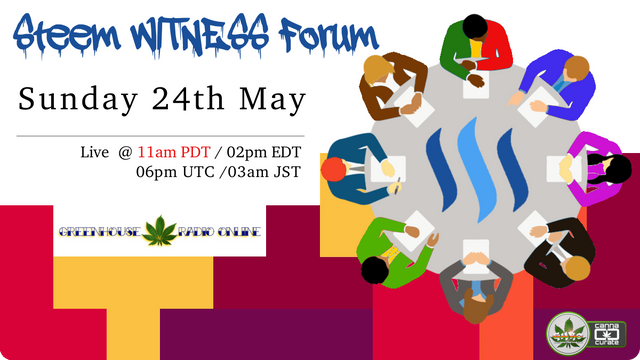 ---
Thanks for being awesome! Thanks for your support! And thanks for listening to the Green House Radio Online!
Stay tuned 😎 and have an excellent time! CU around over at Canna-Curate!
---
A special "Thank You" to @steemitblog @steemcurator01 @steemcurator4 for helping spread our effort to so many. It has been very encouraging to see all the positive reply.
---
Respect & Grooviness
Your GHRO Team
@fracasgrimm & @mondoshawan
#SteemOn #ComeGROWwithGHRO
---


---
All content is our own intellectual "property" otherwise you'll see a source indicated...
---
♫ 😎 ♫ 😎 ♫ 😎 ♫ 😎 ♫ 😎 ♫ 😎 ♫ 😎 ♫ 😎 ♫ 😎 ♫ 😎 ♫