AA DAY IN THE LIFE OF A STUDENT IN MY CAMPUS.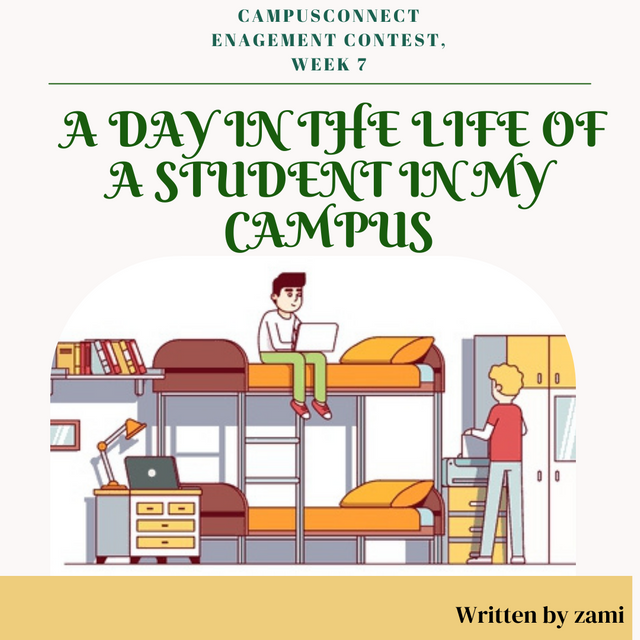 Image designed on canva
---
Greetings to everyone, how are you guys doing?, hope everything is moving smoothly. Its my pleasure to be making a return to @campusconnect with this amazing contest, I've been offline for sometime now due to some challenges I was having at the hospital, that rarely gave me time, but I'm glad to be back.
My days right from the 14th of February have pretty much looked alike with relatively similar routine and activities. Since the commencement of the industrial action by the academic staff Union of universities (ASUU), I've been relegated to the doldrum of boredom, loneliness and anxiety. I hardly remember a thing about school as the past 6 months of my life has been in the house.
Here at home, my daily routine and activities doesn't portray or depicts anything reminiscent of a student. In fact, I've lost touch of my studentship lol. The breakdown of my daily routine are detailed below.
---
Morning routine
---
I basically have same morning routine every other day exception of Saturdays and Sundays. I wake up between 7.30am and 8.00am everyday, this is because I don't sleep early at night, I have a maximum sleep time of 5-6 hours every night. My morning prayers are usually 30min at most after which I do the house chores.
Before 10am, my breakfast which is my most important meal is already served and consumed, I stay alone, so it doesn't take much of a time to make breakfast for a lone bachelor lol.
My breakfast menu includes but not limited to pasta, coffee and bread, white rice and egg sauce, Akara n pap, and plantain.
I rarely go out in the morning, my work is always in the evening, so, most of the time, I wrap up my morning routine with some jobs online.
---
Afternoon routine
---
I don't really have a daily routine in the afternoon other than to have a good sleep. Sometimes, I get visits from people and likewise does same once in a while.
I also spend bulk of my afternoon watching movies and playing games. Its not a daily routine though, it only happens once in a while.
The last thing to note about my afternoon is that I rarely eat in the afternoon, I run a one-zero-one feeding system so as not to get out of shape.
---
Evening routine
---
My evenings are always the busiest part of the day, I work in the evenings, a 5pm to 9.30pm work that keeps me engaged, so most of my evening activities are usually at work place attending to clients and offering information.
I finish off from work 9.30pm everyday and enroute my house is between 15 to 20min, So I basically eat my dinner between 10.15pm and 10.30pm everyday, main reason I sleep late.
---
Conclusion
I take it as a thing of fun to put forward a detailed breakdown of my daily routine and activities over the last three months, hope you had fun as well reading it. As a student, I really wish the industrial action to be over so I can return to my daily school routine and round up my programme there.
Thanks for stopping by
Hope you had a good read
10% to the community.