Campus connect Community Steemit Engagement Challenge Application Whitestallion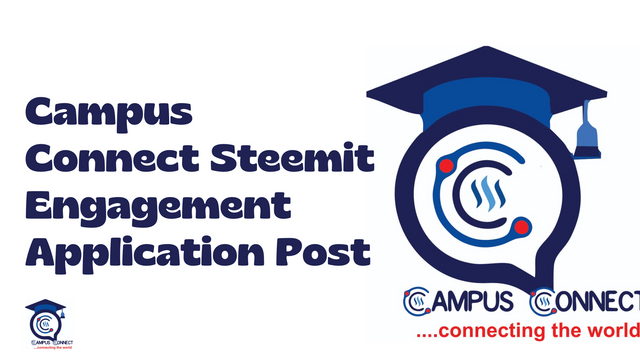 We are once again thrilled to make our engagement application post for the month of August 2022. We appreciate this opportunity once again and we believe can once again live up to expectations if we are shortlisted.
This is our application.

Community Purpose
Campus Connect is a community for the international student community. Our goal is to build a sustainable community where students across the world can come together to share their knowledge, experience, creativity, culture and educational knowledge from around the globe.
Campus Connect is designed to interact with different students from universities around the world, campus connect will become home to thousands of students worldwide who are looking to interact and socialize with students from other parts of the world. They can share and post almost anything on campus as long as their content will appeal to and promote the steemit blockchain.
We also want to penetrate universities all over the world through steemit social feature as a tool to do that. We want to recruit serious-minded steemians from all over the world, this step will eventually serve as a means to introduce steemit to different universities worldwide. We aim to educate and support each member of campus connect in any way we can. Leveraging the numbers and activity of students worldwide, we can create a very powerful community for students.
We believe we can achieve the above community visions and purpose, we have been making consistent progress as a group and we know we will be able to reach our target audience and form a covalent bond of students worldwide.

A brief history Of Campus Connect
Campus Connect was created on the 11th of April 2021, we recently celebrated our 1-year anniversary. I as the founder of Campus Connect came up with the idea to create a place for students worldwide and as a student in Micheal Okpara Univerity of Agriculture Umudike in the Southeastern part of Nigeria.
As a college student, I understood how possible is to create a sustainable community-based ob campus life, so after much deliberations and consideration, i made our first ever post on the 14th of April 2021.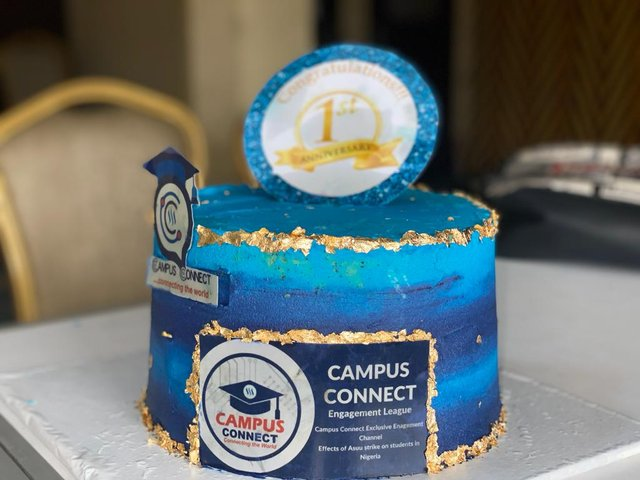 Ever since we have been growing and working to achieve our vision as a community. We started off with Campus campaigns in different universities in Nigeria. We held both virtual and physical meetings in different universities.
Our first ever Campus Meetup took place in **Univeristy of Nigeria, Enugu Campus, then in my own Univeristy, **Micheal Okpara Univeristy Of Agriculture, Umudike.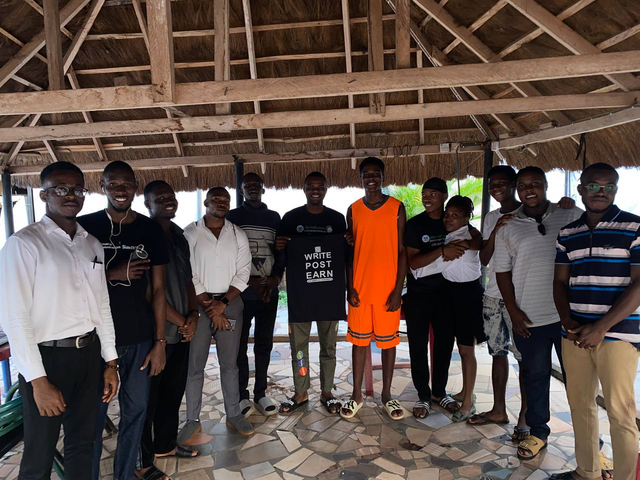 We hit 100 subscribers on our first week as a community and in the same week won SPUD for the month of May 2021, afterwards by august we applied for the Community Support program by the steemit Team and we were able to get selected for booming votes.

Ever since we have continued to work to grow our fanbase and curation power. Just yesterday we hit a huge milestone of 100kSP and a total fanbase of 2,160 subscribers.
Community Admins, Mods, and Club Status
We have a dedicated team of moderators who work very hard in Campus Connect community, below is a list of our community moderators and plagiarism moderators.
Community Team
Campus connect is lead by a Team of energic and hardworking young people with a clear vision and sheer will for success.
Plagiarism & Abuse
Campus Connect has Zero tolerance for plagiarism and we take a firm stand against it. The moderators and campus Team are careful and scan every post for plagiarism before voting and with this step, we have been able to maintain a plagiarism-free community.
On a few occasions, we have seen plagiarized posts and we firmly warn such members, as a result, we came up with an exclusive Team of Plagiarism moderators. Our Team has will immediately detach and squash plagiarism whenever it's detected.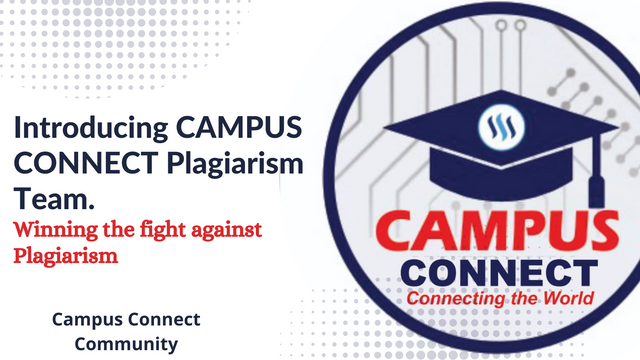 Below are the three levels of plagiarism offense in campus Connect
| Default Level | Sanction |
| --- | --- |
| 1st Default | Warning from a member of the Monitoring Unit |
| 2nd Default | Second and last warning with a 100% downvote from Campus Connect Curation Trail |
| 3rd Default | Participant will be muted in campus connect community and tagged plagarist |
Plagarism Moderators

Community Curation Account Details
Building our community curation account has been our top priority since the inception of our community, in the past 2 months we have been able to add more than 60k SP to our community curation power.
We have a total of 52,090.60 SP Effective Steem Power, our community-owned curation power is 18,201, while our delegated steem(33,888) power has continued to rise.
We are still committed to growing our steem power, we have our sights set on 150KSP and our plan is simple and straightforward. We will Power up every single excess steem power and we will also reach out to investors on steemit who are willing to relate to our community.
We also growing our curation trail, currently, we have more than 241 active followers placing us at the 6th spot on the list. We have a target of at least 1k active followers with at least 1k steempower. This will allow us to leverage the compound effect to build our curation power.
Our community posting key is in possession of all the mods and plag moderators in campus connect. However, our Master password is safely stored in the possession of @whitestallion.

Campus Connect community Policy for Checking and Commenting on Posts
In Campus Connect we promote original and quality posts, we keenly scan through every post made in our community in order to maintain a distinct level of originality. We scan for the following details before we make a comment and ultimately leave an upvote.
We also make sure
That all posts are Plagrsism free and must match our community post theme.

All posts must be #steemexclusive, we don't want our community members cross-posting the same content on other platforms.

All posts must be bot free and actively supported in any of the clubs on steemit(#club5050,#club75, and #club100)
Also our plagiarism moderators scan all the posts made in the community, they leave a comment validating that the post is free of plagiarism and has fulfilled all the required criteria. This way we are able to scan the posts beforehand and curate them.
We have also adopted a standard grading process, this system allows us to read and filter quality posts in our community.
| Criteria | Remark | Grade |
| --- | --- | --- |
| Quality | ✅ | /3 |
| Markdown/Presentation | ✅ | /2.5 |
| #Club | Club100 | /1 |
| Verified User on Steemit | ✅ | /1 |
| Plagiarism free | ✅ | /1 |
| #steemexclusive | ✅ | /1 |
| Bot free | ✅ | /0.5 |
| Total | - | /10 |

Details of how the community helps members improve the quality of their posts
We always encourage our community members to always improve their post quality, we have seen improvements in the quality of posts in our community.
I have created countless guides for all in my community on how they can improve their post quality, these weekly posts help them to improve every week on their writing.
We also host classes for newbies on the basics and how they can make brilliant posts on steemit using Campus Connect education Channel-Campus Gist.
Our weekly discord session is a perfect way to help new steemians, an excellent way to teach them and help them make quality and unplagiarized posts in our community.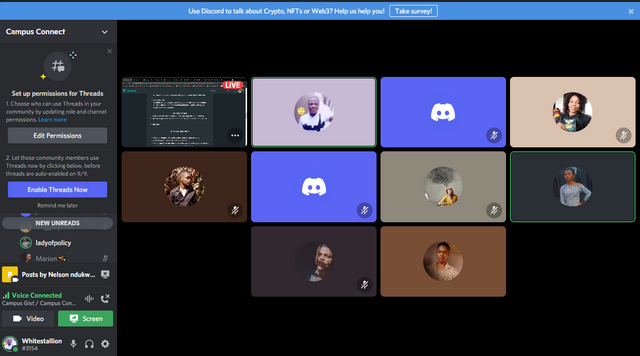 We have currently resumed our weekly meetings after months of inactivity in this regard and we believe it will be super helpful for newbies and other steemains to ensure their post is full of quality.

Why Should Our Community Be Selected
Community is unique, we maintain a streamlined program and our community projects target a group of steemians unnoticed and neglected on the platform.
We engage and comment on almost every post made in our community, and while we maintain a high level of activity in our community posts and community updates.
We are dedicated to our goal and ready to do something no other community on steemit has ever done before. Promote campus connections in all the Universities across the world and maintain a sustainable community filled with young and great minds.

We believe we deserve a place among the selected communities, we hope our application is considered.

Campus Connect Admin Contact Details
Founder- @whitestallion
Discord - Whitestallion#3154
Telegram - @nelsonndukwe
Mod/Plag Mod- @goodybest
Discord - goodybest#9285
Telegram - https://t.me/goodybestt


Subscribe and Join CampusConnect
Whatsapp
CampusConnect Telegram
CampusConnect Discord