The School Life I prefer by @hayleydemi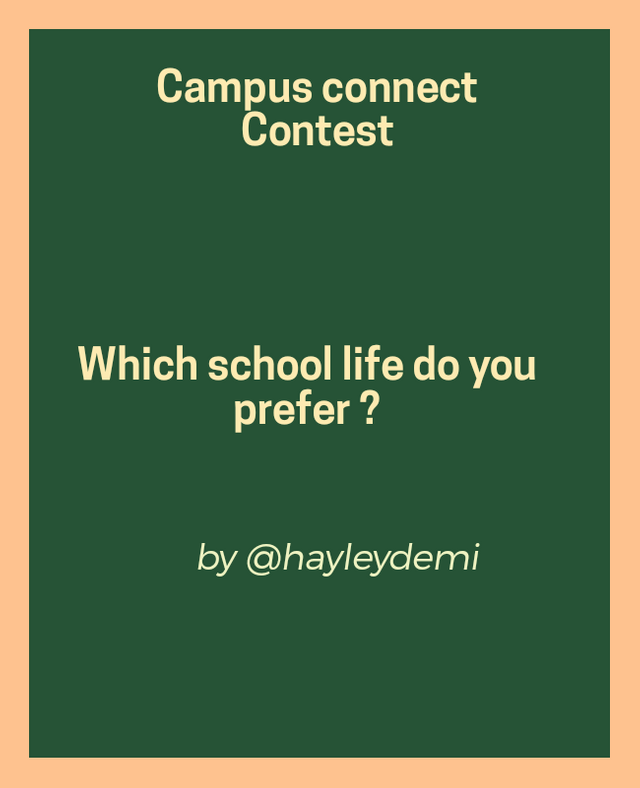 My High school life
My highschool life was an interesting one. I attended a private school in Port Harcourt. I was more of an obidient student who always did what was asked of me. I joined the school from JSS1. When I joined at first, it was difficult for me to adjust academically.
There were a lot of super smart students. The system was new. It took me quite a while to adjust. Eventually I made some good friends. I also improved greatly academics wise.
I also remember how the principal was seen as a god back then. Whenever he was passing, there would be absolute silence.
The silence was too loud. You dare not utter a word as a student when he spoke. The students were very scared of him. My class was considered the most stubborn and noisemaking class. We were punished a lot. We were always the scapegoats.
When I got to senior secondary level, things were really exciting. It felt more like a new challenge for me. My classmates felt more like family. I was also considered one of the brightest in my class.
There were a lot of memorable excursions. I was always excited about the excursions because it was an opportunity to explore. I was made and a prefect and it felt good, because of the prestige that comes with it. When it was time to take my WASSCE exam, the experience was a memorable one. Everyone did their best to pass, and when I passed mine, I felt on top of the world.
My College life
My college life has been mixed with ups and downs. When I first got to college, it felt like a whole new world. I was on my own for the first time. I was uncertain about how life there would be but I was ready to experience it.
I made a lot of amazing friends. That's the thing about college, you get to meet a lot of people with different characters, origin and mindset. I liked the freedom I had in college. Lecture halls are usually filled to the brim.
As a fresher, I wished to maintain and graduate with a very high CGPA. I'm sure other freshers had the wish. But as time goes on and you see all manner of exams, you see yourself hoping you still have a reasonable CGPA because of how tough and horrible some exams have been.
What I like and hate about high school
One thing I love about high school life is that I didn't have to worry about things. Everything was provided for me. Things were so much easier.
What I hated about high school was the numerous restrictions. Back then, there were so many things one couldn't do. Every little thing warranted a punishment. We Weren't allowed to freely express ourselves or do what we wanted.
What I like and hate about college
What I love about college is the freedom that comes with. College helped me transition into adulthood. I was able to make my own decisions. I could do what I wanted and take responsibility for it.
What i hate about college is the fact that people have to struggle for almost everything: hostels, lecture halls, registration. Also, the stress is too much sometimes.
What I've learned in each life
In my high school life, I learned to be obedient. I obeyed my teachers and instructions given to me because my school was very strict. High school life also made me become a hard worker and a disciplined person.
As for college life, I learned to socialize, make good friends and network. College also made me wiser about life in general.
Which do I prefer and why?
I prefer college life. The reason is because of the freedom and maturity that comes with it. Like I mentioned before, I get to make my own decisions and do what I want without being coerced to do so.
I invite @jueco, @badmus-official, @dayographix to participate in this contest.
Cc @goodybest