Dealing with stage fright as a student| 20% payout to Campusconnectng by @ christnenye
It's pleasurable to write again, welcome back to my blog. One of my passion is to be addressing the challenges students face in campus sequel to this I will be writing on another challenge faced by students which is STAGE FRIGHT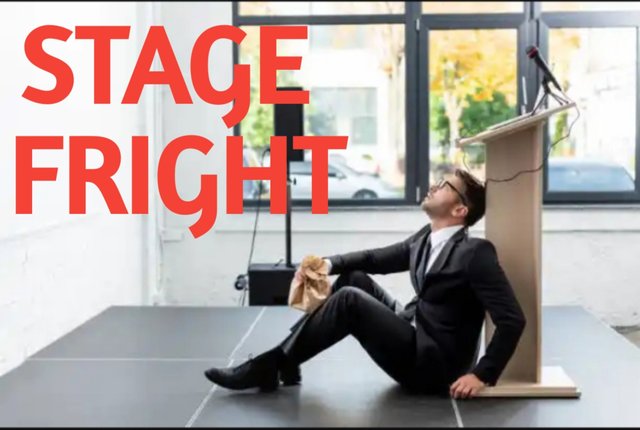 source edited using pixel lab
Stage fright simply refers to the persistent fear and anxiety that an individual conceive when called upon to perform a given task in front of people (audience). Anxiety is most likely expressed when students are called to perform in front of unknown audience, or people whom they perceived to have known what they are asked to deliver to the audience. Most students don't have stage fright when talking to their fellow students but the moment they are called to stand in front of lecturers, they begin to have stage fright.
Stage fright can be demonstrated and observed in the following ways; trembling of hands and legs, sweaty hands, the mouth of the individual becomes dry, individual becomes dizzy, the individual stammers whereas he/she is not a stammerer.
The reason why most students entertain stage fright is not far fetched as it could be traced to a number of various factors such as, fear of making mistakes, fear of humiliation, fear of not satisfying the audience interest, one's physical appearance, lack of preparation, etc.
This has caused so many students poor grades due to the fact that they could not present their seminars and final year projects perfectly well as a result of stage fright. Well, you as a student need to overcome this fear if you must do well.

Hence l will be sharing with you some tips with which you can overcome stage fright and develop yourself to be a good public speaker irrespective of the personalities and calibers of the audience you may have around.
~GET PREPARED ON TIME~
Adequate prepation always leads to success in any thing. So if you must overcome stage fright, get yourself prepared on time.
~AVOID DIRECT EYE CONTACT~
Avoiding direct eye contact with your audience will make you to concentrate on the content you want to deliver. When your audience look at you in a way don't feel good, you tremble and begin to make more mistakes.
~BREATHE~
Take a deep breath to relax your body and mind.
~KNOW THAT THE AUDIENCE ARE THERE TO HEAR YOU~
Having in mind that the audience are there to hear what you have for them or your own contribution and are not expecting you to tell them what they know is a step to overcome stage fright.
~DON'T RUSH, SLOW DOWN~
Don't be in a hurry to speak, be calm and speak slowly and eloquently. Good public speakers don't rush!

CONCLUSION
Stage fright is normal but there is always a need to overcome it. In addition to the outlined tips, use appropriate tones and natural gestures.
Thanks for your time, I appreciate.
Special appreciation
@campusconnectng, @whitestallion, @goodybest and lastly @emmanuel-malume.