Campus Connect Engagement Contest Week 6 - My Favorite and Most Helpful Tech Device On Campus.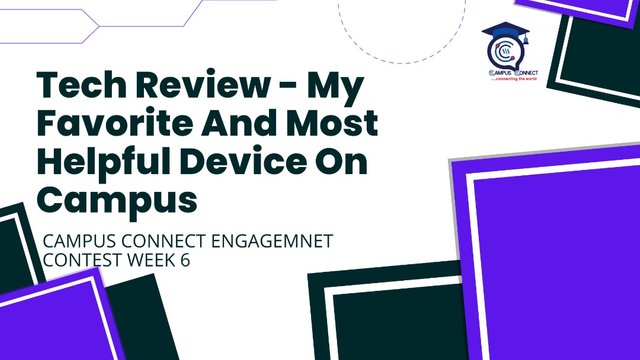 Hello friends, Welcome to Campus Connect Engagement Contest week 6, in this week's contest we are asking our participants to tell us about their Favorite Technology device on Campus, and also tell us the reason why they found the device helpful.
There are some valuable devices most of us are familiar with but don't make full use of it, so in this contest, we want to know what's unique about the device you are using and the reason you love making use of it while on campus.
Entry Guidelines;
What is Your Favourite Device On Campus?

What is its Uniqueness and You should as well discuss the Specs.

Reason Why You love making use of it on Campus.
---

---
Before you get to participate in this contest, Users are required to adhere to the following rules.
CONTEST RULES;
You must be subscribed to the CampusConnect community.

Try to be creative with no trace of plagiarism

Your entry must not be less than 300 words.

Drop a link to your entry as a comment on this post.

Use #campusengagement-week6, #campusconnect, and #fintech in one of your first five tags.

Participants must not be powering down and should maintain a good club status of #club5050 at least.

Engage in as many posts as possible, Participants who engage stand a chance to win the contest.

Invite at least 2 new users to join this contest.

This contest will run for the next 7 days until this post pays out, and expires on 26th August 2022.
---

---
REWARD STRUCTURE
| Ranking | Prize |
| --- | --- |
| 1st | 5 Steem Power + Booming Support. |
| 2nd | 5 Steem Power + Booming Support. |
| 3rd | 5 Steem Power + Booming Support. |
NB:Participants with quality entry stand a high chance of receiving booming votes, however, votes are not guaranteed


Subscribe and Join CampusConnect
Whatsapp
CampusConnect Telegram
CampusConnect Discord