Contest!!! The Future of the Entrepreneurship | Prize Pool of 6 Steem Power 🏆
This is @yourloveguru from India. This is the first contest that I am going to run in one of my favorite communities Steem Entrepreneurs. I have taken permission from the admins and team of the community and now I am going to start the contest with a very beautiful theme.
---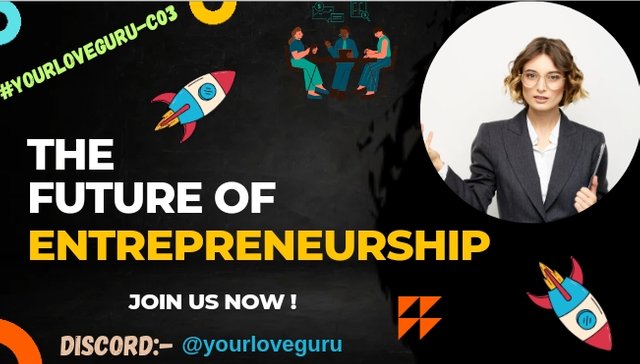 Edit in Canva
---
As the world continues to change at a rapid pace, it's important for entrepreneurs to stay ahead of the curve and anticipate the challenges and opportunities of the future. This contest is designed to encourage the Steemit community to share their ideas and insights about what the future of entrepreneurship will look like, and how entrepreneurs can thrive in a rapidly changing landscape.
Participants are invited to submit their vision of the future of entrepreneurship, along with their thoughts on the skills, tools, and mindsets that will be necessary to succeed in this rapidly evolving space. Entries can take many forms, including blog posts, videos, infographics, or any other creative medium that effectively communicates your ideas.
We believe that the Steemit community is full of talented and visionary entrepreneurs, and we can't wait to see what you come up with! So put your thinking caps on, and let's shape the future of entrepreneurship together.
---
Some tips for the users to help them in completing the participation are written below.
👉 What do you think are the most important qualities that entrepreneurs will need to cultivate in order to succeed in the future, and why?
👉How do you envision new technologies, such as blockchain and AI, shaping the future of entrepreneurship, and what opportunities and challenges will they bring?
👉How can entrepreneurs take advantage of emerging trends, such as the rise of remote work and the growing gig economy, to build successful businesses?
👉 In what ways do you think entrepreneurship will be impacted by changing economic and political conditions, such as the ongoing COVID-19 pandemic and the increasing focus on social responsibility?
👉How can entrepreneurs use Steemit to showcase their skills and expertise, and what types of content do you think are most effective for building credibility and authority on the platform?
---
• Subscribe and post on the Steem Entrepreneurs Community.
• Participate must be appropriately following #club5050, #club75 or #club100.
• Participants mu be verified an active users on the platform.
• Writing of at least 350 words in any language you understand well.
• Use of copyright-free videos and photos for content needs must be attached to the original source.
• Title must be : The Future of the Entrepreneurship | Entry title.
• Use the main hashtag: #yourloveguru-c03 #creativewriting #india (your country) and make sure to use #steemexclusive.
• Plagiarism and fraud are automatically disqualified.
• Mention at least 3 of your friends, resteem and leave your entry link in the comments column.
• Contest Deadline - 23 February, 2023 ; Thursday at 12:00 pm.
---
I have decided the following prizes for the winners of this contest:
| Rank | Prize |
| --- | --- |
| 1 | 3 SP |
| 2 | 2 SP |
| 3 | 1 SP |
Note: There is no guarantee that SC01 or SC02 will visit your post and support you or not. You could be the lucky ones to receive their votes..
---
---
Cc- @disconnect , @pennsif , @stephenkendal , @harferri , @f2i5 , @afrizalbinalka.
---
All the best to all in advance!