DONATION REPORT from Steem Entrepreneurs T-shirt sales | steemkindness25pc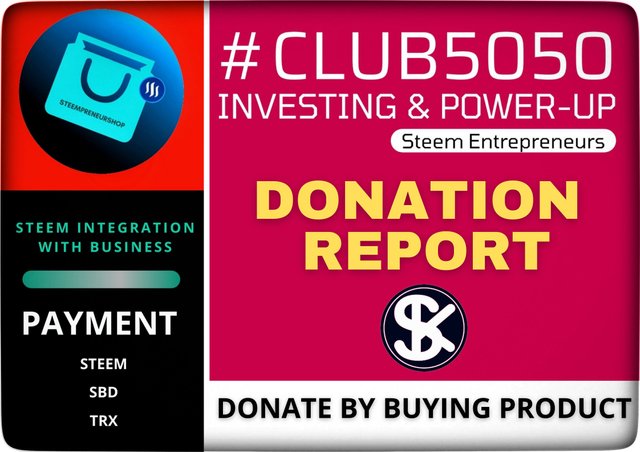 STEEMPRENEURSHOP released a report on the amount of donations collected for medical assistance for parents from Steem Entrepreneur Community Members (@fikar22) from selling Steem Entrepreneur t-shirts.
Previously, the Steempreneur Shop had produced 48 pcs of Steem Entrepreneur T-shirts at the request of Steem Entrepreneur Members. Making merchandise with the steem logo such as the steem entrepreneur t-shirt is the mission and vision of @steempreneurshop steem-promo activities through product marketing. Every product sale will be donated 20% of the selling price to charity. Especially for the first stage, we will distribute 20% of the selling price of each product for the medical expenses of @fikar22 parents.
| T-shirt price | Number of shirts | Total | 20% donation |
| --- | --- | --- | --- |
| 1 SBD/T-shirts | 48 pcs | 48 SBD | 9,6 SBD |
The amount of donations collected from the sale of 48 pcs of Steem Entrepreneur t-shirts is 9.6 SBD. Steempreneur Shop has converted 9.6 SBD to Rupiah. The total donation collected is IDR 960,000. (Range : 1 SBD/ IDR 100,000). Donations will be distributed within this week.
Forms of assistance that will be donated
Groceries
Cash for medical expenses
Others needs
Thank you to all product buyers from the Steempreneur Shop. Hopefully the donations collected through steem entrepreneurs t-shirt buyers will be useful for the treatment of parents from members of the steem entrepreneur community.
Best regards,
Steempreneur Shop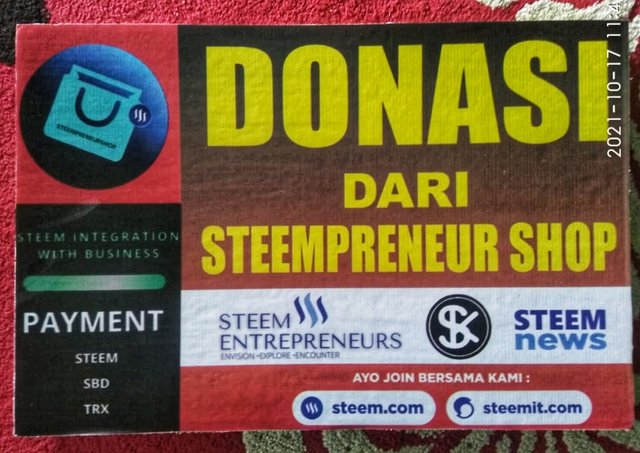 Banner when delivering donations to the society
Cc : @pennsif @stephenkendal