Steemit Engagement Challenge - S7W4 | Sharing Business Ideas for Steempreneurs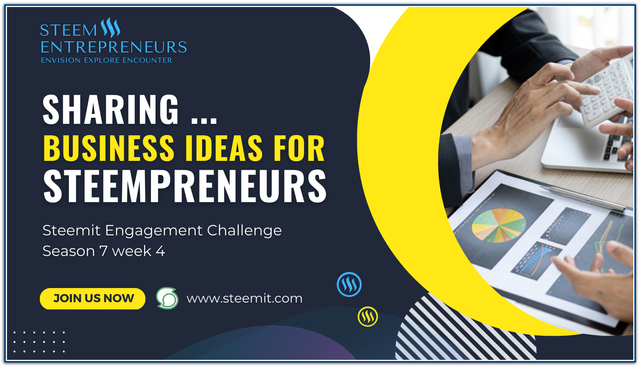 Being a steemians certainly doesn't just have to sit pretty in front of the computer. Becoming a Steemians is also an opportunity. Opportunity to explore yourself, opportunity to try new things, opportunity to develop yourself, opportunity to express ideas, and many more. With so many opportunities that we can take advantage of while surfing in Steemit, then one of the things we can try is to study the business world!
Contest background
Entrepreneurship plays a role in encouraging family and community economic activities. The dynamics of business activity can drive economic growth and improve people's welfare. Creating new jobs and reducing unemployment are other benefits of a business activity. The number of entrepreneurs in several countries is still small compared to the population so that efforts to increase entrepreneurship must continue to be encouraged.
Welcoming Steemit Engagement Challenge Season 7 Week 4 - The Steem Entrepreneurs Community presents a contest with the theme of entrepreneurship or business. This challenge aims to allow participants to share knowledge and business ideas so that steemit users who have difficulty finding business ideas can get inspiration from other ideas shared by contest participants.
---
How to participate in the contest
Participants present business ideas in interesting writing with free language format and style. Theme 1
Participants can also promote an attractive business located in the area or country of each participant. Theme 2
Participants can choose one of the themes above to participate in the Contest : Sharing Business Ideas for Steempreneurs. Participants are also recommended to mark business locations with googlemaps or what3words and convert the participating country's currency to steem if the participant's writing contains a price or financing.
---
Contest rules and period
Subscribe and post on the Steem Entrepreneurs Community.
Participants mu be verified an active users on the platform.
Use of copyright-free videos and photos for content needs must be attached to the original source.
Title must be : Steemit Engagement Challenge - S7W4 | Entry title.
Use the main hashtag: #steementrepreneurs-s7w4 #business #indonesia (your country) and make sure to use #steemexclusive.
Plagiarism and fraud are automatically disqualified.
Support the #burnsteem25 initiative by sharing 25% rewards to @null (recommendation).
Mention at least 3 of your friends, resteem and leave your entry link in the comments column.
The participation time is between Monday, January 30th, 2023, 00.00 UTC to Sunday, February 05th, 2023, 23.59 UTC
---
| 1ST PLACE | 6 STEEM | POWER UP |
| --- | --- | --- |
| 2ND PLACE | 5 STEEM | POWER UP |
| 3ND PLACE | 4 STEEM | POWER UP |
Note : Prizes will be given in the form of power ups to the winner's account.
| Verified user | ? |
| --- | --- |
| Status club | - |
| Plagiarism-free | - |
| Bot-free | - |
| Tag #steemexclusive | - |
| Support #burnsteem25 | - |
| Voting CSI | - |
| Score | 1/10 |
| Time verification | - |
Determination of Club Status : https://steemworld.org/transfer-search
SC01 & SC02 would be checking on the entire 7 participating communities and upvoting outstanding content. Upvote is not guaranteed for all articles. Kindly take note.
---
Thank you to all parties who have helped carry out this contest and congratulations for all contestants to participate.

Open opportunities for useful contributions and collaborations with steem power delegates for community development.
Please select one from the link :
Thank you to all stemians who have supported and encouraged us to work hard to advance the Community and STEEM to reach wider people.
Kind regards,
Steem Entrepreneurs Team
---
---