Steemit Engagement Challange III | STEEM CULINARY CONTEST by @salemumar5
Asalam o alaikum
Hy steemians hope you are healthy and good in your lifes, here i am engaging my participation in @steempreneurship who organised an amazing challenge to promote the culinary things of restaurants, since u visited fibi hotel recently and took some pictures which can make my post colorful.
Held i will share with you everything regarding the environment ambience and service they provide to us. Its my birthday day thats why i took my friends along with me and part of that i can also used these moments to engage in challenge of @steempreneurship so lets get start the contest vibes with colorful pictures of culinary fields .
---
Yet u told you that it 12 may my birthday held its was very busy days for me though my friends raza and zeeshan were asking a treat which is deemed necessary. My exams are also there but i have to make a post so i agreed and they texted me to just make a get-together at cafe in dha. Me and Zeeshan went towards raza then from their we had towards dha.
It was a long time that we ain't met so we decided to sit at burger lab there is a good atmosphere having good variety of burgers deals.So we went there at 9 pm having some gossips also so we went little early becuase its far aways from our homes.
---
---
BURGER LAB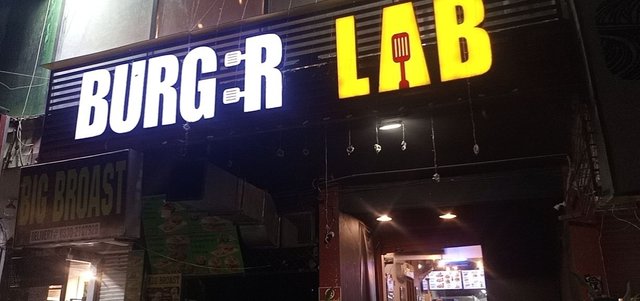 We reached at time we decided to eat deal which was announced by burger lab held you can see in image the deal 2 and 4 which was so good there is cheese burger along all american beaf burgers. Raza and zeeshan were ordering the meal while i was busy in taking pictures for culinary contest xd..
ordering deal 2 and 4
You can see the there is a good area for ordering first you have to order while there up stairs there is sitting arrangements. Well we ordered our meals and move up stairs.
A good environment
While that place is not for bachelors and boys, they arranged that area with respect to family we are not talking but gossiping with eachother haha. They organized the hotel with good infrastructure beside there is a place for kids playing area a good atmosphere and ambience for kids haha.
While had our personal talk and sharing our days with eachother held we are very closed friends but rasa is not living here though we used to meet in weeks while talking about 10 15 mins the order was ready and we instantly took pictures started eating.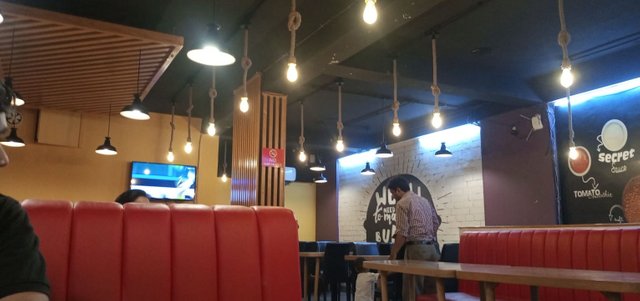 The burger was so delicious extremely that cheesy one which raza ordered held me and zeeshan ordered beef burger. But the chicken cheese was so yummy heavy good texture and the bun was too soft. While the cheese 🧀 was fully added along salads.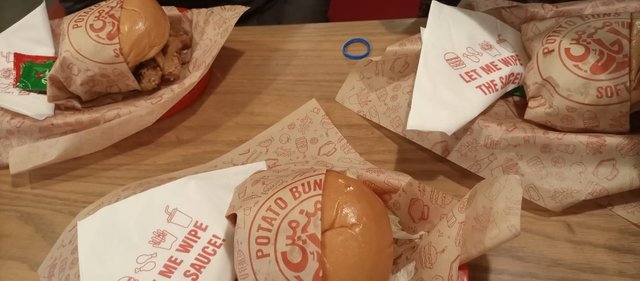 Yet alhamdulilah we ate the price was so cheap held there is many offers you can avail this offer, while if you ordered online there are also many offers and deals.
---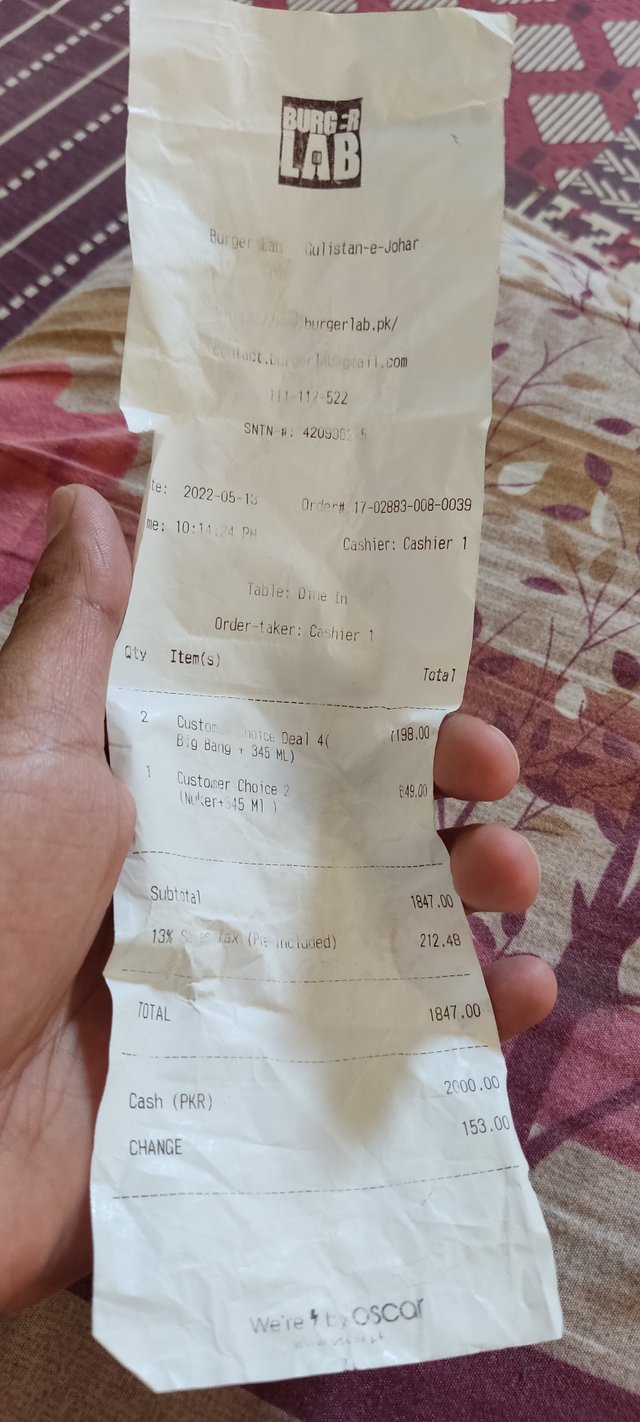 The deal name is customer choice where deal 2 and 4 we ordered price is
Customer choice deal 4 big bang +345ml =1198
Customer choice deal 2 (Nucker +345Ml) = 649
---
---
My review
---
I rate this burgers were 10/8 while a months ago we visited Nanstop they also having good deals. Yet the chicken cheese burger Nucker was so delicious and full cheesy. While at Nanstop we ate american beef that was also so delicious.
The burger lab having quality of burgers, so individual burgers are good not go for deal the all all Amer beef and other specialist burgers are having good taste.
Talking about environment so they have a good family environment and better atmosphere than other hotel. Well the kids having good enjoyment because of good play area, yet there service is so good, after completing the order they definitely asked you to provide review. So a good environment can be observed.
---
A sudden plan to limca
Yet my friend raza take us to drink limca too, our deals inly carry burgers so we went to drink limca near johar, well the limca is so tasty they arrange a well arrangements for sitting as you can see below the picture.
We ordered different flavours mint Lemonade, lemon and green apple. Well the limca and the area of sitting so good yet we sit there for good time and had a great talk yet a good culinary visit also done.
Conclusion
My day was spent good held culinary field contest is also done, the @steempreneurship organized a good contest where everyone show their culinary post and restaurants review.
Yet this is my review for burger lab famous for burgers yet you can also try and eat.
All pictures are taken from personal mobile