#Club5050 : Hidden Fact About Barbing Of Hair Business And How To Start
Hello friends, i am so glad to be here today, to discuss with you all about the hidden facts, about barbing of hair business and how to start, many people do not know that barbing is a very Lucreative business and is very easy to start with a low capital, it does not require huge amount of money to start the business an to learn the skills is also very easy, it is well explain in a simplify ways, cheers as you read on.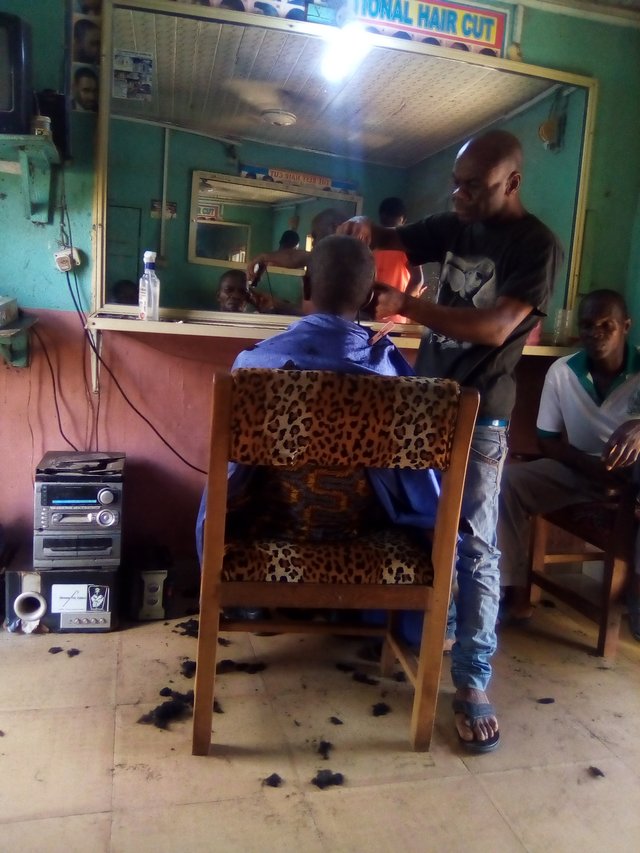 What is the meaning of barbing of hair, it simply means to cut, dress or shave someone hair it can be done using electric clippers, razor blades to give a haircut in a barbing salon. the image above is a barber barbing doing haircut for customer.
Who is a barber? a barber simply means someone that do barbing as a profession if a person does haircut for money as a means of occupation the person is a barber.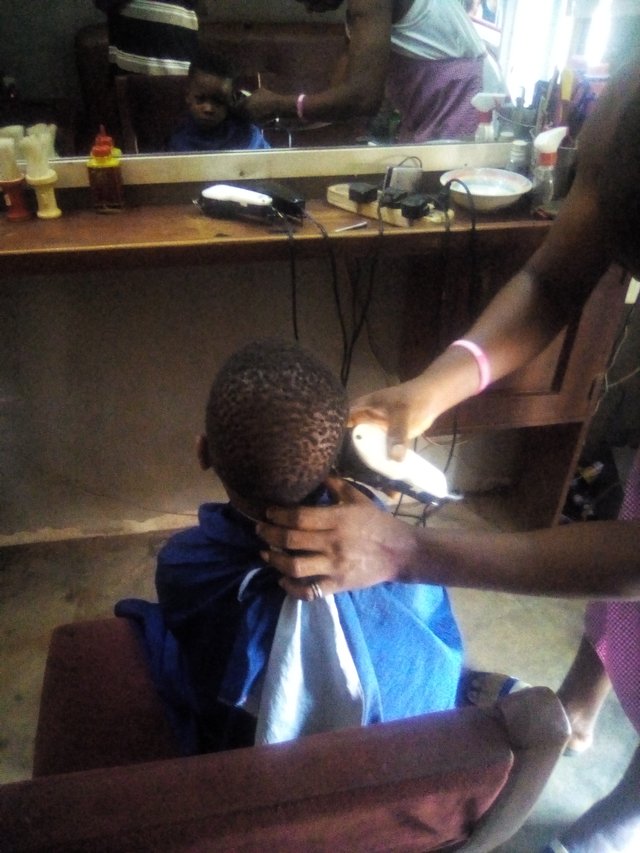 Do you know that barbing of hair, is a very Lucreative business that people don't know about, there is a lot of money in barbing of hair it's a very nice business and very easy to learn and start up the business.
Now let me tell you the hidden facts about barbing of hair business
Very easy to learn barbing of hair
It is very simple in learning how to barb, my friend Jacob is a barber, he learned it using just two weeks and he is making a lot of money out of the business, learning now how do you learn how to barb it's very simple all you need to do visit a barbing salon, an register with a very low fees , some barber don't collect money, after registration as an apprentice then you watch how the barber use the electric clippers, after watching for some days, then start preparing on how to use the electric clippers for two weeks or one month, gradually you become a very good barber. learning how to Barb is not a difficult skills to acquire and is a skill that anyone can learn not depending on age, i could remember my cousin James he started barbing right from the age of 15yrs then he was in Junior secondary school, barbing is a nice skills that one can easily acquired, not depending on age or gender, even ladies do give haircut.
Freedom to do other businesses
Barbing of hair is a business one can even do as a student, government works, or working for an organization or company because it gives a lot of time. my brother is an accountant working in zenith Bank of Nigeria plc, after he close from his work he will go to his barbing salon from 5pm and close by 10pm yet make nothing less than 10,000naira I remembered Jacob, when we were in school after lecture he will start barbing students in the hostle,then Jacob don't have a shop only electric clipper, as a steemians, we can easily start barbing of hair either in the evening or at night work for about three hours an make good money any time is better for the business but evening is preferable, we can easily combine steemit blogging with barbing, because as a barber, there is enough time to engage in other work of life or activities to generate money.
Profitability of barbing business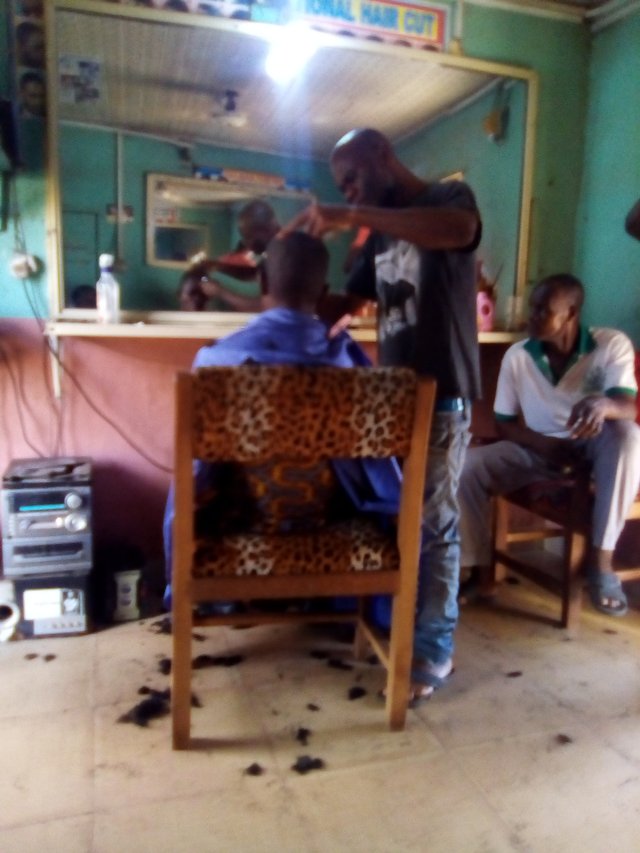 barbing of hair is a very Lucreative business because everyone especially male need to barb or shave their hair, to look nice students, military men etc always cut, My uncle Mr Johnson always earn 5000naira (16steem) per day he now have a standard barbing shop with a nice car, yet he started with out a shop and a generator, my friend Jacob at the University then, now have a very big barbing shop, in Enugu state he is newly married with the money he got from the barbing of hair, he is doing very well because of his barbing of hair business, I met a barber in my area , he told me that he usually make 6,000 (18 steem) every day. In a week he make up to 26,000naira ( 80steem) a month he can make barbing of hair is a business someone can easily start with a very low capital, an be making huge amount of money the image above you can see how people are patiently waiting for their barbing turn. The image above is a customer waiting to have a haircut, it shows that it's a very Lucreative business.
How to start barbing of hair business You
Kiosk or umbrella stand As s beginner it is difficult to have a barbing salon ( shop) so one can easily start up barbing business using kiosk, or just umbrella stand, the major things is to have the skills and a electric clipper
Generator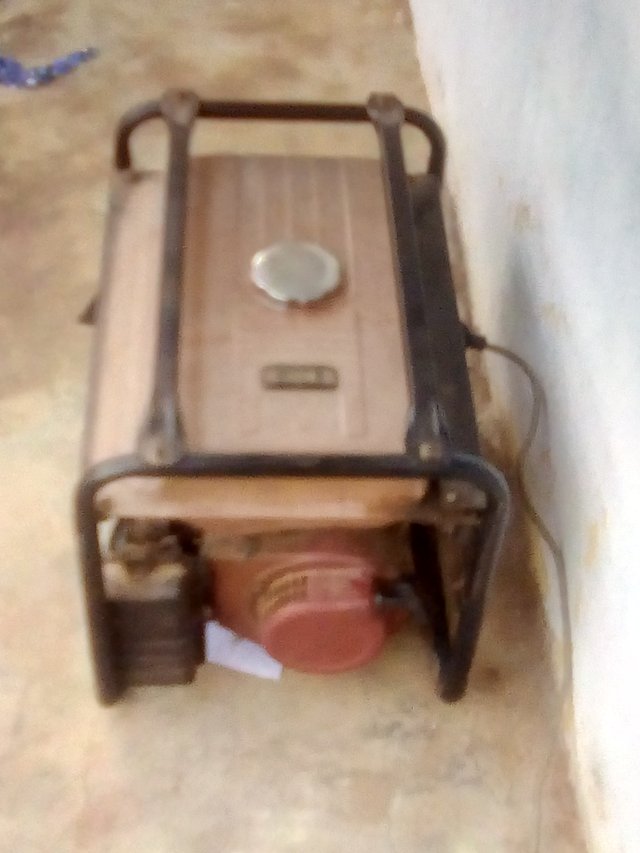 Electric power supply is require so that the electric clippers will be power, generator is needed because of power failure especially in rural areas where there is no power supply, electric power supply in most cities in my country is not constant so it can hinder the barbing business but with the aid of generator it will facilitate the business an keep it growing, small generator can be gotten for 15,000naira (47steem)
Barbing salon (Shop )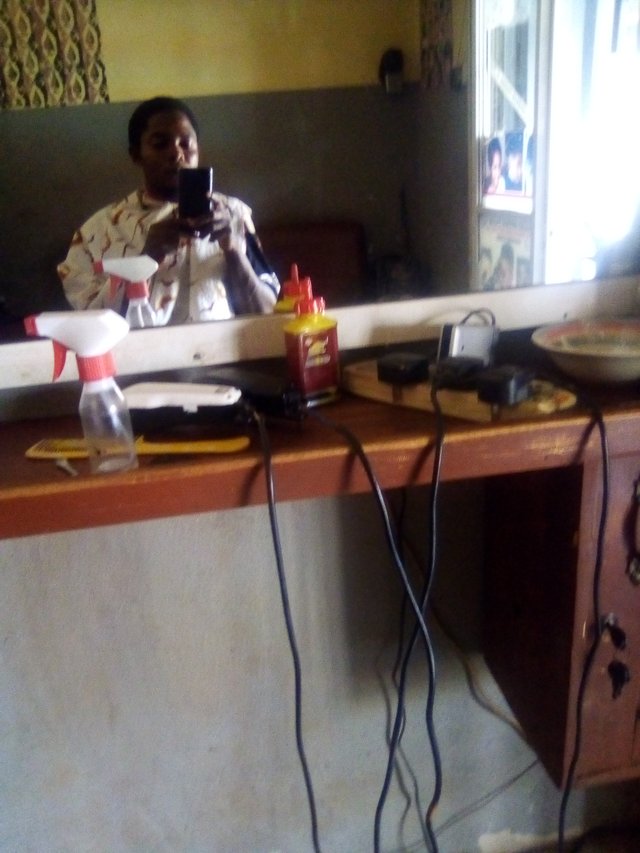 Shop is require for customers comfortability, and security, because some barbing salon have television and fan some even have air-conditioned just to keep the customers comfortable and busy until their haircut is been done, some barbing shop have big mirror on the wall, shop is important to protect the equipment, safeguard customer and properties in the shop after closing from work you can lock the shop with out stress, these are the reasons why having a shop is preferable. but as a beginner kiosk or umbrella stand is still advisable. Things you can commonly find in a barbing salon include as follows:
Electric clippers,
Hair brush
Mirror
Hair comb etc
Hair dye
Sterilizing materials
The image above illustrate some of the materials you can commonly found in a barbing salon.
Location of barbing salon
Location is very important when it comes to business, it is advisable to situate a barbing shop in a place that is busy an have a lot of population busy streets, market areas, places close to school, students will patronize the barber, place that is close to church, or any busy facilitate that have population.
| Phone | Techno pop2 f |
| --- | --- |
| Country | Nigeria |
| Location | Ebonyi State, Abakaliki |
| Photography | @rad-austine |
Special thanks goes to
@harferri
@tucsond
@subkiusman
@f2i5
@afrizalbinalka
20% of this post reward donated to @steemkindness
Conclusion: I hope am able to review the hidden facts about barbing business and how to start, it is a nice business by which steemians can easily engage in, thank you all for viewing my post i sincerely appreciate.