My application for the community curator of November 2022
Dear friends,
Here is my respective sixth application for the community curators.
Being a tenure blogger, I am trying to give my best to enhance the platform beside the community.
So, I am still endeavoring hard to get the opportunity to work as a curator, and another thing I believe is that two things help people to learn.
Foremost- It is a chance that not only brings challenges but also gives a person an understanding of the meaning of responsibilities.

Second- Errors and practice make a person more perfect;
and that is how people could assemble themselves as acquainted.
There is always a first time in every case of our journey in life;
and that's how we compile expertise after going through the above points.
---
---
A brief summary of your history on Steem.
I joined this platform on the 10th of July 2020, and from then until now;
invariably being active on this platform. In terms of visiting other posts, commenting, and voting. I consistently endeavor my best during this time to comprehend new fortes and enforce them for the refinement of myself and newbies. As I mentioned earlier, though I started as a food blogger;
but with time, I expanded and shared several other topics related to crypto, art, culture, and many more.
---
---
Details of any positions of responsibility you have held on Steem.
As I mentioned above that, only getting a chance could help a person enhance their abilities, and now I am holding the position of the admin of
Besides that, I give my best effort while working in steemindiaa as a moderator. Above all, I believe I am an enthusiastic blogger on the steemit platform; that is my grandest position being a writer and active user.
Only after getting a chance people could add feathers on their hats.
---
---
Details of specialist or professional skills or expertise you have in 'real life.'
I don't know whether I am an expert or not, but everything comes under lifestyle, I have knowledge about them. Therefore I create a community where people from all over the world could share their talents related to Art and Culture.
---
---
What country do you live in and what languages can you read fluently?
I belong from India and the state I live in is Kolkata. I can read, write and speak English, Bengali, and Hindi fluently.
---
---
Your key stats - own SP, CSI, Reputation, Delegations.
(Screenshot of my details)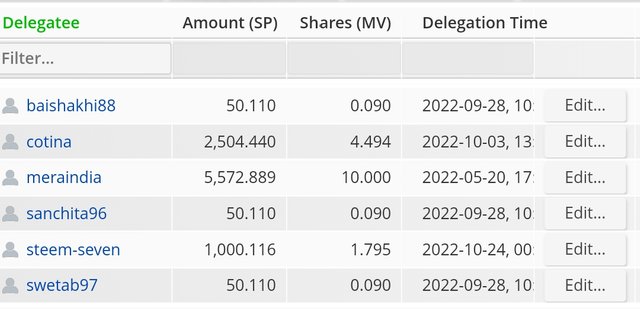 Own Sp
CSI
Reputation
Deligated steem power
9,475.77SP
11.9
70.297
meraindia-5,500sp,cotina-2000sp, steem-seven-1000sp, swetab97-50sp, sanchita96-50sp,and baishakhi88-50sp
Newbies need some Sp to participate in the engagement hence I delegated some sp for these newbies and shared a post related to the same in the Incredible India community.
---
---
Any subjects you particularly enjoy curating.
I shared all my knowledge above so whatever responsibility I would get related to those I am ready to participate.
---
---
The minimum team size you would be willing to serve in (1-7)
I do not have such prejudice but I would suggest making a team of 7, that would help to increase the chances of supporting several more quality posts and the platform will get some more curators on their list.
As they choose curators from different countries that would help to reach a few more people inside or outside of the community.
---
---
Hereby I proclaim that the above-mentioned pieces of information are genuine and I believe this time the selectors would pay some attention to my application. So that I could demonstrate that I also have the potential to work for the betterment of this platform.
Regards,
@sduttaskitchen
My discord ID:-sduttaskitchen#0792
My telegram ID:-https://t.me/sduttaskitchen