Surrealist neo-noir psychological thriller mystery film [[ Enemy 2013 Canadian film 🏪 Explanation]]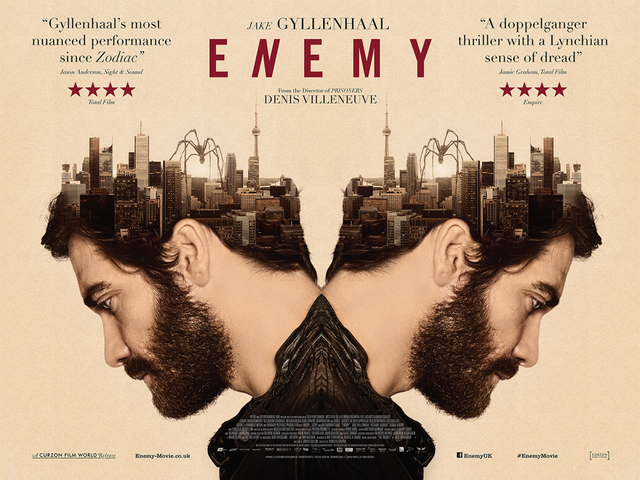 Imsge Source
Spoiler Alert (Explanation)
Enemy, a psychological thriller movie directed by Denis Villeneuve in 2013, starring Jack Gillenhall, Melania Laurent, Sarah Godon. In the story of the movie, we see two identical persons attacking each other's private lives, chasing each other! The movie is an adaptation of José Saramago's book The Double. Enemy is a movie full of extreme head stretching, mystery, and great metaphors at the same time, which is about to go over the heads of most viewers.
I will try to explain the ending of the movie with the plot analysis of this movie, if you have any alternative theory about this movie, please comment. So, for those who haven't seen Enemy yet, reading the following articles would not be appropriate.
⚫Adam / Anthony
First of all, let me say that Adam and Anthony are physically the same person. Some parts of the movie were real life and some parts of Anthony / Adam's subconsciousness. As a result, this dual personality theory is somewhat controversial. Anthony is basically a very smart man, but he is unable to continue the relationship with his wife, his wife is 8 months pregnant. Career (acting) was not very well, he only played minor roles in three movies, where he was not successful. Adam (Anthony's subconscious) on the other hand is a history teacher, whose career is very respectable and brilliant, he has a girlfriend, but he lives in fear, above all leads a boring life.
⚫Anthony, Helen's conjugal life:
Anthony was addicted to women, he used to go to sex clubs regularly, his relationship with his wife Helen continued but his dirty mindset did not change, meanwhile when Helen became pregnant Anthony quit his unsuccessful career and took a job as a history teacher. Presents. Helen was annoyed with Anthony, we can understand that the next time Anthony's phone call indicates "Are you talking to a girl?"
⚫Afair then frustration:
The intimate scene between Adam (sub-conscious) and Mary is seen every time Adam is sitting on the bed with his hands on his head, or Mary is leaving uncomfortably.
⚫Anthony and his mother
In the movie, his mother talks to Anthony only twice, once on the phone and at the dinner table, but, twice, his mother's words carry the implication of the movie. He thanked Anthony for showing him his "apartment" even though he didn't say a name. This is where we make sure that Adam is sub-conscious in the movie, and Anthony is real, because the apartment that Adam goes to at the end of the movie was a secured and nice apartment. In the second conversation, he said, "Is it difficult for you to be with a woman? You have a great apartment, the aspiration to be a third-rate actor in a movie should be given up. Have your favorite blueberries, eat? If we look here, Adam doesn't like blueberries, but Anthony understands his love of blueberries when he talks to his wife Helen. In other words, he suggested to avoid Anthony's habit of female addiction.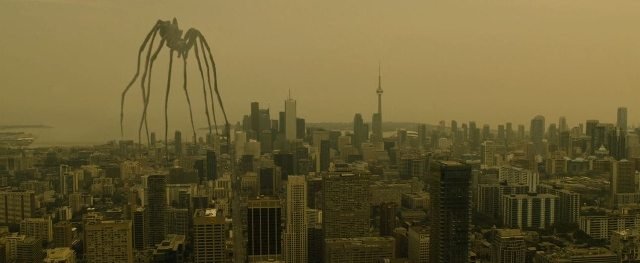 Imsge Source
⚫Spider:
Spider was a great metaphor in the movie! Just as the spider or spider helps its prey by trapping it, so the spider is meant to trap the female character's responsibility in the anime movie! Showing a spider naked woman in a sex club is a metaphor for trapping Anthony's wife or other women in the trap of responsibility. After talking to his mother, his mother's suggestion with the big spider shown in the city, means greater responsibility. There is another ,,,,, I will say it in conjunction with the totalitarian concept.
⚫Anime, Personality Switching:
"You dragged my wife into it, I'll bring your girlfriend to me too, give me your clothes and car, I'll put an end to all this." It was a revenge twist from the anime movie! Here Anthony and Adam's personality switches.
⚫Ending, Envelope, Totalitarian, Spider:
Anthony's wedding ring makes Mary uncomfortable, because Adam never had a wedding ring in his hand. Although the web of broken windshields after the car accident shows the end of everything, in the morning when a key is seen from the envelope in the coat pocket, Anthony is initiated to go back to his previous form, the key is access to the sex club. Totalitarian has a repetitive concept, at first any one identity is absolved or the rest of the identity is ignored or censored, the same thing is repeated again and again. As a history teacher in the movie, he wants to repeat himself with Adam's lecture on totalitarian approach. Spider is portrayed here as a metaphor for trapping his wife in too much responsibility.
⚫⚫⚫My expression:
I used to prefer watching movies only as entertainment 6-7 years ago. I remember, the first time I watched the movie "Fight Club" for only 20 minutes, then I tried several more times, but could not continue for more than 20 minutes. I put the Fight Club movie on the list of nonsense movies, but after watching the movie 3 times in a row on a weekly holiday in 2016, "Fight Club" has become my number one favorite movie so far. If so, what is the movie of other people?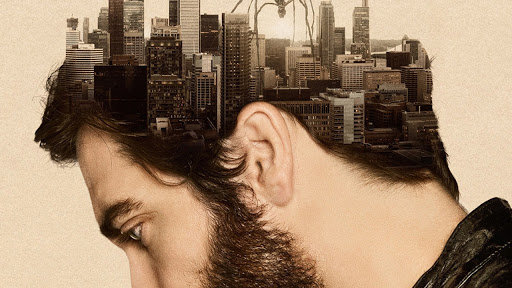 Imsge Source