NEW CONTEST 25 STEEM 💰 IN PRIZES || Your favorite mode of transport 🚌!! / NUEVO CONCUSO 25 STEEM 💰 EN RECOMPENSA || ¡Tu medio de transporte favorito🚌!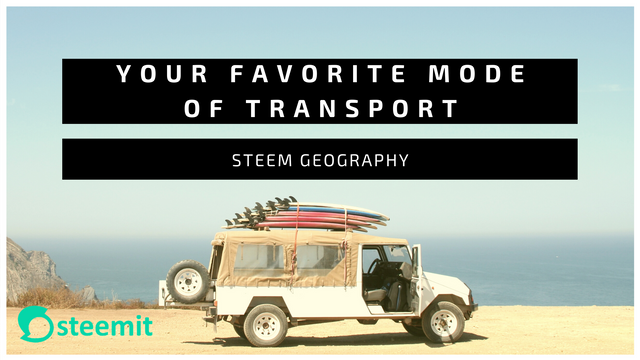 ENGLISH
---
New contest!!
---
Hello, my dear community, there have been some days since I don't manage a contest over here, and I'm glad to tell you that I'm back again with a lot of ideas to spend some good time here!!
The contest for this week will be about...
---
Your favorite mode of transport 🚌!!
---
YAY!!¨Don't you think this is a great idea?? I do think so, because I love this topic and I can't wait to write my entry, just to play a bit, lol.
---
So what exactly should you write about?
Do you prefer a bike, bus, plane, car, a horse, walk? Or... whatever you like the most. Yes, our feet are included, because I'm a witness that they can be a great means of transport. Of course, tell us why do you prefer it.
Your post will have more chances of winning if you add original pictures, and if you are a plagiarism fan, of course, as you may know, you'll be disqualified.
---
So my dear friends... LET'S GO!!!
---
I'll be waiting for your entries until Monday 14th (June)!!
---
---
Contest rules
---
⚠️ Maximum 250 words.
⚠️Plagiarism is not allowed, not from any Steemit users, nor from any website outside Steemit
The publications can be in any language.
Resteem this post, so more people find out about the contest.
Make sure to tag me @belenguerra, so I can see your post faster.
Use the tags #steemgeography, #geography and # yourcountry (#argentina in my case).
Share the link of your publication in a comment. I won't take into account entries that aren't shared as a comment in this post, or that are published in another community.
It would be great if you share your publication on Twitter, tagging @steemit, or on any social network you prefer.
Please cite the sources wherein you've got the pictures or data.
Please offer details of the camera used to take the pictures.
---
---
Awards - 25 STEEM 💰 in prizes
The prizes will be awarded as follows:
1st place = 9 STEEM
2nd place = 7 STEEM
3rd place = 5 STEEM
4th place = 3 STEEM
5th place = 1 STEEM
---
---
I'm very excited to read your entries!!
Thank you @stemcurator01 for your support
---
Have a very good day, and thanks a lot for participating!
---
Steem Geography
Belu
---
Cc.
@steemcurator01
@steemitblog
---

ESPAÑOL
---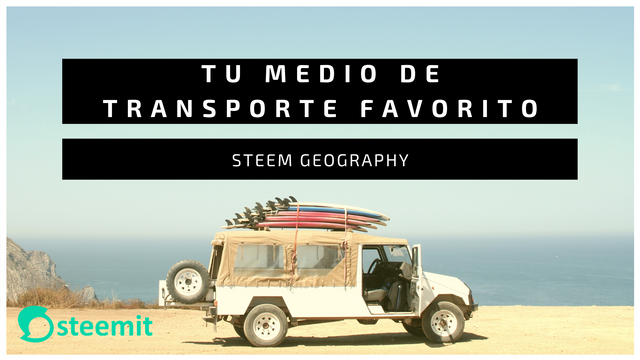 ---
Nuevo concurso!!
---
Hola, mi querida comunidad, han pasado algunos días desde que no administro un concurso por aquí, y me alegra decirte que estoy de regreso con muchas ideas para pasar un buen rato aquí!!
El concurso de esta semana será sobre ...
---
¡Tu medio de transporte favorito🚌!
---
¡¡YAY!! No crees que esta es una gran idea?? Yo sí pienso eso, porque me encanta este tema y no veo la hora de escribir mi entrada, solo para jugar un poco, jejeje.
---
Entonces, ¿sobre qué deberías escribir exactamente?
¿Prefieres bicicleta, autobús, avión, coche, caballo, caminar? O... lo que más te guste. Sí, nuestros pies están incluidos, porque soy testigo de que pueden ser un gran medio de transporte. Por supuesto, dinos por qué lo prefieres.
Tu publicación tendrá más posibilidades de ganar si agregas imágenes originales, y si eres fanático del plagio, por supuesto, como sabrás, serás descalificado.
---
Entonces mis queridos amigos... ¡¡¡VAMOS!!!
---
Estaré esperando tus entradas hasta el lunes 14 de junio!!
---
Reglas del concurso
---
⚠️Máximo 250 palabras.
⚠️No se permite el plagio, ni de ningún usuario de Steemit, ni de ningún sitio web fuera de Steemit.
Las publicaciones pueden estar en cualquier idioma.
Resteemea esta publicación, así más personas se enteran del concurso.
Asegúrate de etiquetarme @belenguerra, así puedo ver tu entrada más rápido
Usá las etiquetas #steemgeography, #geography, # tupais ( #argentina en mi caso)
Comparte el link de tu publicación en un comentario. No tendré en cuenta las entradas que no se encuentren anunciadas en este posteo o que estén publicadas en otra comunidad.
Sería genial si compartieras tu publicación en Twitter, etiquetando a @steemit, o en cualquier red social que prefieras
Por favor, cita la fuente de las imágenes y de la información.
Por favor da detalles de la cámara utilizada para sacar las fotos.
---
---
Premios - 25 STEEM 💰 en recompensa:
---
1er lugar = 9 STEEM
2do lugar = 7 STEEM
3er lugar = 5 STEEM
4to lugar = 3 STEEM
5to lugar = 1 STEEM
---
Estoy muy ansiosa por leer sus entradas!!
---
Que tengas un muy buen día! Muchas gracias por participar
---
Steem Geography
Belu
---
Cc.
@steemcurator01
@steemitblog