YAY! Today, I bought my first blockchain powered IoT device 🤗
It's been quite a journey from acquiring my first crypto to buying an actual physical device that runs on blockchain.
Although I don't know what this device will actually do or how and for what I'm going to use it, I'm very excited for ordering one.
Just like when I acquired my first crypto, I wasn't sure what kind of world I was entering into though I was very happy and excited about it. Similarly, I feel very excited for this IoT device. Through this device, I hope to contribute verified real world data on a decentralized blockchain.
Yes, I bought Pebble Tracker from IoTeX.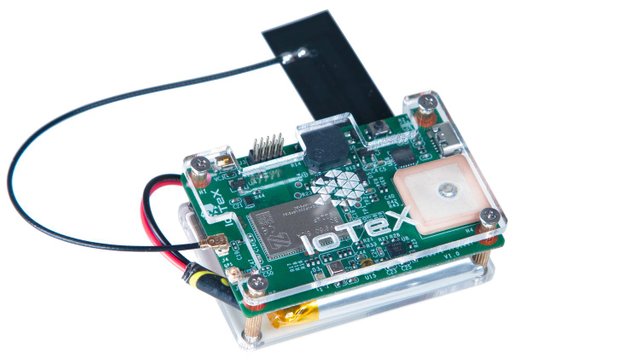 Pebble Tracker is the first real time, real world data oracle. It's a small, miniature device embedded with several sensors for measuring and reporting variables like temperature, pressure, humidity etc. It's fitted with a GPS, a motion sensor and perhaps also a light sensor.
Pebble Tracker is a temper-proof hardware loaded with a temper-proof software and is powered with a small battery. It also has a slot for inserting a 4G mobile SIM card to communicate with IoTeX blockchain to share the real world data in every 10 second interval, which can trigger a smart contract on IoTeX blockchain.
Thus this device can supply a verifiable and actionable data directly from the place where the device is installed to the blockchain or any other server. What can be done with this data depends on the Dapps that developers can build on it.
From DeFi to DeDa 😀
As a data provider to Data Collectives, I own my data and can earn or mine some XRC-20 tokens based on its utility. So it's like decentralized data mining. Just like liquidity mining in DeFi, Pebble Tracker can contribute decentralized data to a data pool from where Dapps can buy that data as per their needs. In return, Dapps can offer some NFT or other tokens to the data pool which can be shared by all data providers participating in that data pool.
So in line with the word DeFi for Decentralized Finance, I can call it DeDa (for Decentralized Data) ...LOL!
As an early supporter to the project, I got some discount on the device. Also, I'll be rewarded by a NFT for this. All 100 device ear-marked for early-bird users got sold up by today. By now, over 225 Pebble Trackers were sold out.
Last year, when IoTeX came out with their first IoT device called uCam, I didn't buy it though I appreciated it a lot. It was a CCTV camera with complete data ownership. But I personally, didn't have any use for that device.
However, with Pebble Tracker it wasn't the case (or so do I think). I've also earned the required amount to buy it through a lucrative yield rate being offered by Cyclone Protocol. So it's like a free deal for me :)
If you also want to buy this device, it's available on CrowdSupply website. All orders put by 24th March will also get their early backers' NFT.
I'll receive this device by June 2021. I hope many types of innovative dapps will be developed for utilizing the ability of this device by then. Let's see where it takes me to!